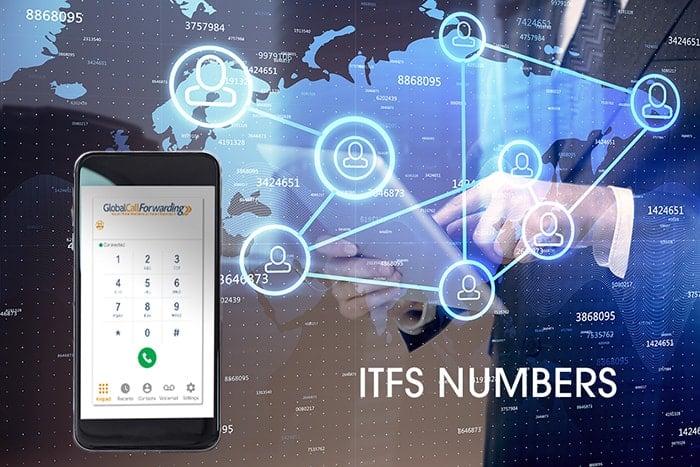 ITFS stands for International Toll Free Service and the numbers allow you to reach people from overseas countries without having to pay high international rates. Instead, you would pay a lower fee from a call forwarding company for an ITFS number that would allow you to appear as though you are in that particular overseas country. When a party calls your ITFS number, they are not subjected to paying international rates, either. Instead, ITFS numbers function as toll free numbers and the person making the call would not have to pay for the phone call to the business. Their only responsibility would be their own local calling rates.
Get an ITFS Number for Your Business
The format for these ITFS numbers follow the standard formats for whichever company that you are purchasing an international number for. Many times, you will be able to choose the remaining numbers in your toll free phone number. In America, the number is 1-800 and you could choose any set of 7 more numbers, such as 1-800-FLOWERS or 1-800-356-9377. In New Zealand, it would be 0800-XXX-XXX.
Why Should You Get An ITFS Number
If you are a business owner that wants to expand their business or already has an expanded clientele list that is located outside of your business location, then providing your international clients a better way of contacting you will create loyalty between your business and your consumer. If it is simple to get a hold of your business, then more people are more likely to want to do business with you and trust your product or service. Once a potential customer knows that they are dealing with a professional company that is prepared to assist them in any way possible, they are more likely to choose your business over another. Plus, getting in contact with your business is free for them.
How Do They Work?
Getting set up with ITFS Numbers is a simple process. It does not require a lot of up-front costs. The way ITFS Numbers work is that they are usually virtual phone numbers that can be forwarded to your existing telephone lines. Some companies also offer forwarded servicing to your email, fax, and via SMS messaging. Therefore, if you are located in America and your customers need to reach you in Australia, you would provide them with the Australian ITFS numbers, which will then get forwarded to your offices in America. You can choose to have these phone calls forwarded to your brick and mortar shop, your mobile phone, or to a call forwarding center. ITFS numbers increase your reach internationally and they will help any business that is looking to be taken seriously on an international level. You can compete against companies that are located within the overseas country at their level.
Where To Get An ITFS Number
Global Call Forwarding offers several options for virtual phone numbers, including ITFS numbers. Global Call Forwarding has virtual phone numbers for over 160 different countries. It is very likely that the country that you are looking to expand to will be represented by GCF. Just a few of the countries' numbers that are available are Italy, Netherlands, Canada, Spain, Belize, and China. However, there are many, many more. Global Call Forwarding is also a great choice for getting an ITFS number because they offer many features that other competitors do not have.
Standard and available features for ITFS numbers:
Ultimately the benefits of using ITFS numbers are that they will drive more business to your company. It is much more likely that a customer will contact you if the call is free for them. When more people have access to your company's information, this will, in turn, drive in more sales. ITFS numbers also allow your business to operate as a global company without having to have a physical presence in another country.
If you are ready to expand your business overseas, contact Global Call Forwarding for access to a variety of different ITFS numbers. If you act now you will receive a free one-week trial subscription.