What is Fax to Email?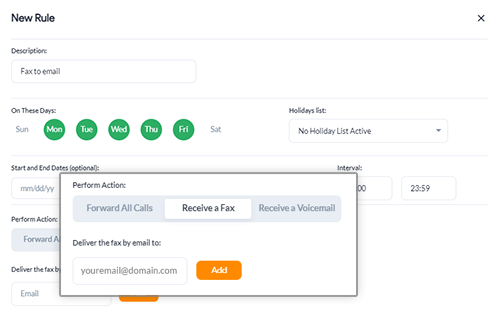 The Fax to Email feature, also known as Forward Fax, will enable your virtual numbers to receive and forward faxes directly to your email as a file. Fax to email forwarding, therefore, is the process by which a fax machine upon receiving an incoming fax, retransmits it to a pre-programmed destination such as an email address of a business or person, instead of printing it like a regular fax. This has the benefit of eliminating paper waste, which can also get lost easily while maintaining a digital trace and storage, which is much easier to keep track of.
How Does Fax to Email Work?
The sent fax is receivable as an attachment. These files may be saved as TIFF, PDF, or XPS files. Once the fax is received as an email attachment, it may be opened and subsequently printed from a laptop or desktop computer. The additional advantage of this feature is that it allows all fax transmissions to be kept private. This is not possible on conventional faxes because the printed copy gets collected by the receiving tray, waiting to be picked up. Depending on how necessary confidentiality is, this may not be the best way of handling sensitive information. Multi-page contracts, receipts, and invoices to clients and customers are sent and received via fax within minutes.
Fax to Email Benefits
Enables the use of fax machines in a more modernized way
Offers a reliable option for document transmission
Adds an additional option for communication and sending/ receiving documents
Gives the option of long-term storage of faxes in a paperless manner via email
Allows for multiple channels for receiving faxes
Allows for the transmission and receipt of physical copies of a document over a particular phone line
How to Get Fax to Email With Your Virtual Number
Global Call Forwarding includes fax to email with the purchase of most virtual numbers. This free, advanced service feature maximizes the benefit of your local or toll free numbers.
With the versatility of email, there is a general perception that faxes are or have become obsolete. Yet many businesses continue to use faxes as they are still some distinct advantages for document transmission. The reliability factor comes first because the fax machine itself and the recipient's virtual number are the only items needed to successfully forward the fax. Faxes sent straight to email allow for easy access, they are easy to transfer and send to others as needed, and they can stay stored in email long-term if necessary.

Additional Points to Consider
Our forwarding service offers a distinct advantage over email in the event the recipient doesn't possess the right technical knowledge or appropriate software to open and print it. Fax machines, moreover, are free from virus attacks or any other potential programming malfunctions that a computer may have. A fax forwarded to the right email ID will surely appear in the recipient's inbox immediately.
Fax machines can be slow. They can be susceptible to network issues. They don't always process as needed. There's a paper trail. Despite these issues, with Forward Fax, the benefits of faxes can be maximized, while eliminating the negatives.
Furthermore, with physical documents, it takes more time to scan them, upload, and subsequently, send than it does to put it in a document feeder and enter a number. Fax to email offers the best of both worlds; instant and secure transmission, without the additional complicated aspects. Faxes are instantly transmitted, offering a safe storage option and no physical trail to manage. Once the file is received, it can be easily and quickly sent to others without having to wait on a fax machine.