Need business phone solutions for your specific business? Global Call Forwarding is a leading provider of virtual business numbers. And it offers a variety of cloud communication tools and features that can enhance the way your business communicates internally and externally. Here we detail the different ways businesses in a variety of industries can use resourceful business phone solutions to improve office communication.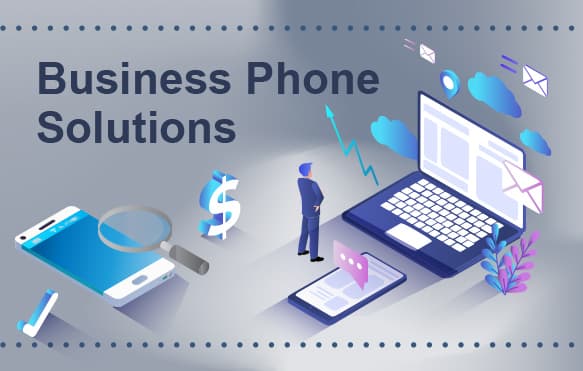 Business Phone Solutions: Virtual Communication Tools
Business phone solutions focus on making communication within the office as well as between employees and customers better. With customizable solutions and plans that fit your budget, you can get premium services that will upgrade your office communication system. These solutions can cut down the amount of time spent on mundane tasks by automating them to a certain degree. This way, agents and employees can focus more on serving customers in the best ways possible. Increase office productivity and improve efficiency with top-level business phone solutions that can reinvent your company's communication system.
Some of the best business phone solutions will let you:
Forward incoming calls to select numbers or lines, irrespective of the physical location.
Record business calls to review and study them in the future or protect against liabilities.
Set up interactive voice response (IVR) to answer calls and direct callers to the right department.
Customize caller IDs for outbound calls by displaying specific numbers when calling certain areas or locations.
Receive SMS, voicemail, and fax from customers in your inbox.
Now, let's look at the various business phone solutions for different industries offered by Global Call Forwarding.

Business Phone Numbers
An important aspect of building and running any business is having strong communication channels between the business and its customers. This is where business phone numbers come into play. Business numbers decide how your business interacts with its contacts and vice versa. Virtual business numbers route calls over the internet, making it possible to make and receive calls on any device anywhere in the world. You can get a toll free, local, international, or vanity virtual business number.
Toll free business numbers are 800 numbers like 800, 888, 877, 866, 855, 844, and 833. Calling these numbers is free for the caller as the receiver is charged instead.
Local numbers correspond to particular cities or states within a country. These numbers generally have an area code prefix. Additionally, they are reachable from anywhere in the world.
Vanity numbers are easy-to-remember numbers made with the use of repetition, patterns, and letters. Examples: 1-800-FLOWERS, 866-222-2222.
Outbound Calling
Outbound calling service is one of our premium and best-selling business phone solutions. This service can help businesses of various types and sizes expand their reach. With outbound calling, your business can connect with local and international clients at reasonable calling rates. You can do so by purchasing a variety of local and toll free numbers for areas and markets you want to target. Then, when you call a certain city, state, or country, you can have that specific local number display as the caller ID.
Individuals are more likely to answer a call from a familiar number rather than an unknown or foreign number. And they will be less hesitant to call back since calling charges would be regular local charges for local numbers or free for toll free numbers. Additionally, you don't get charged excessively either, because calls are routed through an international forwarding service. As such, having a customizable outbound calling service proves a beneficial tool for sales and customer support teams.
Interactive Voice Response
Interactive voice response (IVR) is one of the most automated and interactive business phone solutions available. It is a voice response system that answers incoming calls and assists callers with their queries or requests. The IVR system presents callers with options and based on caller input lets them complete actions or transfers them to the right department or representative. An example of a common IVR set-up is:
→ Hello, thanks for calling [business name].
→ Press 1 for [insert language preference]. Press 2 for [insert language preference].
→ Press 1 for [insert desired action]. Press 2 for [insert desired action]. Press 3 to speak with a representative. And so on.
Call Recording
Call recording software is one of the most popular business phone solutions offered by cloud-based phone service providers. With this feature, companies can record incoming and outgoing calls and review them in the future. Global Call Forwarding's call recording software enables you to record up to 100% of all calls. These recordings are stored as MP3 files for up to 6 years. Most companies use this feature to:
Review employee performance
Study customer preferences
Execute quality assurance
Avoid liabilities
Maintain compliance with regulations, and more
Call Forwarding
Call forwarding is another one of our core business phone solutions. This service works with virtual phone numbers that run on cloud computing. Incoming calls from anywhere in the world get directed to numbers of your choice anywhere in the world through this forwarding service. This way, you can connect with clients and contacts from different parts of the world without facing high long-distance calling charges. Companies use this feature to assist in their efforts in global expansion. Easily connect with important customers around the globe without relocating your business. Some other call forwarding services offered are:
Time of Day Routing — Set up calls to route to specific locations or numbers during certain times of the day. This is helpful if you have offices working in different time zones or if you want to provide 24/7 customer support by hiring remote agents.
Sequential Forwarding — Calls that are not answered by the first line get forwarded to the next line on a prearranged set of numbers. This way, even if a certain agent is busy, another can answer the call and it is not dropped.
Geographic Call Routing — Set up incoming calls from different countries to route to select locations automatically. Use advanced call forwarding and IVR to ensure customers get support as you keep regions and language preferences in mind.
Simultaneous Ringing — Have incoming calls ring at once on multiple lines or numbers so that someone answers and the call does not go unanswered.
SMS, Voicemail, Fax to Email Forwarding
Besides call forwarding, we also offer forwarding capabilities for instant messages (SMS), voicemail, and fax. Here is a look at some of these functionalities:
SMS Forwarding: Enables subscribers to receive texts from customers in their email. Adds another communication channel for customers who prefer texting over calling.
Fax to Email: Enables subscribers to receive and forward faxes to their email as a file. Incoming faxes are sent over to a pre-programmed email destination.
Voicemail to Email: Enables subscribers to receive voicemail messages as MP3 files in their email inbox. Keep records of incoming voicemails so that no important messages are missed.
For Internal Communication
Organize communications within the office with phone extensions and call transfer abilities using these features:
Unlimited Extensions: To let callers easily connect with the right department or representative.
Attended Call Transfer: To manually transfer calls to the right department by entering pre-programmed digit sequences or extension numbers.
Finance Services
Encourage customers to connect with your financial service company by providing an easy and safe communication channel with the following features:
IT Industry
Offer customer support and increase your IT company's credibility by having a reliable phone connection with added communication benefits:
Marketing Agencies
Strategize, increase ROI, generate strong leads, and provide outstanding customer success by including the following cloud-based communication features to your marketing agency's phone system:
Travel and Tourism
Stay connected with travelers looking to create memorable travel experiences by offering your services and customer support conveniently with:
Healthcare and Pharmaceutical Services
Keep track of customer data and concerns while providing necessary information about drug updates, clinical trials, and more with:
Call Centers and Sales Teams
E-Commerce and Online Retail
Reach out to a large audience of online shopping and attract more customers to your e-commerce business with:
Small Businesses and Enterprises
Solopreneurs, start-ups, small to medium-sized businesses, and large corporations can all use the following business phone solutions to improve and enhance internal and external communications: