Outsourcing call centers to nations across the globe is an investment that's beneficial in a number of ways. And with advancing technology and the ever-expanding capabilities of the internet, now is a great time to take part in the blossoming industry of international call centers. So, if you're thinking of starting your own call center business, you may wonder what the benefits of outsourcing your call center to another country might be. Furthermore, what type of outbound calling solutions you'll need to effectively manage your call center internationally? 
What are International Call Centers?
International call centers work just like call centers in the US, except they're stationed in other nations. Certainly, one of the main benefits of doing so is to save costs. Typically, hiring sales agents in other countries can be less costly. And with various management software tools and the use of outbound calling services, it can be easy to manage and operate a team of phone agents remotely. However, while cutting costs is definitely a benefit to international call centers, it can actually increase employee productivity. This is because you can give your remote employees the opportunity to work from home, rather than having to drive to and from a physical location every day. 
How to Manage International Call Centers?
Of course, to be able to manage a team of remote employees in another country, you'll need the help of various outbound calling services from your call center phone systems. You can get these services with international numbers for call centers. These can help to reach specific audience groups, which can greatly benefit your business. Especially since you need to remain competitive within the industry. This can directly influence your ability to succeed as an international call center business.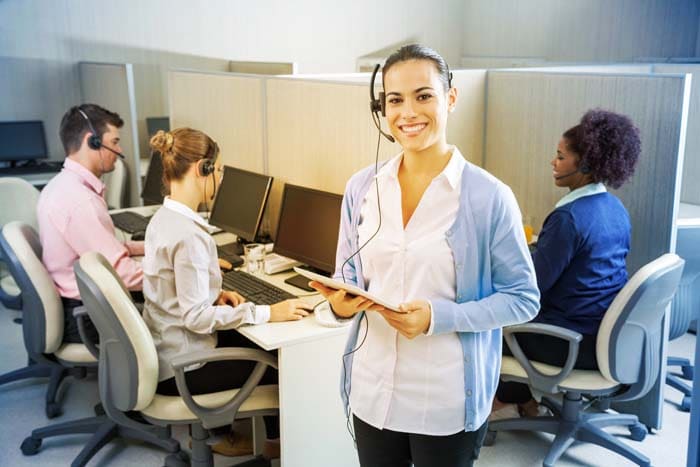 International Call Centers Flourish by Using Various Calling Services
To successfully and efficiently run an international call center that works by calling outbound leads, there are many phone services you might want to consider. These can allow you and your outbound sales agents to work smarter and more thoroughly. Some of these outbound calling services include: 
1. International Numbers
To manage your global call center, you will need international numbers for your call center. These numbers will help you handle incoming calls from global customers while keeping your remote and global teams connected — all through one cloud-based platform. Most cloud-based international numbers come equipped with a variety of features and services to enhance call management and caller experience. These phone numbers can also be integrated with your existing phone system.
2. Cloud PBX
To be able to run a business that's operating in other countries, you'll need a phone system that can support your needs. A cloud PBX is a phone system that uses the internet to allow for multiple international numbers for call centers. With this system, you can use the internet to remain connected to all of your business phone lines. And, manage each line with various, optional features like call recording, customizable greetings, line extensions, conference calling, and more. 
3. Call Recording
To better oversee how your agents are performing and how customer needs are being met, you can rely on call recording. And, this helps protect your business from potential liability issues. This feature allows you to easily record and playback calls on your business phone lines so you can better monitor outbound calling. 
4. Phone Extensions
Your international call center may not have a physical location with on-site departments. So, it may be a hassle to forward calls to the right individuals. With business line extensions, you can give each of your outbound calling agents their own phone number extension. This way, potential customers can call back the specific individual they're looking for so that more sales are finalized. Or, to make sure issues can be resolved quicker.
5. Geographic Call Routing
With employees overseas, you may need the option to forward calls to other countries. This is done with geographic call routing, and it works on virtual PBX phone systems. This way, you can ensure that each of your customers is getting the attentive customer care they need so that you have a better chance of retaining a sale. 

Get Your International Calling Services Today!
If you want to start your own international virtual call center or upgrade the effectiveness of your already operating international call center, take advantage of the various outbound calling services provided by Global Call Forwarding today. Start by buying international numbers for call centers on our Pricing page. We can help to provide any and all of the phone features above so that you have a better opportunity to efficiently and successfully operate your business. And, so that your agents can utilize effective tools to make outbound calls with confidence. To view all of these outbound calling features and more, check out our website. And, contact us today — call us at +1 (561) 908-6171 or chat with us online!