---
IT Companies: Benefits of Recording Calls
The IT industry provides many services that deal with storing and manipulating data. Recording calls adds a layer of data tracking that can be highly beneficial for IT and data services companies offering services such as: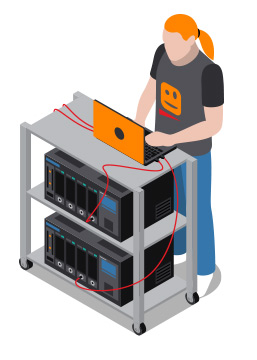 Software and hardware
Troubleshooting
Programming
Network
Analytics and reports
Online transactions
Renewal and payments
Cybersecurity
Cloud computing
Tech support
Communications
Web design and maintenance
Data storage
Automation
Learn more about customer preferences and experiences by reviewing past recorded calls. Such call tracking can help you identify problem areas and services that are popular and successful.
Why Should You Record Business Calls?
Quite frequently, companies need extra resources to help manage calls and customer concerns. During holiday seasons or big sales, new consumers will reach out for help, assistance, and more. High call volumes can be quite overwhelming when your tech support team is not prepared. Call recording software can lessen the stress by enabling your team to:
Keep track of customer data
Use collected data for market research
Record transactions and payments
Learn about customer behavior patterns
Protect from personal and business liability
Conduct quality assurance checks
Train new employees
Handle disputes and complaints
Refer to past purchases and interactions
Maintain compliance with regulations
Businesses are choosing to integrate call recording into their office communication systems to improve productivity, efficiency, and reduce errors. This service works alongside a company's CRM to ensure that employees interacting with customers are always aware of their history, past purchases, issues, etc.