If you've considered using virtual phone numbers for your company, you should know that they are a powerful tool to gain new customers. Being able to instantly communicate with potential clients and target markets around the world can revolutionize your sales team and take your company to the next level.
In this extensive article, we'll look at a number of ways to increase your sales using the power of virtual phone numbers, including:
Investigating new market viability
Accommodating international customers
Targeting hyper-specific markets
Gaining a competitive edge
Using outbound calling for localization efforts
Establishing a more professional brand
Setting up virtual offices and virtual locations
Qualifying your leads with a directory
Using Virtual Phone Numbers for Sales: Investigating New Market Viability
One of the best uses of virtual phone numbers is to investigate whether a new market is receptive to your brand. After all, not every market has the same potential and it can take lots of research to determine whether you should make the effort. However, by using virtual phone numbers, your sales team can reach customers and determine whether these new markets are receptive to your offerings.
Eventually, as your brand establishes itself among your new customer base, you can market more effectively – and even consider opening up a brick & mortar location to interact with your customers face to face. And if a market is unresponsive, virtual phone numbers are easy to discontinue.
Accommodating International Customers
It needs to be said: modern businesses need to go global to survive in the 21st century. With the advent of cloud computing and the ease of mobile communication, virtual phone numbers are the gateway to international markets. Using international virtual phone numbers for your sales team, outbound calls immediately gain an advantage by directly communicating with potential leads.
And vice versa, when inbound callers decide to reach your sales team, they don't have to "dial out" from their home country, pay long-distance fees, or face service blockages from their network providers. This creates an easy process for international callers, while also enabling your company to blend in with domestic businesses customers inherently trust.
Using Virtual Phone Numbers for Sales: Targeting Hyper-Specific Markets
Global Call Forwarding offers virtual phone numbers in over 140+ countries around the world. Furthermore, of these 140 countries, subscribers can further hone their sales by targeting cities and regions that customers respond to. This means that your company can choose virtual phone numbers where your products and services have the greatest appeal.
As an example, suppose that your company sells a high-end product that is out of the range of most average consumers. By having a database of high per-capita income cities and regions, your sales team can use corresponding virtual phone numbers to appeal to these places. The range of customers will be more in line with what your company offers, creating a higher closing rate than by other methods.
Gaining a Competitive Edge When Using Virtual Numbers for Sales
Not every one of your competitors is aware of the power that virtual phone numbers can bring to your industry. Luckily, if you're reading this, your company is already ahead of the game. If you're looking for easy ways to expand the capabilities of your sales team, virtual phone numbers are the answer to gain the upper hand.
After all, consider how a business that doesn't use virtual phone numbers views expansion to new markets. Typically, your competitor will follow the traditional route by opening up a branch office and testing the water. In contrast, you can sign up for a virtual phone number and immediately begin doing business in that same area. There's no need for an expensive brick & mortar presence.
Using Virtual Phone Numbers for Sales: Using Outbound Calling for Localization
Localization is a very important component when it comes to ensuring the success of your sales team. After all, many consumers around the world wish to do business with a local company, not a foreign company. Even if you offer better services and pricing, customers still may feel obliged to only do business locally.
That's why combining the power of virtual phone numbers with an add-on called "outbound calling" can aid the localization process for your sales team. When a caller receives a call from a virtual phone number without outbound calling, the caller ID will display a "V" followed by a long string of incomprehensible digits. This makes it very unlikely that recipients will answer the calls. However, when a virtual phone number has outbound calling enabled, the virtual phone number will appear on the caller ID. This greatly enhances the likelihood that potential customers will interact with your sales team. This also means your company can effectively blend in with domestic businesses.
Establishing a More Professional Brand With Virtual Phone Numbers
When doing business with any salesperson, the ability to project a more professional image can make or break a pitch. Luckily, virtual phone numbers are available as toll free numbers, which immediately bring up ideas of high-volume professional organizations. By equipping your sales team with a toll free number, they immediately gain a professional aesthetic whether making outbound calls or fielding inbound calls.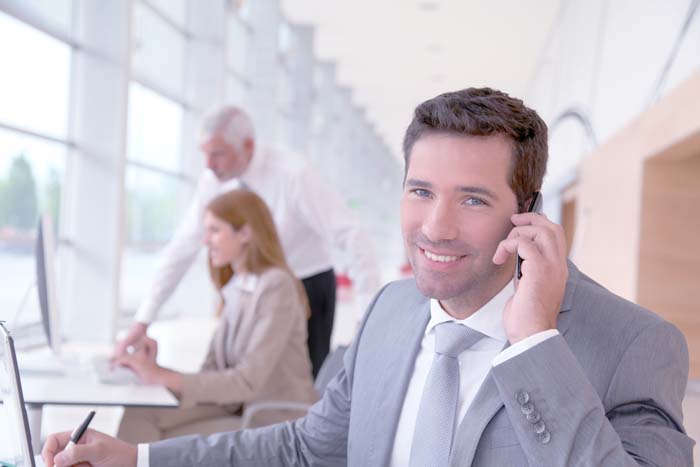 Setting up Virtual Offices and Virtual Locations
Because virtual phone numbers use the Internet to complete calls, it goes to follow that they can be integrated into other web-specific trends. Namely, virtual offices and virtual locations. Both virtual offices and virtual locations are similar: by using Internet-based technology (i.e. e-commerce websites, apps, online collaboration platforms), you're able to adequately meet the needs of your customers.
The distinction between these virtual forms of communication is that virtual offices help manage the day-to-day operations of your company without a physical location (or at least a minimal presence). Virtual locations, on the other hand, accomplish what a brick & mortar branch location can. However, it does so without a physical location while still offering full communication and services. Considering that your sales team can handle calls made to virtual offices/locations, you can greatly augment who reaches your business.
Qualify Your Sales Leads with a Directory
Part of establishing a successful sales team is to reduce the number of unqualified leads to be dealt with. For inbound calls, this can be especially difficult. It gets even more complicated when you have limited staff members or those that fulfill multiple roles in your company. The solution? Using a directory to empower inbound callers to find the information or sales personnel they're looking.
Phone Directory Options from Global Call Forwarding
Global Call Forwarding makes this easy with a couple of popular add-ons. First, a PBX (Private Branch Exchange) creates a touch-tone directory system, navigated by dialing the appropriate extension. Second, using IVR (Integrated Voice Response) enables callers to use voice commands to navigate the system and prompt your sales team on the nature of their call.
The Right Solutions for Your Sales Team
In conclusion, you can see that Global Call Forwarding offers a myriad of ways to use virtual phone numbers for sales. Sign up is quick and easy. Once you've submitted your order, you can begin using virtual phone numbers within 24 hours, which can revolutionize the success of your sales team. With over two decades of providing telecom solutions to businesses big and small, Global Call Forwarding is the right choice for your sales team.