An inbound call center is designed to only receive calls made by users or customers. These centers typical focus on customer service and provide support or sales, and help with billing or general queries. Customers can call regarding questions about your product or for more information about your company or services you support. These centers also work as directories that people can call to find information about local or regional services or businesses. Starting an inbound call center will provide a new avenue for your customers to interact with you and your business.
Steps to Start an Inbound Call Center
When planning to start an inbound call center, it is important to keep a few elements in mind. Do you want a physical or remote set-up? What do you need to set up a physical call center? How can you organize and develop a virtual call center? Read on to understand what steps are required to start an inbound call center.
Step 1: Decide on a Physical or Remote Call Center
Firstly, it is important to first determine how and where you want to set up your call center. If you want a physical location, then check local and state requirements to make sure you are in compliance. File all the necessary paperwork and tax information.
On the other hand, for a virtual call center, you do not need a physical location or office supplies. Instead, you can simply start by creating a business plan and setting up phone lines. However, make sure to check your town's zoning restrictions, if you are starting a business from your home. Zoning restrictions determine whether or not you are allowed to start a business from your home.
Step 2: Write out a business plan
Next, create a business plan to generate some idea of what to expect as you start your company. Develop a business plan including expenses, equipment cost, projected sales, marketing activities, and employee salaries and benefits. Thorough and detailed business plans can help you secure capital with agencies like Small Business Administration (SBA) and private investors.
Step 3: Invest in equipment
Now, based on the location of your center and the business plan, start investing in office equipment. How many desks and chairs do you need? What software programs would be resourceful and keep your work organized? Phones and headsets are a call center's necessity. However, what type of phone lines or phone service would you benefit from the most? Determining the needs of your company will make sure you are better equipped to satisfying your customers.
It is also important to utilize customer relationship management (CRM) systems for call center quality assurance. CRM studies and analyzes data to ensure that call centers are being productive and time-efficient.
Step 4: Get a business phone number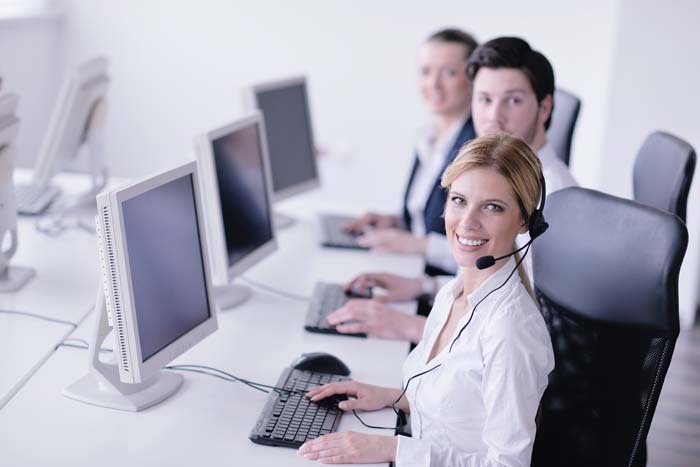 A business phone number will establish your company as professional and ready for business. Any phone service provider can help you with a phone number for your business. However, investing in one that will provide you additional features to enrich customer service relations is productive. Phone service providers, like Global Call Forwarding, offer call forwarding, call transfer, call recording, unlimited extensions, simultaneous ringing, and more.
Virtual phone numbers enable businesses to reach customers without creating a physical presence. Virtual numbers are cost-effective and come with added benefits of recording your call, forwarding it to employees in a different timezone, customized voice greetings and more. These ensure that no customer call goes unanswered. In fact, this mode of communication is effective for remote offices as well, allowing customers to always reach you. This way, customers will think of your company as a call center that is available in multiple time zones.
You can also invest in interactive voice response (IVR) which will provide your customers with a menu of options when they call. They can follow directions to resolve their queries. For example, Press 1 to review your charges. Press 2 to pay your bill. Pay 3 to cancel your plan, and so on. The IVR feature can also greet customers with a customized message. For instance, Thank you for calling [your business]. Please stay on the line while we connect you to a representative.
Step 5: Build Your Team
Hire employees to work as customer service agents or call center agents depending on your business' size and demands. Calculate the number of agents needed for a given number of calls. Virtual centers can afford to hire more remote call center agents as they do not have to worry about office space.
Step 6: Market your business
Finally, it is important to get the word out about your center. Marketing your business will ensure that potential customers and clients are aware of your services. Invest in a vanity or toll free number with patterns or letters for an easy-to-remember and recognizable number. For example, 866-898-8988 or 1-800-YOU-ROCK. Besides these, focus on marketing strategies to target your ideal customer groups. Maintain constant communication with customers and clients so that they think of you first when a service like yours is needed.
Start Finding Clients and Get Your Call Center Ringing
Now that you are set up, start finding clients. Virtual call centers mean that you do not need to restrict your services to only customers in your city or state. Go global with your business and tap new customer groups. Improve your customer service relations with Global Call Forwarding's features. Forward, transfer, record your calls and personalize your interactions and increase customer satisfaction.