Customer service is a central part of any organization. The quality of service provided is undoubtedly a direct contributor to the overall success of a company. This means more companies are investing in call centers to handle their communication needs. With technological advances, virtual call center software has evolved. The daily challenges of being a call center agent have also changed. Having a good grasp on these changes helps in being prepared to overcome the challenges. This type of preparation ultimately contributes to the overall success of the organization. Let's discuss some of these challenges to get a better understanding of how to manage them.
Customers Express Interest Only to Opt-Out Later On
A call center agent may spend a lot of time on the phone with a customer going over the details of products and services. A customer may express a lot of interest and this motivates the call center agent to continue to invest time. Later on, however, the customer may change their mind and opt-out of purchasing the product or service. When a sale falls through, it affects the productivity of the call agent in numbers and in the resources spent through their time.
The best way to convert leads to sales is to follow up regularly. Stay in touch with those who have expressed interest while communicating your value. Establishing this rapport and reminding them of the value of what your offerings is the best way to increase sales.
Not Knowing the Answer to a Question
Call center agents undergo extensive training. There is still the possibility that a customer is going to ask a question they do not know the answer to. If a call center agent does not know the answer to something, they should bring an expert into the conversation or make sure they call the customer back as soon as possible with an answer.
Managing a Never-Ending Queue of Calls
A call center agent will have what seems like a never-ending queue of calls, especially during peak business hours. This may mean long hold times for customers. Customers can become frustrated with long wait times.
A business owner manages this issue by having FAQ pages, DIY instructions, and tutorials on the company website. A call center agent can utilize self-service options and a callback option to better deal with heavy call volumes.
Transferring Calls
A call center agent will need to transfer calls from time to time. This may mean transferring to a different department and this could upset the customer. Being personalized and specific when transferring a call will help to ease a customer's concerns. Also, making it a point that it is in their best interests in order to get them the best answer to their query really helps as well.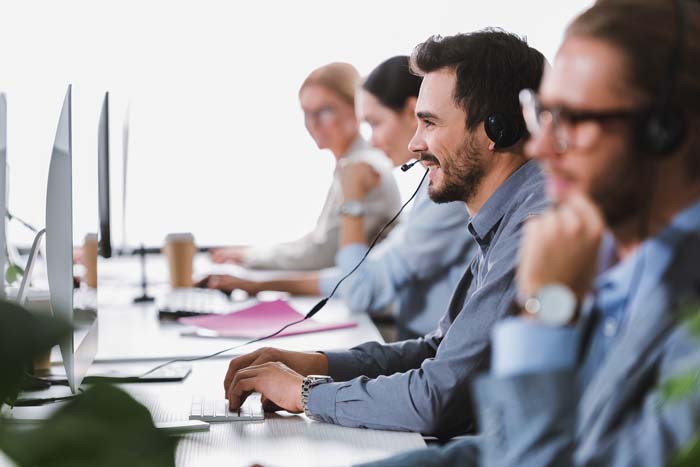 Adapting to New Technology
A call center agent will have to adapt to new technology from time to time. The environment is extremely dynamic and this presents challenges. Especially when trying to simultaneously manage productivity.
A business owner must introduce training courses to help familiarize agents with any new technology. This is the best way to allow the call center agent to grasp the full potential of the new technology rapidly and efficiently. This will then translate to higher productivity in the workplace.
Virtual phone numbers are a perfect example of new technology that has been introduced in relation to an inbound call center. Virtual phone numbers are relatively easy to adapt t and are beneficial to the company as well as call center agents. Introductions tools like these help companies to stay ahead of their competitors.
Understanding Customers and Dealing With Various Situations
A call center agent acts as a representative of the brand. This necessitates that call center agents operate within certain constraints. This can present challenges as some customers are expressive and very easy to read and others are not. Dealing with customers who are upset is also a challenge, as is dealing with unexpected issues without clear solutions.
The call center agent should always remain patient, calm and courteous. A business owner must also have a uniform process for dealing with a customer that is upset or an issue that is unexpected. That may mean simply going to a supervisor for their suggestion before moving forward with scripted best practices.
Want to Overcome the Challenges of Being a Call Center Agent?
The daily challenges of being a call center agent certainly require preparation for. Agents require training in areas such as communication, marketing strategies, and cultural phone etiquette. Ongoing training to manage the path in adjusting to new technologies is also crucial. Managing time, staying cool under pressure, and the prioritization of goals are also very helpful. Call center performance management is a critical piece of the puzzle in the success of a business. With the right personnel in place, as well as the right call center technology and training, call centers can help a company soar far ahead of the competition.