As you may be aware, competent call center customer service agents are hard to find. And it's no wonder, as dealing with the needs of customers can be a daunting task. In order to be the best customer service agent, they must have the right personality, skills, and adequate training. Because customer service directly impacts revenue and how your company is perceived, building the best customer support team should be a top priority.
This article will cover the traits you should be looking for when hiring new customer service agents. It will also cover those that you should emphasize when training your team. 
Patience with the Customer
Perhaps the primary trait you should foster with every customer service agent in your company is patience. Being able to handle the pace of each customer's unique situation can lead to a positive customer service experience. This is especially important when callers may be irate, confused, or unknowledgeable. Those at your inbound call center should know that each customer simply wants their problems solved in the most efficient way possible. Unclear issues should be explained in a level-headed manner without assuming that a customer's negativity is in any way a personal attack. To develop patience, part of every customer service agent's call center duties should be focused on resolving problems with empathy. 
Clear Communication
Part of being a good customer service agent is clearly communicating what callers are trying to get across and responding in ways that ultimately make sense to each caller. This includes company protocol, grasping the issue at the heart of the call, and troubleshooting technical aspects beyond their grasp. This is especially important for tech-heavy industries, where simple definitions and explanations can be used without delving into jargon and complexity. However, when the occasion calls for it, your customer service agents should be able to explain more advanced concepts that are understandable for all levels of comprehension.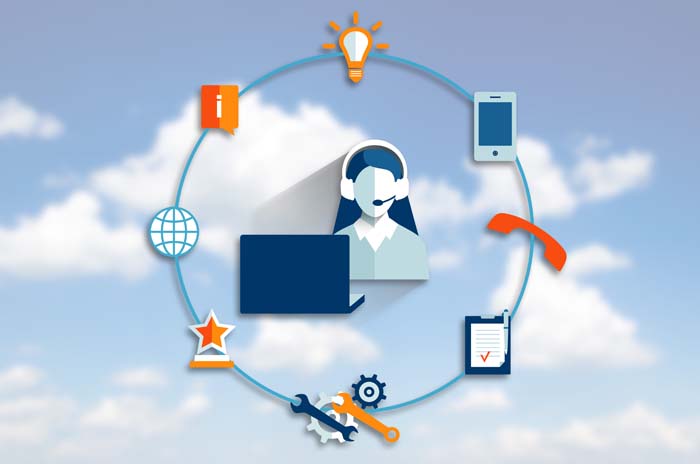 A Positive Attitude
Moods are infectious. Therefore, having your customer service agents focus on projecting a positive outlook and looking on the bright side is paramount to success. This can be difficult when customer service agents encounter constant negativity, especially when customers despair at their problem, or maybe at their wit's end. First, part of call center duties should include the ability to uplift callers and gradually shift their thinking as inquiries are solved. Try to see part of the job description as being a well-spring of positive emotions. For instance, you may want to train your agents to take callers on a journey towards happiness; at first, a caller may be upset, but as the problem nears resolution, a positive outcome can be reached – even better and more efficiently than a caller realizes. In a fast-paced world where callers may feel that it is them vs. the world, encountering a positive, smiling voice on the other end of the phone can be a breath of fresh air. This is something that reflects well on your company's public image. 
Be Creative with Your Solutions
Customer service agents should be trained and rewarded for using their creativity when it comes to problem-solving. Being able to provide customers with uniquely tailored solutions to their problems and understanding the frame of mind that they present requires the ability to think beyond standard procedures. Encourage your customer service agents to come up with their own ways of troubleshooting problems. For instance, if a customer continually has problems with their billing, a customer service agent can suggest ways that fit how the caller prefers to do business. This, of course, requires that your customer service agents have a deep knowledge of your business, as the more you know, the easier it is to see a wider range of options for any given obstacle. When these dilemmas present themselves, agents can devise solutions that may call for out-of-the-box thinking when particular issues arise.