With the growing demand for follow-the-sun service, more and more businesses are looking for a way to boost their accessibility. Establishing an after-hours phone service is a great way for your business to meet customer expectations.
So, in this article, we'll cover everything from defining after-hours service to walking you through how to set it up.
What is an After-hours Phone Service?
An after-hours phone service helps businesses remain accessible to customers and prospects outside regular business hours. It consists of time-based call routing rules that automatically direct callers to an alternate destination during predetermined times.
As such, callers receive service and assistance at their convenience – even if your business is closed. This also means you can easily provide global customer support without operating on a 24-hour schedule or asking employees to work the graveyard shift.
How Can Businesses Benefit?
Customers these days expect businesses to provide round-the-clock service and support options. Luckily, with after-hours routing, you can do just that. But how does boosting your accessibility benefit your company? Let's take a look.
• Improve caller experience by expanding your availability. This way, customers always receive service and support at their preferred time of day.
• Increase retention rates by establishing a consistent communication method. Since callers can always get a hold of you, it deters them from contacting competitors instead. And it increases both customer trust and loyalty, as you are always available when needed.
• Generate more leads and boost sales by avoiding missed or unanswered calls. This way, you never miss an opportunity to identify valuable leads or drive conversions.
How to Set Up an After-hours Phone Service for Your Business
Now that we've covered the basics, let's go over the process of creating an after-hours phone service for your business. We'll break it down into 3 simple steps:
Get a Call Routing Service
Configure Time-Based Routing Rules
Test Your Service
1. Get a Call Routing Solution
Setting up an after-hours phone service begins with getting a call routing solution. Since many different providers offer business hour routing services, comparing each option to your communication needs is essential.
To determine if a provider is right for your business, consider the following factors:
Experience in telecommunications
Pricing options within your budget
Setup or installation fees
Activation times
Other available services and features that improve efficiency (besides call routing)
Uptime guarantee and service reliability
Customer support options
Once you've found a provider that matches your requirements, sign up for their service and wait for it to activate.
2. Configure Time-Based Routing Rules
Since many call routing services are entirely customizable, there are a few different ways you can equip time-based routing. Naturally, how you configure these rules depends on your specific needs and chosen provider.
Those using Global Call Forwarding for their after-hours phone service can configure routing rules in their online control panel. From there, you can set up time-of-day call routing one of two ways – using our advanced routing capability or creating rules in the IVR manager.
The advanced routing feature allows users to set up after-hours rules based on:
days of the week
times during the day
start and end dates (if applicable).
And you can forward all incoming calls to one or multiple other locations. This is a great option for those looking for a simple setup process that routes callers directly to another line.
Here's an example of an after-hours routing configured through our advanced routing feature: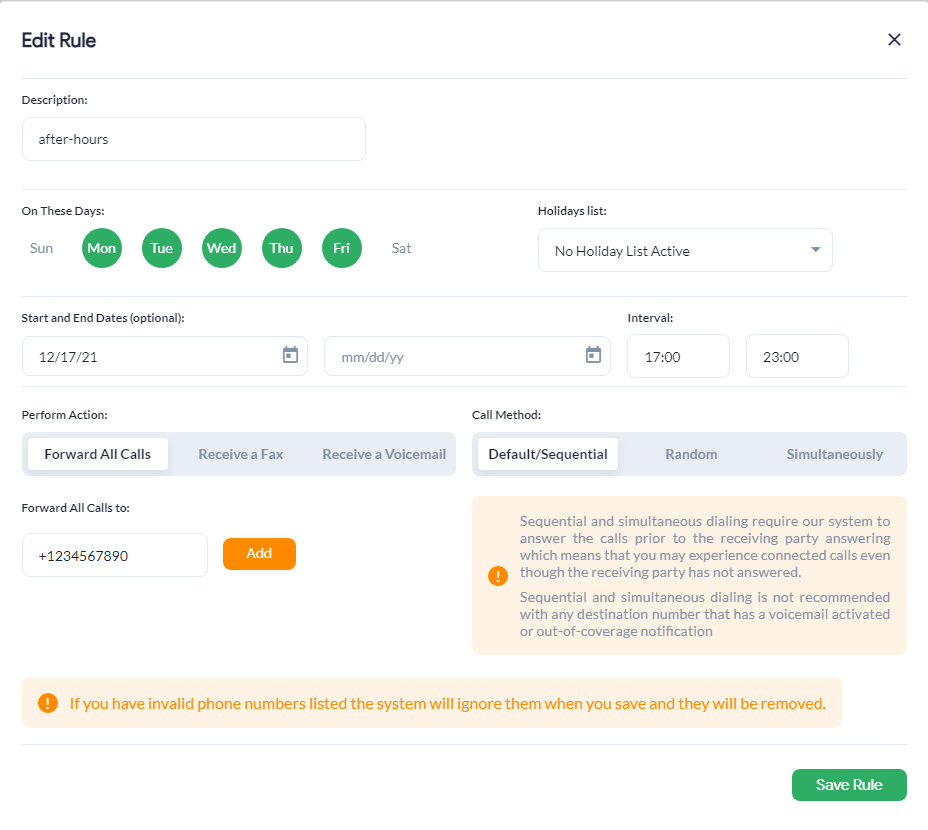 On the other hand, setting up an after-hours service through our IVR manager allows you to create a more complex phone service. You can add announcements, decide what happens if a call fails, establish waiting periods, and much more. This is great for those looking for a more customizable solution.
Here's an example of an after-hours phone service configured through our IVR manager: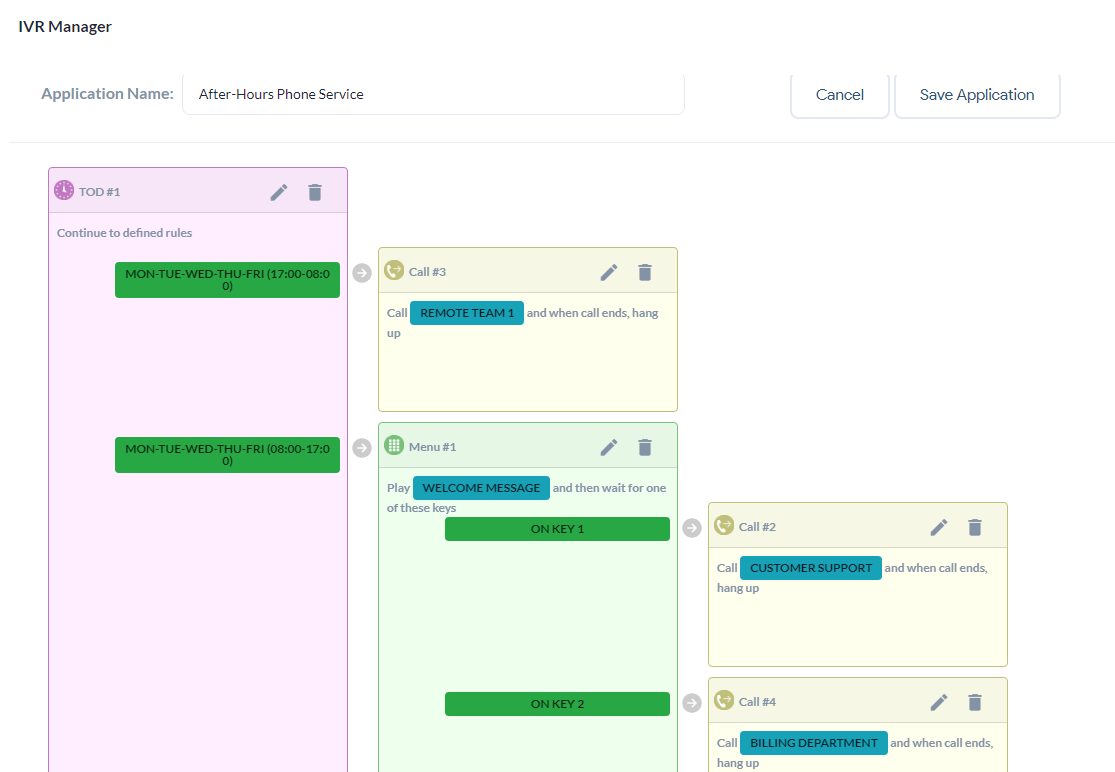 After deciding on a configuration method, you must choose where you want to forward calls coming in outside business hours. This decision will depend on your business structure and resources. But, here are some options to consider when determining where to route your after-hours calls:
Distributed teams such as remote or international personnel
Answering or receptionist services
3. Test Your Service
Once you've configured your routing rules, it's important to test your after-hours phone service. This way, you know it works as intended. And if there are any bugs, you can fix them before they become a problem for callers.
Launch Your After-hours Service with Global Call Forwarding
Ready to set up your after-hours phone service? You can get time-based routing with any pricing plan from Global Call Forwarding. And since all of our solutions are cloud-based, you benefit from their affordability, flexibility, and scalability.
If you need additional help creating custom routing rules or setting up an after-hours routing, chat with us online or call us at +1 (561) 908-6171. We're here to help!