Whether your main advertising platform is the internet, television, or printed publications, a call to action (CTA) is necessary to inspire audiences beyond viewing your materials to becoming active participants who are willing to make a connection with your brand.
When you think of a call to action in its simplest form, you likely think of terms like:
"Call today"
"Click this link"
"Buy now"
These calls to action are well-known, but a CTA has to be much more to be impactful. Business owners can't rely on CTA's with a cut and dry approach because the internet now connects competing businesses on a global scale. Your business is unique and every element of your messaging must stand apart from your competitors.
We should view the call to action as an art form instead of treating a call to action as a command or instruction. To help you along the way, we've compiled some of the most valuable tips to note as you strive to approach your call to action as an art form.
Humanize The Language
Advertisements are everywhere, and many are ignored. The ads with call to actions that go viral and gain organic traction share common traits. The content is interesting and doesn't rely on robotic language.
Treating your call to action as an art form means it should resonate with viewers. Strike an emotional chord by adding the human element of personality through your wording because consumers are more likely to take action when they can relate to a brand.
For example, instead of saying "BUY NOW," change the wording to "GIVE US A CALL. WE'RE ALWAYS HERE TO HELP." No one wants to feel as if your primary purpose is to profit by selling them a product. Buyers want to know you have something valuable to offer. The way you use your words relays that message.
Paint A Picture With Your Content
Buyers must believe your business is worth the investment before they take action to support your company. The CTA should be part of a body of content that translates beautifully through words, imagery, or video. If your call to action is an art form created for your target customers, it can be effective on any advertising platform.
Are you looking to sell a new product? Don't just say how valuable your product is, show it. Review written content and scripts to find the strongest adjectives and replace them with full descriptions. When using television or coverage radio, let personality, design elements, and quality lead the way.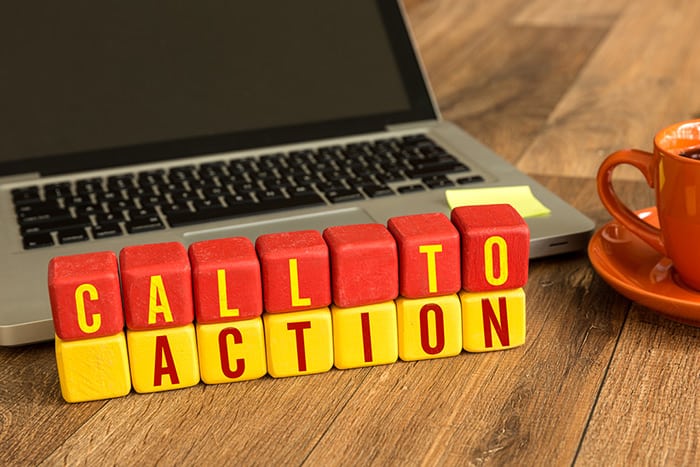 Embrace Transparency
Some of the most iconic artists lived a life of mystery and intrigue. But today's artists and business owners must display their artistry through their social prowess. The art of business requires high-quality services and transparent business owners. One of the best ways for a business owner to show transparency is by being accessible.
Potential customers shouldn't have to work to find you or connect with you. Strategically using your call to action as an art form should always include convenient means of communication, such as your phone number and email address.
Will you be prepared to quickly respond when someone takes action and contacts your business? Always make sure your hours of operation are clear for callers and respond to written inquiries and voicemails within 24 hours. If you're working with a team, ensure that they are well-trained and have the necessary tools to assist customers.
Viewing your call to action as an art form is the first step to connect with customers. Exceptional customer service is what will lead to sales and business expansion. This is so many small and large businesses use virtual phone numbers.
Business owners can forward virtual phone numbers to mobile phones and create extensions for team members, allowing everyone to work remotely and in an organized fashion. The response rate is even faster through additional options such as transcribed voice to email service.
When using your call to action as an art form, know that everyone who contacts won't be in your local calling area. Consider a phone number that is not specific to one area code. Using a local phone number often results in fees and confuses long-distance customers, deterring new callers from contacting you.
Have A Consistent Style
When famous artists releases new work, their fans can spot it before the name of the artist is announced. Such artists have a strong presence through their recognizable style. Your call to action must also have a style of its own, but that style must be in line with your branding.
Consistent branding will keep your business relevant – even when your brand is not the star of the show. Being recognizable will naturally attract new clientele and maintain the interest of your loyal customer base when partnering with another company, attending events, or working with sponsors.