Small businesses are known for being creative and finding organic approaches for expanding their company. Most times, those small companies became big once they harnessed the power of digital marketing and shifted their focus to the worldwide web to build a loyal customer base.
The return on the investment of time and money into digital marketing is highly favorable when considering the reach and affordability of digital marketing services in competition for new clients.
In the following article, we've listed four digital marketing avenues every small business should explore. You can substantially reduce the time you invest into these methods by teaming up with digital marketing experts.
Not only are these types of digital marketing for your small business affordable, they are also scalable, which means everyone should be taking advantage of them!
An Optimized Website
A website is the most critical aspect of digital marketing. Your website is how you share the most details about your business and products. A fully integrated website also serves as the source of your blog posts and should link to your email marketing campaigns.
But your website needs to act as more than an information source. Many times, small businesses make the mistake of creating a website without optimizing it for consumers. The internet offers an endless source of information. It would be difficult (and almost impossible) to bring a high amount of traffic to your website if you relied solely on word of mouth.
Another valuable type of digital marketing for your small business is search engine optimization (SEO). Search engine optimization is a strategy that ranks your company higher in search engine results based on your industry and specific keywords. When your company shows up on the first page of Google, you're likely to get more leads and close more sales.
Optimize your website for viewing based on current technology and consumer trends. Tablets, cell phones, and personal computers are the primary sources for web browsing. Personal computers are still a mainstay, but 63% of people are now visiting websites from their cellular devices.
This means your website must be fully functional for mobile browsing because you could lose business if your website is only compatible with laptops and desktop computers.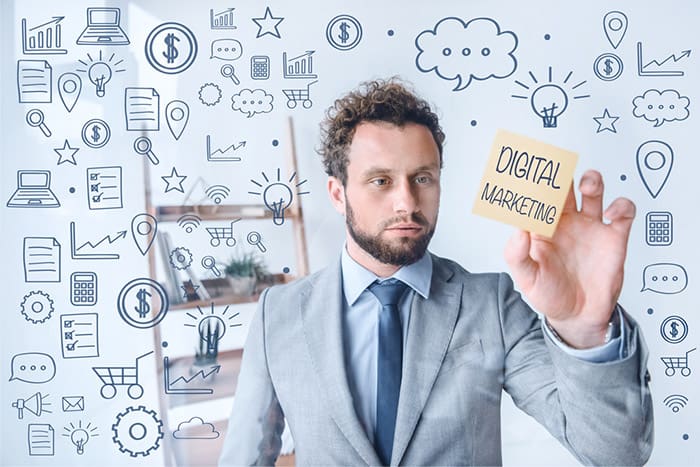 Social Media
Social media is one of the most popular types of digital marketing for your small business, and research continues to prove that it is much more than a fad. Today, business marketers working to stand out in the digital space must take social media seriously and acknowledge the fact that most consumers are now online and using social media to research brands. Customers are also sharing personal experiences with businesses on social platforms.
With a strong social media presence, you're more likely to inspire new customers to reach out to you. Being active on social media also allows you to research your company name and see how consumers feel about your products and services. Build loyalty by directly sending offers and thank you's to users mentioning your business. Likewise, you can generate more positive feedback by publicly responding to customers with problems or questions. This shows that you are willing and ready to help.
Free Webinars
Ebooks and guides are well-known for attracting quality leads, but webinars continue to move to the forefront. Webinars are valuable types of digital marketing for your small business because they allow viewers to learn valuable information quickly at no cost. Furthermore, webinars help you stand apart as a thought leader in your field. Furthermore, a webinar can place you above competitors because potential customers will appreciate that you were willing to provide them with value at no cost.
You don't have to share valuable information for a fee online. Just inviting newcomers to learn something new can inspire them to learn more about your business. Provide real value and you're far more likely to gain email subscribers who look forward to updates from your company. Keep them engaged after the webinar with email newsletters, blog posts, and insider deals.
Email Marketing
Email marketing has picked up where traditional mail brochures left off and offers much more convenience. Email marketing is among the most effective types of digital marketing for small businesses. The average return on investment into email marketing is 122% and more than 20% of people check their emails more than five times each day.
Combine email marketing with a webinar or email course series to keep readers intrigued and looking forward to the next email. Let emails serve as an outlet for readers to get to know you. Further engage them with personal stories and business-related lessons. These tactics will increase the likelihood of purchases when new products are announced.
Not sure if you're ready to invest in digital marketing? We've got a solution: there are usually interns who are looking to learn by working for recommendations or as a trial for a long-term position. Another option would be taking the time to learn the fundamentals of digital marketing and try it without assistance.