If your small business doesn't have a toll free number yet, you need to ask yourself why not. A toll free number is an indispensable asset for any size business. The benefits of having a toll free number are countless. It helps your company way more than simply enhancing your brand recognition and boosting your credibility; it also increases your sales and bumps up your ROI. Here are just a few reasons why your small business should have a toll free number.
5 Ways Small Businesses Can Use a Toll Free Number
The main attraction of toll free numbers is that they are free for customers to call. The business using the number bears the cost of customer calls. But while this may sound expensive, phone service providers have found ways to make toll free numbers inexpensive for businesses. This is because toll free numbers are a great marketing and sales tool for businesses as the 'free calling' option attracts more customers.
So, why should your small business get a toll free number?
1. Increase Customer Satisfaction
When consumers were surveyed, they pointed out that one of the most annoying things about a company was finding out that there was no easy way to contact them when they needed assistance.
Your customers will quickly become frustrated if they cannot find a phone number on your website. Why not make it really easy for them and give them a toll free number that's easy to find. That way they will realize that you have respect for them and they will stay loyal to your brand.
2. Make it Easy to Remember
One of the other great things about a toll free number is that they are really easy to remember. Toll free numbers usually consist of a sequence of numbers that stick in your mind. For example, 1-800-444-4242, or 1-800-505-5050. Another way you can make your toll free number unforgettable is by buying a vanity number. A vanity number is one in which the number sequence is replaced by letters representing the number. The word or words should be relevant to your business. For example, 1-800-CONTACTS, 1-800-MATTRESS, or 1-800-FLOWERS. If they can remember your number, people will call you, and this is a very good way to generate sales.
3. Boost Your Company's Legitimacy
Toll free numbers aren't just for the huge corporations out there. By using a toll free business number, you are giving your business credibility and enhancing your company's image. This is great if you are just starting a business. You could be working out of your garage, and no one will ever know.
4. Maintain Portability
When you have a toll free number, your physical location doesn't matter. If you decide to relocate your business, your customers won't even know because they will still be able to reach you on your toll free number wherever you are. All your calls to your toll free number can be forwarded to your smartphone or any other number of your choice. What's more, once you buy a toll free number, it's yours for good. Even if you decide to change your toll free number service provider, you can port your number to keep it.
Related: 5 Phone Number Porting Myths Debunked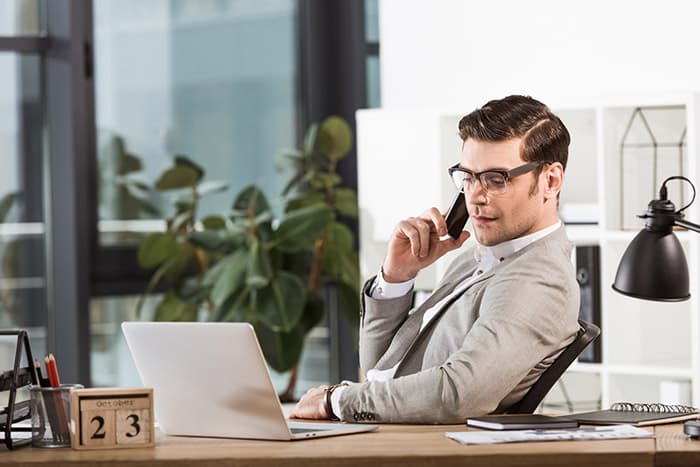 5. Use it as a Marketing Tool
Toll free and vanity numbers can both be used to help you keep track of your marketing efforts. For example, if you have a website, billboard, print ad, or even a radio or TV commercial, each time someone picks up the phone and makes a call to your company, you will always know which ad is drawing them in because you can use a different extension for each marketing campaign.
6. High Availability
Right now is a great time to purchase a toll free number because new prefixes are available, such as 833. The new numbers mean there are more available number combinations. So you have more chance of finding an easy-to-remember combination like 1-833-333-3333. Keep in mind though, they won't last long, so you should act quickly. New prefixes only come along as and when they are needed, and this isn't usually very often. There is not likely to be a new prefix released until almost all of the 833 numbers have been taken. Learn more in our toll free number prefixes guide.
How to Get a Toll Free Number?
If you're interested in getting a toll free number, you can get one from a variety of sources, such as national phone service providers and any communications company which has access to toll free numbers, such as Global Call Forwarding. You can call them directly to see if the phone number you want is available.
Once you have chosen your toll free number, you will have a monthly payment plan, rather like any other phone plan. You can add on or remove extra numbers whenever you wish without penalty. While a lot of toll free number providers charge per minute for calls to the numbers, some will charge a lower rate if you have more than one toll free number. No contract or additional equipment required. Have questions? Call us or chat with us online!