Effective communication is key to business success. And voicemail transcripts are a valuable business tool that help improve communication and operational efficiency. For global businesses providing multilingual support and linguistic diversity, translating voicemail transcripts into multiple languages is essential. By doing so, you can enhance customer experiences, support market expansion, and uphold a positive global brand image.
In this article, we'll delve into optimizing your voicemail transcripts and the process of translating them into multiple languages.
Making the Most of Your Voicemails
Through voicemails, you can uncover valuable insights into customer preferences and issues as well as receive feedback. And so, cloud telephony providers like Global Call Forwarding make it easy to access your voicemails with voicemail-to-email and voicemail transcription features. This ensures you receive voicemails on devices (smartphone, computer) and channels (email, text format) you use the most.
What is Voicemail Transcription?
The voicemail transcription feature turns spoken voicemails into written text. It involves a voice-to-text translator tool that receives incoming voicemail and converts it into readable text. You can read, store, and share these messages as text, making them more convenient to handle and retrieve. Depending on the provider, transcriptions are delivered through email or text message.
For instance, Global Call Forwarding provides an advanced voicemail solution boasting over 90% accuracy in 55+ languages and accents, including French, German, Spanish, and more. All plans come with free voicemail and voicemail-to-email features. Plus, you can add voicemail transcription to any plan for only $4.95/month and elevate your communication game.
Related: Top 8 Tips to Creating a Multilingual IVR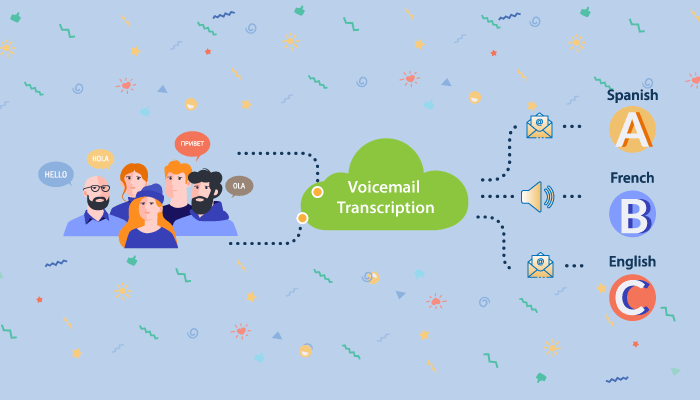 How to Translate Voicemail in Multiple Languages
Let's explore three key steps to translating voicemail transcriptions into different languages for more effective global communication. Note that to do this, you'll need a VoIP phone service provider that offers voicemail transcription services.
1. Set Up Voicemail Transcription
To add and activate your voicemail transcription feature in the Global Call Forwarding control panel, follow the below steps.
In the Control Panel, go to My Phone Numbers and place your cursor over the phone line you want to select.
Click on Settings and then select Call Forwarding and Voicemail under that.
Here, you'll find the Transcription button. Select it to activate the Voicemail Transcription feature.
In the Deliver all Voicemails box – enter the email addresses that you want the voicemail transcription to be delivered to.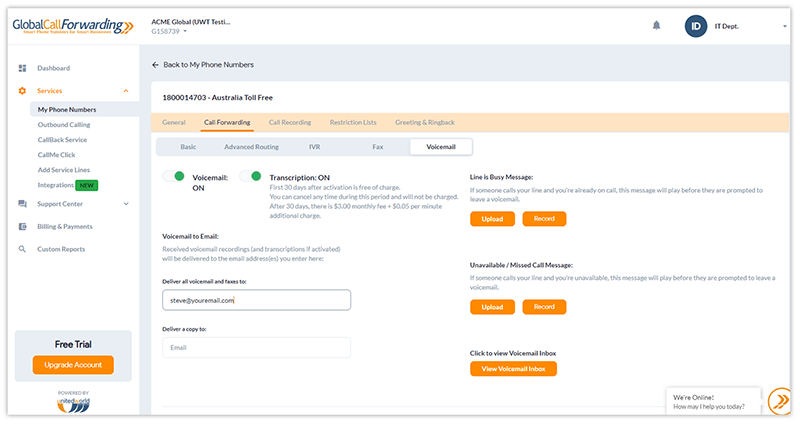 2. Retrieve Your Voicemail Transcriptions
Global Call Forwarding customers can access voicemail transcriptions in the following two ways:
1. Directly in your Control Panel after activating the transcription feature:
Click on My Phone Numbers and hover over your desired phone line.
Click on the Voicemail Inbox icon.
On this new page, you can listen, view, and download voicemail recordings and transcripts.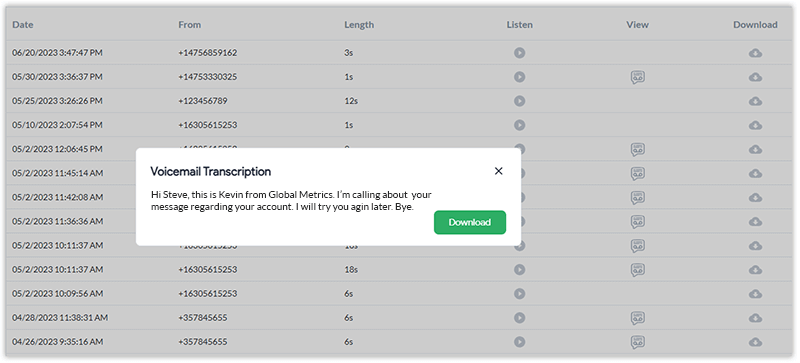 2. Refer to your designated emails to find transcription in your inbox.
If you have enabled the Voicemail-to-Email feature, the recipients will receive an email containing both the audio recording and the transcript in text format.
This way, you can easily manage messages efficiently, whether through the Control Panel or your email inbox.
3. Use a Translation Service or Software
Using free translator websites or apps, such as Google Translate, Microsoft Translator, Yandex Translate, iTranslate, etc., you can translate your transcription into any language.
Such tools often provide more accurate and context-aware translations. You can also hire professional human translators who are great at both source and target languages. Learn more about hiring translators and native speakers in our content localization guide.
Get Voicemail Transcription with Global Call Forwarding
Voicemail transcriptions are a pivotal part of modern business communication. They help with training, monitoring customer interactions, and ensuring you never miss important information.
Global Call Forwarding understands the importance of clear customer communication and offers a convenient and accurate solution. All our services come with voicemail and with the option to avail transcription for a small fee.
Contact us now and speak to our experts about how you can upgrade your business communications!