If you hang around marketing circles, you'll hear the term 'content localization' quite often. But what is this relatively new marketing tactic and is it something your business needs to consider? The answer to that largely depends on your company's growth and expansion goals.
Most businesses don't consider content localization as part of their global expansion strategy. But, there is a reason why many organizations are investing in localization resources. According to research, "you are 75% more effective at selling to international customers when you speak their language."
And that's why more and more global businesses are looking to their marketing and sales teams to implement and improve localization efforts.
In this post, we'll look at the following:
What is Content Localization?
Content localization is the process of creating localized or specialized content for specific regions by considering language barriers, preferences, cultural differences, and more.
In other words, you make your content locally accessible to customers in different countries around the world. This often involves:
Creating country-specific articles: city and country pages, stories relevant to each region, personalized offers for different regions, etc.
Translating content into different languages: Spanish for South America web traffic, Chinese or Arabic for APAC web traffic, etc.
Using country-specific terminology in your marketing materials: US = fries vs UK = chips
Providing local and global support: local contact methods, technical and legal content translations, multilingual support
We'll go into more detail about the types and components of content you can localize in a few minutes. First, let's understand why content localization is worth the time and effort.
Why Should You Localize Your Content?
Making your content accessible in different languages and regions allows your business to extend its global reach.
Let's walk through a scenario: Your business already has some customers coming in for new markets. You can use content localization to double up on your marketing efforts in those regions. Alternatively, your business wants to start fresh in a new market, like opening a new branch or office. You can use localization to engage with potential customers in these target markets and slowly grow your following.
Remember, localization does not only mean translating content into other languages. It can also involve:
Adapting products (names, key features, UX, etc.)
Executing local SEO strategies
Converting measurement units and currency
Using local contact methods (local phone numbers, addresses)
Complying with legal requirements and regulations
Providing local support, and so on.
So, when you localize your content, you implement new ways to build trust and credibility with your global customers. You create content that they easily understand and relate to. And by doing that, they become more comfortable with your company.
Lisha Abraham, Senior Project Manager at Milestone Localization, explains, "Content localization is localizing all aspects of your content to suit your target market. When done correctly, it can significantly help you expand your business in your target market, increase your reach, enhance your brand image, and more importantly, increase revenue by driving more sales."
Case Study: How GCF Supports Global Customers
Global Call Forwarding is a leading international provider of local and toll-free numbers. We offer cloud communication solutions to small businesses and enterprises around the world.
Given the nature of our business, many of our clients are multinational companies that benefit from localized content. And many already have some sort of content localization strategy in place. Generally, they have international websites with local language content along with a local country phone number. Or, they publish local numbers on their localized brochures.
To support their localization efforts, we have helped many businesses open local virtual offices in different countries with cloud telephony solutions. This way, businesses can access global customers without having to launch physical offices in each target region. They simply purchase a local number, display it on their website or alongside localized content, and then forward incoming calls to their main support center, wherever it is located.
10 Benefits of Localizing Your Content
Now that we've covered what content localization is and why it is an important aspect of expanding a business, let's look at the many benefits your business can experience: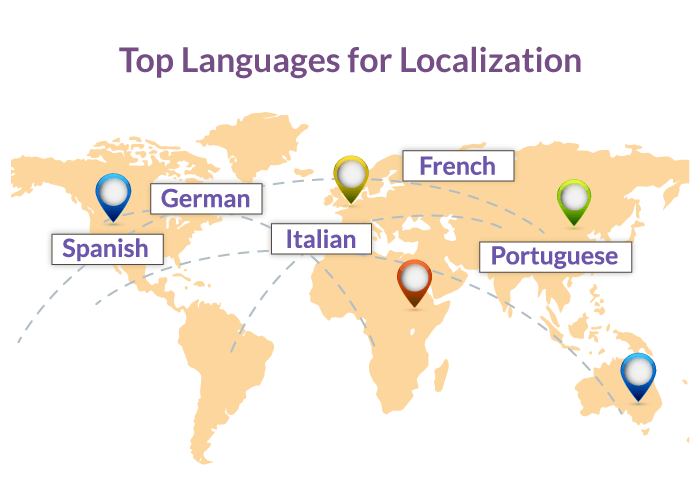 Top Countries and Languages for Content Localization
According to the Globalization and Localization Association, the most popular target languages for content translation (from English) include:
French
Italian
German
Portuguese
Spanish
Japanese
Korean
Chinese (Simplified)
Dutch
Turkish
Polish
Russian
The top five languages (French, Italian, German, Portuguese, and Spanish) cover five major regions. Italian and German are official languages in multiple European countries besides their countries of origin. Similarly, Spanish and French variants are used in multiple countries across the globe.
Portuguese lets you tap into the ever-growing Brazilian economy — the largest country in South America — and offers access to other countries such as Portugal, Macau, Equatorial Guinea, Angola, and more.
Now, compare that with the World Bank's top economies in 2021 (excluding countries whose dominant language is English – US, UK, Canada, Australia):
| | | |
| --- | --- | --- |
| Country | Most Recent GDP Value (Millions) | Official Languages |
| China | 17,734,062.65 | Standard Chinese (Mandarin) / Mongolian / Chinese (Simplified) |
| Japan | 4,937,421.88 | Japanese |
| Germany | 4,223,116.21 | German |
| India | 3,173,397.59 | Hindi |
| France | 2,937,472.76 | French |
| Italy | 2,099,880.20 | Italian |
| South Korea | 1,798,533.92 | Korean / Hangul |
| Russia | 1,775,799.92 | Russian |
| Brazil | 1,608,981.22 | Portuguese |
| Spain | 1,425,276.59 | Spanish |
The most translated languages cover countries whose economies are thriving and where populations continue to grow.
Additionally, among nearly 200 countries, FocusEconomics predicts that Guyana, Macau, Fiji, Niger, and Libya are expected to grow the fastest between 2022-2026. So, if you plan to tap into these emerging economies, you might consider the following languages:
Guyana – English
Macau – Chinese / Portuguese
Fiji – Fijian / Fiji Hindi
Niger – Arabic
Libya – Libyan Arabic
The real question is: What regions benefit your specific business? And what languages can help you expand to these areas?
Related: Top 8 Countries for Global Expansion in 2023
Content Components: Where & How to Localize
Now, what parts of your content should you localize? This depends on the type of brand content you work with and the purpose for localizing.
For example, you can localize some parts of your content — create a few articles in target languages — if you only want to build brand awareness. But if you want global customers to sign up and make purchases, then you will need to do more such as translate product, pricing, and checkout pages and include local contact information. In other words, create content that converts.
Generally speaking, here are some content categories to consider within your localization strategy:
Brand and company content
Homepage, 'About Us,' 'Mission,' 'Our Team,' and similar brand pages
Local and international certifications
Service area
Schema markup to establish status as a local business
Marketing content
Country-specific product pages
Blogs and articles
Landing pages
Country- or region-specific product names and terminology
Pricing and checkout pages
Currency format and currencies accepted
Local and international payment modes accepted
Visuals like graphics, infographics, and video
Contact information
Full local address
ZIP or equivalent
GPS information (if possible, embed directions or map)
Local email addresses
Hours of operation in local format (if applicable)
Language-driven global support teams
Technical and support content
Product descriptions and documentation
FAQs and Knowledge Bases
How-to content and user manuals
Troubleshooting tips
Legal content
Terms & Conditions
Privacy policies
Disclaimers
Local regulations and requirements
Other important and relevant policies
UX and system content
Platform or dashboard UX (login buttons, navigation bars, CTA buttons, etc.)
Form entries
Number formats, and so on.
Developing a Content Localization Strategy
With that foundation, let's look at what goes into developing and executing a content localization strategy. We'll cover the following:
Research and plan ahead
Create a global brand
Select target markets & languages
Design a content localization workflow
Hire the necessary vendors (choose the right translation agency and use localization tools)
Start localizing!
1. Research and Plan Ahead
As with any new project, you first need to research. Understand what you are going to do and why you are doing it. This will help inform your strategy and get buy-in from key stakeholders.
It is during this phase that you decide how exactly your teams will go about localizing content:
What countries and markets do you want to target?
Which departments will benefit from localization? (sales, support, marketing)
How much do you want to invest? Low vs high-impact content — Only a few blog posts or your entire library? Advertising campaigns, legal documents, videos as well?
What types and aspects of content do you want to localize?
Which teams will be involved in the project? Who will manage which languages or types of content?
Do you want to work with external vendors like translation services? Or, will you manage this in-house?
Where will the translated content reside? Will you create a separate website or add a subdomain to your existing website?
Do you want this content to rank in local search engines? Who will conduct keyword and content research for local SEO purposes?
What's the total budget for such a project – cost and time-wise? And so on.
"The most important thing before localizing your content is to plan well and ahead, keeping the end result in mind. Identify and study your target market and proceed accordingly. Content localization can be challenging as it goes beyond just translation. Partnering with the right localization agency can make the process easier and deliver high-quality results." — Nikita Agarwal, Director and Head of Growth, Milestone Localization.
2. Create a Global Brand
Before you start localization and translating content, it is important to establish yourself as a global business. In other words, take time to develop your global brand and tone of voice. Your brand voice is how you communicate and connect with your target audience. And this is what sets you apart from other competitors in your space.
But why do you need to establish or re-evaluate your brand voice for localization? Because your company is entering new markets and cultures. What may work in one country may not in another. And on some rare occasions, it may even come across as offensive in another country. Your content must speak a neutral language free of regional connotations or metaphors.
Additionally, you want to ensure that all brand communication is kosher and within your brand tone like logo design and other elements. And this becomes more important when you hire vendors or freelancers to translate and localize your content. Having brand and editorial guidelines ensures that everyone is on the same page about your brand and its professional voice.
3. Select Target Markets & Languages
As you've seen above, there are many countries and languages to include in your content localization strategy. However, they may not all make sense for your particular business. You need to identify which markets will bring you the traffic you desire.
So, pay attention to your incoming customers. Where do most of your customers come from? Are there any adjacent countries you can target with the same customer base? For example, if you have customers from South America and the US who speak Spanish, it would be worth investing in Spanish content. Then repurpose and localize the same content to target potential prospects in Spain and neighboring EU countries.
The same strategy can be applied to starting fresh in a new market. Say you want to expand your presence in the EU and want to start with France. You can use French to target multiple countries such as Belgium, Luxembourg, and Switzerland. And, you can repurpose that content for other French-speaking countries in African and American markets.
Now, keep in mind that localizing this content also means providing local support. So, you will need local numbers and multilingual support teams to help customers interested after reading your localized content.
So, take time to decide where you want to expand your business and whether you can afford to follow it up with multilingual support.
Related: Top 8 Tips to Creating a Multilingual IVR
4. Design a Content Localization Workflow
At its basic level, a content localization workflow will look like this with a translation agency:
Identify content to translate and localize
Assign to employee/vendor
Settle on key terminology and brand voice
Translate and transcreate (creative translation to make the text coherent and relevant)
Review by local native
Review by project manager
Proofread, finalize, and publish
If you plan to translate internally, then your workflow will be slightly different. For an in-house content localization strategy, here are some best practices:
Decide which keywords to target and which keywords should be retained in the original language, translated, or transliterated (written in the script of the target language)
Use native speakers to be regionally specific in your translations; don't entirely rely on Google Translate
Plan how to handle difficult terminology (such as product names, technical or legal terms, etc.)
Review by someone who speaks the language natively
Proofread, finalize, and publish
Create a content localization workflow that makes sense for your business and update it to improve efficiency.
5. Hire the Necessary Vendors
Once your workflow is designed, you can start hiring or assigning the necessary people.
If you're doing this internally, brief your employees/teams about the project's purpose and how they will contribute. Then, assign them content to be localized and get to work.
If you want to outsource your translation efforts, then you'll need to find the right vendors and tools
1. Choose the Right Translation Agency
Here are some factors to consider when hiring localization and translation services:
Has the necessary qualifications such as ISO 17100 certification specific to translation services

"Industry certifications like ISO are important because legal clients need to know that their documents are classified" – Gunnar Hallgrimsson, Business Development Manager at Directum Translations

Supports multiple languages and language combinations (for example: different dialects of Spanish)
Provides confidentiality assurance, if needed

"It helps clients to know that when they send their documents over, those documents are being held securely" – Gunnar

Works with native translators having domain expertise
Familiar with your industry and has worked with similar clients in the past
Has a dedicated project team to manage the translation process
2. Use Localization Tools
There are many solutions that centralize content production, marketing, advertising, and outreach efforts, even for localization. Here are some types of content localization tools to consider:
Self-translation services
Translation management systems
Translation memory
Glossary
Language switcher plug-ins
Automatic website localization software
Multi-currency plug-ins
Schema markup
Geo-targeting
Local and international SEO tools
Keyword research and rank-tracking tools
Quality assurance tools
Local phone numbers
Integrations
Analytics and reports
Related: How to Display International Contact Phone Numbers on Your Website?
6. Start Localizing
With all the right steps in place, you're ready to launch your content localization strategy and start communicating with a wider, global audience.
Localizing content like this does take a few weeks to a month, depending on the size of your project. And the results will follow through shortly once you have everything set up. It's a good idea to use analytics and metrics to gauge the success of your localization efforts. Local and international SEO and marketing analytics tools can provide you with this data and information.
How Can Global Call Forwarding Help?
We at Global Call Forwarding understand the struggles that come with growing a global business. We also know how international revenue can support the future of such a business. After all, we've grown into a global business since United World Telecom – our sister company – formed 26 years ago.
Now, we help other businesses achieve their global expansion goals by providing cloud communication solutions.
Learn more about how we can support your business or browse through the features and services we offer on our website. To get a more customized plan, speak with our telecom experts; call us at +1 (561) 908-6171 or chat with us today!