Thinking of upgrading your business phone system to the cloud? IP telephony not only reduces communication costs but also boosts your phone system's functionality. You can expect high-quality, reliable service and an array of advanced calling features.
An IP-PBX phone system is one such IP-based communication technology adopted by businesses around the world. Let's look at what this service is and how you can integrate it into your existing phone system.
Cloud-Based PBX System: What, How, Why
According to a Global Market Insights report, "the hosted IP PBX segment is expected to become the fastest-growing area of the VoIP market. It is predicted to grow by 20% from 2021 to 2027."
This means more and more businesses will switch to IP-PBX as their communications infrastructure and solution. But why? How can this service benefit your business? Let's find out!
In this post, we'll go over:
What is IP Private Branch Exchange?
IP-PBX is a cloud phone system that enables, routes, and monitors communication across your private network using an internet connection.

Other names for this system include cloud PBX, hosted PBX, or virtual PBX.
The main role of a PBX system is to manage your business's internal and external call traffic. But an IP-PBX takes this to the next level. With internet protocol (IP) involved, these calls travel over the internet instead of traditional phone lines.
This means users can make and receive reliable and high-quality business calls from any location, as long as they're connected to the internet.
How Does IP-Based PBX Work?
The IP-based private branch exchange sits at the center of your business phone network and acts as a modern switchboard element to direct callers to their destination. So, when calls come in, they pass through the PBX system via the internet and then travel to the desired location, extension, or department.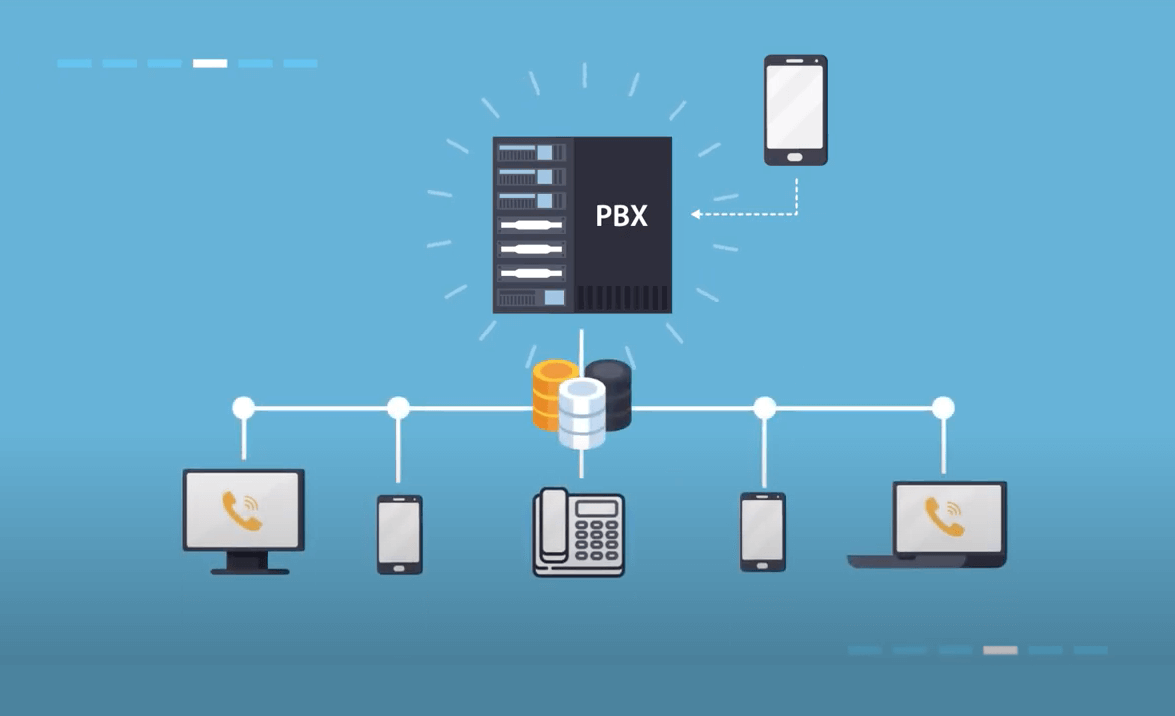 To make this happen, the PBX works with Session Initiation Protocol (SIP). SIP converts voice signals to digital packets. Then, it sends the packets over the internet to the destination. Once they arrive, the packets are reassembled into voice and audio.
To access multiple voice channels simultaneously, you can use your IP-PBX with a cloud SIP trunking service. And with multiple SIP channels in your arsenal, you can access smooth and high-quality voice communication.
Benefits of IP-Based PBX Systems
Most medium-to-large businesses use IP-PBX systems to manage their voice communications internally. This way, you have your own secure phone network where you:
Route and forward incoming calls to different departments and locations (advanced routing strategies)
Customize outgoing calls (outbound calls, dynamic caller ID)
Collaborate in-network (call transfer, merging, conferencing), and more.
To understand how this phone system improves business communication, let's take a look at the different benefits it delivers:
Lower Communication Cost — when compared to analog options, since cloud calling is cheaper, and you can integrate PBX within your existing equipment and devices at a low cost
Reduced Calling Rates — for local, long-distance, and international calls and free in-network calls
Location Flexibility — by connecting multi-site offices in an affordable fashion
Improved Functionality — with advanced call management features
High Availability — with increased reliability and redundancy of your communication network, ensuring uninterrupted service.
High Scalability — since you can add and remove lines and users as needed – all without completely changing your system or plan.
IP-PBX Deployment: On-Premise vs Hosted IP-PBX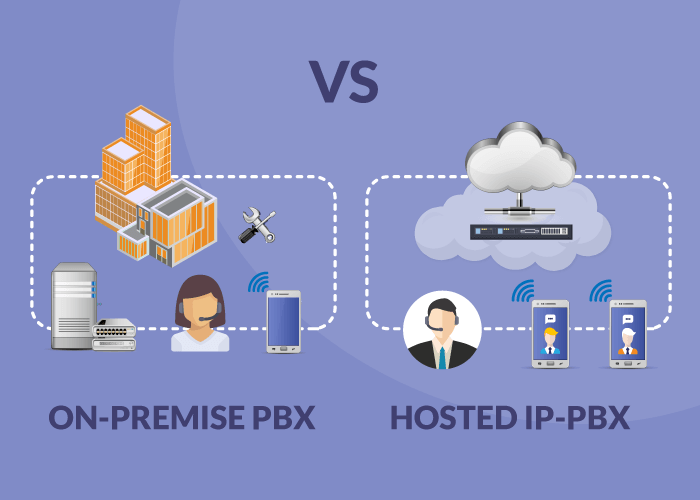 So, how do you set up an IP-PBX system within your business? To answer this question, you first need to decide how you want to set it up. This will determine what type of PBX service and equipment you need.
There are two different types of PBX: on-premise and hosted.
With an on-premise setup, your business houses, builds, operates, and manages the PBX on-site. With this setup, your business is in charge of building and maintaining the PBX system. This gives you unlimited control; however, you will need an IT team to operate the system.
On the other hand, a hosted IP-PBX means your provider "hosts" the PBX equipment at their location and operates the system for you. This means you receive cloud phone services without worrying about routine maintenance, system upgrades, or network routing. Plus, you can still access advanced communication features and customize the service to meet your business calling needs.
Whichever option you choose, you can either select separate IP-PBX and VoIP providers or find a provider that delivers both services. And if you want to build it in-house, then you will need the proper IT infrastructure, software (such as open-source PBX software), and team.
Setting Up Cloud PBX Services
Since IP-PBX is a form of cloud communications, you benefit from different kinds of flexibility.
IP-PBX relies on SIP trunking for voice connectivity. So, you will need a SIP trunk provider to support your PBX system. You can use SIP trunks to connect your existing devices like desk phones to your cloud PBX system. And also gain access to new communication tools like softphones and web dialers.
Additionally, if you are building this in-house with open-source PBX software, you'll need to decide on key features and functionalities that can help your teams communicate efficiently.
Having these features and capabilities enable your business to mix and match devices and build a phone system that fits your needs. And it allows you to connect all local, remote, and global teams under one network while enjoying reliable, global voice quality.
Related: Using SIP Trunks with an Open-Source PBX
Want to Upgrade to IP-PBX?
You can get PBX and SIP trunking services with Global Call Forwarding. Start by signing up for a business phone number or consult with one of our telecom experts to find the right solution for your needs. Call us at +1 (561) 908-6171 or chat with us online.