While global expansion efforts often yield significant benefits for businesses, the transition to a new market may also include significant challenges and uncertainties.
For this reason, this article will discuss the top global expansion mistakes to help you avoid common setbacks. This way, you can properly prepare for the transition by building an effective expansion plan, ensuring your business' international success.
What Expanding Internationally Really Means For Businesses
The first global expansion mistake businesses make is thinking the work is done once they successfully enter a new market.
By definition, global expansion refers to when companies extend their operations to new markets and regions. But, this process involves much more than simply selling your products and services in your target countries.
In fact, sustained international growth requires tons of coordination before, during, and after you enter a new market. So, it's essential to reflect on your business and if expansion is the next best step.
Is Your Business Ready for Global Expansion?
Global expansion isn't right for every business. And if you try to expand before your operations and teams are ready, it could result in failure. So, before planning to expand globally, it's important to first evaluate if you're ready to transition internationally.
Start by asking yourself:
Why do you want to take your business to a global level? What goals are you trying to achieve?
Do you have enough resources and people power to expand globally while maintaining the success of your domestic/current markets?
Does your company have the financial means to sustain international growth? Have you considered moving, labor, shipping, equipment, and other costs?
Is there a stable demand for your products or services in the markets you plan to expand to?
Is your management team prepared to meet international demands and challenges?
Take time to decide if this is the right move for your business and learn what factors to consider. Read more in our ultimate guide to global expansion.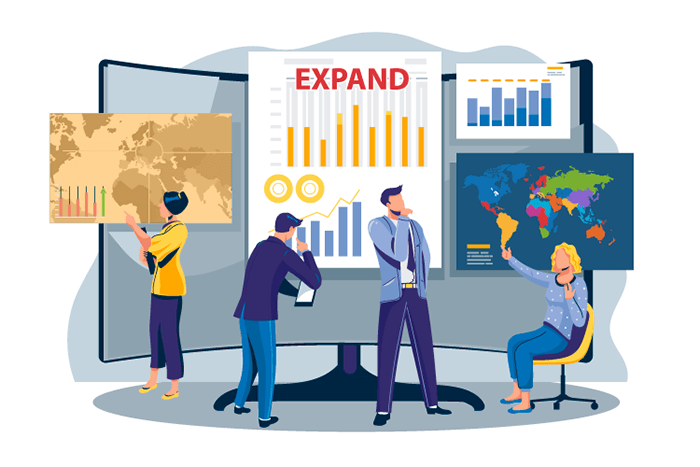 8 Global Expansion Mistakes and How to Avoid Them
When properly approached, a global expansion strategy holds many benefits for businesses, including:
Increased ROI, sales, and revenue
Access to new markets, skilled talent, and a broader customer base
Exposure to foreign investment and growth opportunities
Improved company reputation and global market perception
Enhanced competitive edge and more.
So, what are the common roadblocks that may be fatal to your expansion plans, and how do you avoid them? Let's discuss the 8 most common mistakes businesses make when expanding internationally and how to avoid them. This way, you can dodge these pitfalls and successfully grow your business on an international scale.
1. Entering New Markets Without Researching
Entering a new market without data to back your expansion decision is a recipe for disaster. There will inevitably be markets that are not a good fit for your business. So, without proper market research, you subject your business to unnecessary risk. And this could lead to major problems such as diminished reputation, over-saturated markets, loss of revenue and time, etc.
To ensure a smooth expansion, conduct thorough local market research and test your product throughout your target regions. These tactics will help you determine:
Demand for your product or service
Target audience segments
Consumer perceptions and expectations
Competitive pricing
Direct and indirect competitors
Unique selling proposition
Government regulations
Effective sales, marketing, and advertising methods
Local language, culture, and so on
Using this information, you can adequately plan your international expansion and ensure you enter the right markets for your business goals.
2. Using the Same Marketing and Sales Strategies
No market is identical. As such, the same marketing strategies and sales tactics that work in your domestic market may be less effective in others. Everything from how customers place purchases to their preferred communication channels varies throughout different regions.
This is because a country's cultural and economic background impacts purchase frequency and customer lifetime value (CLV). So, failing to adapt your strategies could result in decreased conversions and, ultimately, a failed global expansion.
To avoid this mistake, it's vital to adapt your marketing and sales strategies to the needs and preferences of each market.
3. Not Taking Advantage of International Talent
One of a business's biggest assets is its people. And growing internationally gives your business access to a larger talent pool than ever before. This not only allows you to diversify your teams but also your range of skill sets. On top of that, local talent already has an in-depth knowledge of your new markets. You can use their know-how to enhance your local efforts and better engage with customers.
As you can see, hiring international talent holds many benefits for your business. So, failing to do so would be a critical global expansion mistake.
4. Neglecting Content Localization Strategies
Conversions become increasingly harder to achieve when your global customers cannot understand what you're offering. And while translating content is a good start, even this strategy can lead to misinterpretations. Or worse, your content can come across as offensive to customers.
Businesses are now turning to content localization as a solution, which includes:
Accommodating local language needs and preferences
Opening physical offices
Observing regional traditions and cultures
Supporting local businesses and talent
This strategy not only helps meet the language requirements of your markets, but also considers cultural customs, specific market preferences, local practices, and so on. The result is a more globally accessible and credible business with improved customer satisfaction and sales.
Always localize content before expanding or entering a new market for the greatest effect.
5. Not Getting a Local Business Phone Number
How your teams will communicate locally is another factor often overlooked during a global expansion.
Using the same phone number you use in your home market is a bad idea for 2 major reasons:
Low response rates – Customers are less likely to answer unknown or unrecognizable phone numbers.
Expensive for callers – If overseas customers choose to contact your business, they will have to pay high international calling fees.
Enter: Local phone numbers.
Buy local phone numbers for each of your target markets. This not only increases connection rates but also charges local calling rates, which are relatively inexpensive.
And, if you sign up with a global telephony provider, you can forward your incoming calls to any location or device. This means your business doesn't have to be physically present in these new markets to provide services to global customers.
Case Study: CROSSNET launches in new markets with local numbers from GCF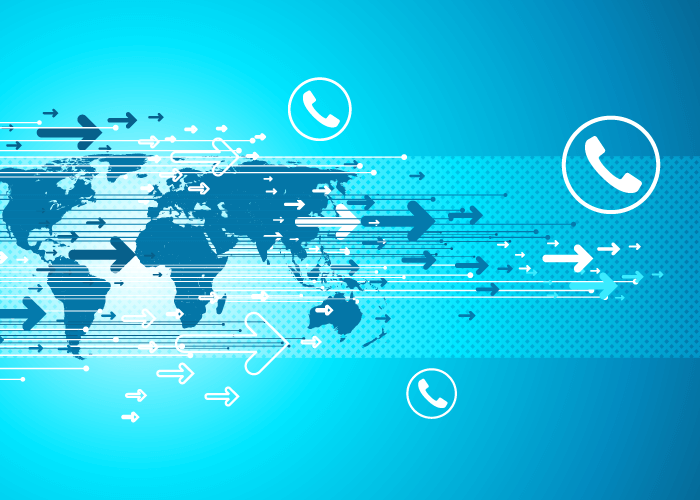 6. Overlooking the Value of Expert Advice
It goes without saying, there are many best practices for successful international expansion. With so many moving parts, it's easy to make mistakes or miss something important, especially if you're treading in unfamiliar territory.
This is why expert advice is extremely valuable for companies looking to grow. They can help you understand all business-related requirements, local legislation, and other important factors in your new market including:
Standard payment methods
Employment and payroll laws
Tax regulations
Foreign exchange rates
Contract laws
Corporate and securities regulations
Transfer pricing, and so on.
While expert advice can be expensive, the results are well worth it. These experts help your business avoid risks and better understand the inner workings of the target market.
7. Only Offering Phone Services in Home Market Language
Since adding new target markets means gaining new customer bases, each comes with its own needs. Among the most critical of these needs is language. And while content localization is a good starting point, it's not enough. To satisfy these new customers at a basic level, you must also offer phone services in their language.
Let's say you own a US company. One of your new customers in South America is browsing your localized support page, trying to find a solution to their issue. But since their issue is complex, they have to contact your business directly for an answer. So, they call your business to find that your call system operates only in English. Somehow, they reach the support department to find only English-speaking support reps again.
What happens next?
This customer will most likely grow frustrated and hang up. They might even cancel their service if they can't find a fix and sign up with one of your competitors that meets their language needs.
To avoid this, consider setting up a multilingual IVR that caters to all of your incoming callers' language requirements. On top of that, it's a good idea to hire reps that speak each of your target markets' languages, particularly for sales, support, and other customer-facing roles. This way, customers always feel supported and taken care of when communicating with your business, leading to improved customer satisfaction.
Related: 7 Must-Have Global Expansion Tools for Communication
8. Disconnected Team Communication
Communication affects many aspects of your business, including efficiency, productivity, employee trust, innovation, collaboration, turnover rates, and so on. When miscommunication occurs, it directly affects these factors in addition to other business metrics.
In fact, results of a study showed that miscommunication costs companies with 100 employees an average of $420,000 annually. And, the chance of miscommunication only increases as you expand your business and add more offices and employees to the mix.
With a VoIP service, you can connect teams distributed across multiple locations through one business phone system. This service is accessible from any location or IP-enabled device, making it a great solution for remote teams, too. You can also scale your VoIP service, as needed. Simply, add or remove users as your business expands globally.
Additionally, cloud phone providers typically offer advanced features with their services that help boost team communication and collaboration, like free in-network calling. And it's all easily manageable through an online portal.
So, you can centralize business communication, connect distributed teams, access advanced features, and save on traditional phone system costs – all through one solution.
Expand Globally with Global Call Forwarding
Now that you know the top mistakes businesses make when expanding globally and how to avoid them, you're ready to expand!
Global Call Forwarding can help you transition into an international business. We offer reliable global voice services in 160+ countries, which covers over 90% of the global economy. You can get local, toll-free, and international numbers in each of your target countries to add global coverage to your phone system.
We also offer free in-network calling, centralized call control, multilingual IVR, and more to fit your global expansion needs.
To learn more about how we can help you establish a global presence, call us at +1 (561) 908-6171 or chat with us online!