Local presence is one of the most powerful features of our cloud-phone service.
With local presence dialing, agents can connect with between 4-10x more prospects by showing a local number as their caller ID.
Most telephony providers only offer local presence dialing for domestic phone numbers, but we can help your sales and support teams establish a local presence internationally.
How International Local Presence Works
Global Call Forwarding provides local and toll-free numbers from most countries in the world.
These numbers can be used to receive incoming calls and also to make outbound calls with a dedicated caller ID. This means that customers can show a local caller ID for outbound calls that corresponds to the destination they're calling.
International Local Presence Example
Say, agents are dialing prospects in London. They can show a +44 204 phone number. Or, if they're calling customers in New York City, they can show a +1 646 phone number. They can do so, no matter their location — India, Australia, Canada, USA, etc.
When to Use Local Presence
Local presence dialing has many potential use cases. Here are some of the times when local presence dialing proves most effective:
Cold calling prospects in other cities.
Leaving a voicemail asking the prospect to call you back.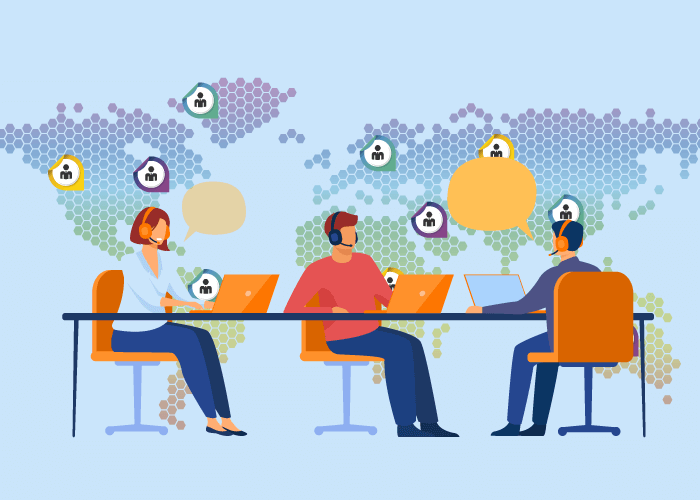 Benefits of International Local Presence
Cold calling is tough business. With spammers and robocallers on the rise, prospects are less likely than ever to answer cold calls. This is why local presence dialing exists.
Improve Connection Rates
Establishing a local presence is especially important when making international calls. Prospects are far less likely to answer calls from other countries:
The stats above prove that businesses will increase the return on their outbound calling efforts by using local presence dialing. When more people pick up, time spent dialing becomes more profitable, as agents are more likely to have productive conversations.
Route Calls Back to the Right Rep
It's common knowledge that many inside sales calls go unanswered. This leaves the called party with a missed call notification or a voicemail, along with the number that called them.
International local presence dialing enables agents to show their own local numbers as the caller ID. This means that if the called party returns the call, it will be routed back to the agent that called them.
Types of Local Presence
You can use different types of local presence dialing with Global Call Forwarding:
Call Masking with an International Phone Number
While number masking might have a negative connotation, it is a powerful tool used by businesses around the world. Call masking refers to the technique of "masking" or showing your business phone number for outbound calling.
It helps you keep your actual number private and lets you show a dedicated business phone number instead. You can also use number masking to call internationally with a local phone number.
Using Privately-Owned Numbers
Some companies already have phone numbers that they want to make calls with.
They might already have contracts with existing carriers, but want to use our international voice service to call globally. In most cases, this provides major cost-savings for international calling, in addition to better call quality and stability.
If customers can prove ownership of these phone numbers, we allow them to use these numbers as their Caller ID.
Get Calling With Local Numbers
We would love to help you get started with local presence dialing. Sign up for a local phone number today and start making calls anywhere in the world.