Skip to content
Follow These Steps to Sign Up
1
1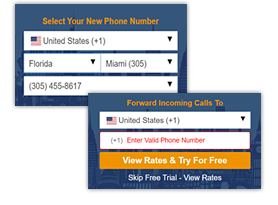 Step 1 - Select a number using the form below
For a new US phone number, select United States (1).
Select a number type, either toll free or geographic.
If you select "Toll Free," select a prefix and then a number.
For a geographic number, select a state, a city, and a number. In some cases, a number will be provided upon activation.
2
2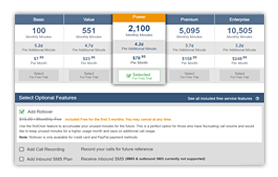 Step 2 - Select Plan
It's nice to have options. We offer 5 monthly plans with an included number of monthly minutes, and an additional rate per minute if you exceed your included minutes. Along with many free features included, there are other premium features you can easily add to your plan.
3
3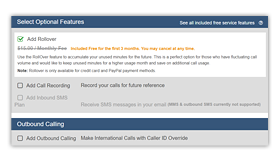 Step 3 - Add Optional Features
Add optional service features to add additional functionality.

Outbound Calling

SMS Forwarding

Rollover Minutes

Call Recording
View all included features
4
4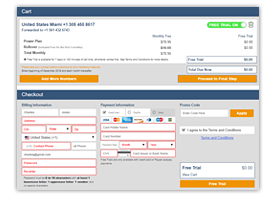 Step 4 - View Cart & Checkout
When you complete the final step you will be taken to a confirmation page with the details of your order and information regarding verification of your email address and any documentation that might be required.
From the cart you are able to:
• Add additional numbers • Review rate details • Enable / disable free trial