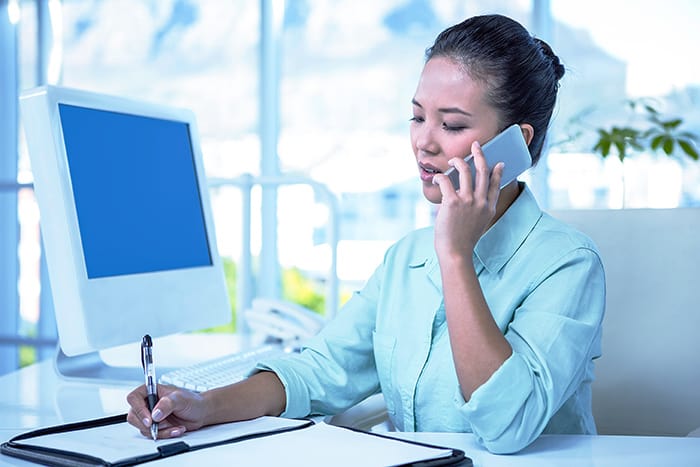 If you think your business is ready to enter global markets and add new demographics to its customer base, then you should consider getting a local phone number for specific areas you want to target. Global Call Forwarding can help you connect with prospects from different parts of the world through easy, inexpensive, and high-quality calling.
What is a Local Phone Number?
Local phone numbers are virtual numbers that route calls over the internet instead of traditional phone lines. Therefore, your business can make and answer calls from anywhere in the world and through any device as long as it is connected to a strong internet connection. A local number is designated to a specific city, state, or region within a country. Due to this, such numbers generally have an area code as the prefix. For example, New York City local numbers have several different area codes such as 718, 212, 917.
The most attractive feature of local numbers is that they are reachable from callers anywhere in the world. This means that even if your business is located in Mumbai, India, you can create an inexpensive way to connect with prospects in Chicago, USA, Melbourne, Australia, Dubai, U.A.E., and more. To do this, you would need to purchase multiple local numbers from a virtual phone service provider like Global Call Forwarding.
Advantages of Purchasing a Local Phone Number
Individuals recognize local and toll free numbers and are more likely to answer such numbers. If the number is unfamiliar or the caller ID displays "Unknown" or "Private Number," chances are that the receiver won't answer the call. Getting a local number, therefore, can increase the chances of your sales calls getting through to prospective customers. This, in turn, gives you the opportunity to make a sale or generate a lead.
Furthermore, when customers need to call your enterprise, they would prefer calling a local phone number instead of an international or unknown number. By having a local number, you are giving them the opportunity to call your company without incurring high international calling charges. And so, they will only pay what they normally do for a local call. That local call gets routed through an international forwarding service and connects to your destination number, no matter where you are situated.
Get a Local Phone Number for These Countries
We offer local numbers for various countries across the globe. And so, companies that have offices or clients in different locations, or that want to expand their product and enter new markets, can buy bulk local numbers for the needed locations. This creates inexpensive communication channels between the company and its customers and business contacts. Global Call Forwarding can help you get a local phone number for cities and regions in the following countries:
Angola
Argentina
Australia
Austria
Bahrain
Belgium
Benin
Bosnia and Herzegovina
Brazil
Bulgaria
Cambodia
Canada
Chile
China
Colombia
Congo
Costa Rica
Croatia
Cyprus
Czech Republic
Denmark
Dominican Republic
El Salvador
Estonia
Finland
France
Georgia
Germany
Ghana
Greece
Guatemala
Guinea
Hong Kong
Hungary
India
Indonesia
Ireland
Israel
Italy
Japan
Kazakhstan
Kenya
Kyrgyzstan
Latvia
Lithuania
Luxembourg
Macau
Macedonia
Malaysia
Mali
Malta
Mauritius
Mexico
Morocco
Myanmar
Namibia
Netherlands
New Zealand
Nigeria
Norway
Pakistan
Panama
Peru
Philippines
Poland
Portugal
Puerto Rico
Romania
Russian Federation
Saudi Arabia
Serbia
Singapore
Slovakia
Slovenia
South Africa
Spain
Sri Lanka
Sweden
Switzerland
Taiwan
Tajikistan
Thailand
Turkey
UAE
Ukraine
United Kingdom
United States
Venezuela
Vietnam
How to Get a Local Phone Number
Getting local numbers with Global Call Forwarding is simple. We have a straightforward and quick sign-up process that lets you purchase, activate, and start using your numbers in under 2 minutes. To get a local phone number:
Navigate to our homepage and start the sign-up process.
On the top left, select your new number by following the prompts. Choose what country you want the number for. Then, under "Select a Number Type," pick "Geographic" to see a list of the local numbers offered for that country.
From the options provided, pick your new number.
On the right-hand side, enter information for the destination number. This is the line you want incoming calls to be forwarded to.
View rates and pick a plan that will fit your needs and budget.
Browse through additional features offered such as Outbound Calling, Call Recording, Inbound SMS, etc.
Then, complete the sign-up process and receive a confirmation from our customer service. Your number will be ready for use.
Note that you can add more local numbers to your account later through your control panel.
Ready to Expand Globally?
Feel confident enough to connect with customers from different countries across the world? Get local phone numbers from us or talk to an expert to learn more.