The largest country in both South America and Latin America, Brazil has a population of over over 214 million people. Due to mass immigration over the years, this country is one of the most multicultural and ethnically diverse. As a result, it's an excellent market to tap into. With today's global business market, not choosing an international presence for your business can be a huge mistake. What should you keep in mind when calling Brazil as your business expands?
Why Create A Presence In Brazil?
Brazil, the largest economy in all of South America, has been continuously expanding its international presence. Brazil's most prosperous industries include tourism, agriculture, forestry, and coffee. The technology sector is also gaining significant interest in Brazil as well. Sectors such as data science, analytics, product management, and development are gaining prominence. Despite the political instability, Brazil is making strides in its tech industry and tech companies are looking to expand their branches within the country.
Businesses are now using the internet to extend their reach to include Brazil. Brazil's youth and millennials are making the most of online businesses by investing in and supporting them. To expand your business to Brazil from an international country, a virtual phone number is a great way to start. Getting a Brazil phone number will not only build trust with locals but also gives your business an international presence.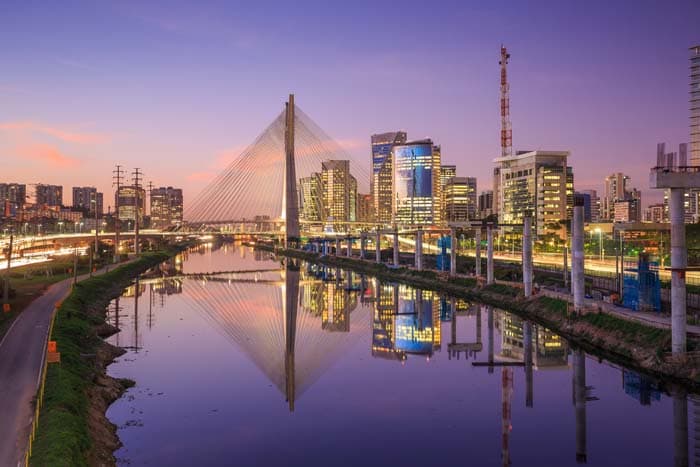 Brazil's Telecommunications Infrastructure
Most of Brazil's modern technology is located in the central/ southern regions. The north/ northeast regions, on the other hand, lack basic analog PSTN telephone lines. Brazilian numbers have an eight-digit number for landlines with a two-digit area code and a nine-digit number for mobile phones. However, when calling Brazil from an international number, you must first enter the international access code from the calling country. For example, 011 from the United States or 00 from Europe. Then, enter Brazil's country code +55, followed by the two-digit area code, and then the eight- or nine-digit number.
Brazil ranks sixth in the number of internet users worldwide. Most Brazilians use mobile and VoIP services instead of landlines. Many technologies are bringing broadband internet to customers through DSL, cable, and 3G/4G services. This means that users are continuously active on the internet. Therefore, investing in a virtual phone number for your business will help you create and maintain a virtual presence in Brazilian markets.
How A Local Number Can Build Trust
Virtual phone numbers will bring you closer to your customers by encouraging them to trust your company. Customers are more likely to call a local number as they do not have to pay extra for the call. Calling local numbers is feasible, less expensive, and time-saving. Therefore, having a local phone number makes your company more approachable to your customers.
Customers, or potential customers, are wary of numbers they do not recognize and most will hesitate to answer those calls. Therefore, when calling Brazil, having a Brazilian virtual phone number will give you an advantage. Brazilian virtual phone numbers are local or toll free numbers with Brazilian area codes. Calls to these numbers are forwarded over a cloud-based system to your business lines. This allows you to connect with Brazilian customers, even from outside the country.
Where Can You Get A Brazilian Virtual Number?
Virtual phone numbers from Global Call Forwarding come with a variety of features such as call forwarding, call recording, simultaneous ringing, time of day routing, and more. Purchase your Brazil local numbers today!
To obtain a Brazil virtual number, follow these steps:
Go to the Global Call Forwarding website.
Then, select Brazil in the top left selection box for "Select Your New Phone Number."
Next, select the type of number you want.
Choose from Toll Free, Toll Free (mobile accessible), Universal Toll Free (UIFN), Mobile (SMS Optional) or Geographic.
Follow the prompts related to that number.
Enter your destination country and number on the right.
Pick a plan by clicking "View Rates & Try For Free." Select any optional features you need.
Finally, enter your contact information and account type.
Agree to the Terms and Conditions and click "Try For Free.