Work-from-home business models are on the rise now more than ever. While this is mainly due to the pandemic, it is not the only motive. Even before 2020, remote working for businesses was a growing trend, as it has benefits for both your business and employees. This remote working guide will help you seamlessly transition your business and teams to a remote work setting.
In this guide, we will cover:
Learn How to Successfully Manage a Work-From-Home Team
There isn't one universal remote team management policy or approach that works for every business. In fact, there are many things to consider when switching to a work-from-home environment. In this remote work guide, you'll learn how to create your own personalized remote work policy and management style.
What is Remote Work?
Remote work gives teams the freedom to work from anywhere except in the traditional office environment. Some businesses employ fully remote teams, a hybrid model, or a mix of in-office and work-from-home teams.
Is a Remote Work Model Right for Your Teams and Business?
Because of the pandemic, your business might be forced to work from home. However, if a choice is involved, it is essential to consider if remote team management is suitable for your company.
When deciding to transition to a remote work model, assess whether or not your company is eligible. Take into account the industry you're in and the type of business you conduct. For example, a hospital could not operate on a work-from-home system, but a marketing firm could. Additionally, think about the jobs crucial to running your company and what they would look like in a remote setting. This will help you determine if it's a good option for you and your team.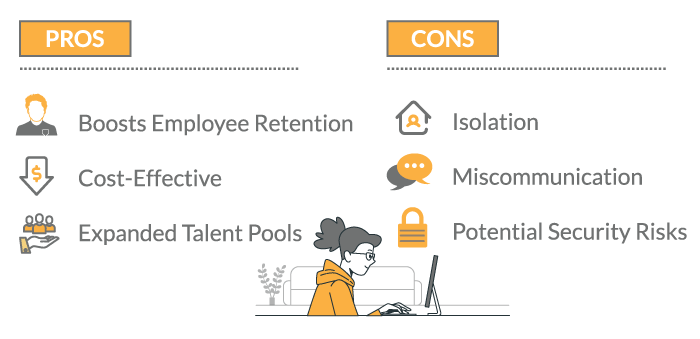 Evaluate the Pros and Cons
Remote working for businesses can be mutually beneficial in many ways. But, as with all things, it is crucial to consider the challenges as well. Let's look at how some businesses can benefit from a work-from-home setup, along with the challenges.
Benefits of Remote Work for Business
Boosts Employee Retention – A flexible work environment with clear boundaries increases work-life balance and reduces burnout. The work-from-home model also improves employee health and wellness by allowing them to deal with physical and emotional needs as they arise.
Cost-Effective – A fully remote or hybrid team reduces business operating and overhead costs, such as real estate bills, janitorial fees, IT expenses, and more. Certain employees are even willing to take a pay cut if they can work from home.
Expanded Talent Pools – W hen hiring, you are no longer restricted to a certain area or location. With this newfound hiring freedom, go recruit an employee with the exact qualifications you're looking for, even if they are not in the same city.
Challenges with Remote Working for Businesses
Isolation – The number one complaint with remote work is loneliness. Without the informal social interactions at the workplace, employees can lose a sense of belonging. Try to make time for individual employee check-ins or consider virtual team-building exercises.
Miscommunication – Remote team communication relies heavily on virtual methods like email and chat. This increases the chances for misinterpretations of jargon, tone, and words with similar spelling. To avoid this, try to write how you speak, ask for clarification, and refrain from too much self-editing.
Potential Security Risks – The shift from in-office working to remote working for business increases the possibility of security risks. Communication and tasks are entirely online, leaving the data prone to leaks, hackers, and breaches. Consider implementing a BYOD policy or technology policy and setting up two-factor authentication for company documents and accounts.
Getting Started with Work-from-Home
So, how can you set up your business and employees to successfully work from home? There are a couple things to keep in mind, such as:
Creating a remote work policy
Investing in cloud-based technology
Implementing best practices for remote team management
Onboarding employees smoothly
Establishing a supportive work culture
Let's dive in!
How to Set Up a Remote Work Policy
Creating a policy specifically for your work-from-home team can help your employees transition into the new work dynamic. It's important to establish a basic remote work guide with a FAQ list for your staff. Make sure to include the following:
Determine work schedules – Clearly identify a start and end time. Give employees a time frame or specific time they should be available for incoming emails, calls, and tasks. If your company opts for flexible scheduling, explain how your employees report their hours or completed projects. You might need a project management system to enable this.
How you will measure productivity – If using time to measure productivity, think about how you will track your employee's time. If you decide to use task completion as your measurement instead, are you looking for output quality or quantity? What does good or quality output look like? The clearer you are, the better your employees will understand what to aim for.
Tools for tech support – Since remote work is done almost entirely online, give your team resources and tools for support and troubleshooting. Build a remote working guide that summarizes the basics of each platform you plan to use. In your guide, include things like when employees should use certain programs or how to keep their devices secure. Here is where your BYOD or tech policy will prove helpful. Some equipment or software might be completely new to your team–so make sure they feel supported as they adjust.
General policy rules – You may already have general policy guidelines for your workforce. However, some policies might need clarification when remote working. For example, what do vacation days and sick days look like for your remote team? By updating your policy to accommodate remote teams, you set clear boundaries and create a seamless transition from the in-office environment.
How to Prepare with Remote Tech
Remote working for businesses is possible mainly due to cloud-based technology. You must provide the necessary equipment for your team to succeed. This, of course, includes hardware like desktop computers and a network connection. But, it also includes cloud-based software programs. With all the different platforms available for communicating, managing projects, etc.– you can find the perfect virtual business option for your work-from-home team.

Online Communication – Since remote teams interact entirely online, it's a good idea to provide several different methods of business communication:
Email – Great for sharing files and keeping a record of written communication. The most popular email platforms for businesses include Gmail and Outlook.
Instant Messaging – Great for quick written responses. It also reflects in-person communication more than email does. Google Chat and Slack are just some options for professional instant messaging.
Audio and Video Conferencing – Great for team meetings, presentations, setting agendas, collaboration, individual check-ins, and more. Video calls mimic face-to-face interactions by transmitting video and audio. Zoom and Skype are among the most popular choices for video meetings. You can also use a screen recorder to keep a copy of important meetings
Virtual Phone Systems – Voice over internet protocol (VoIP) or cloud calling uses the internet to deliver voice calls. Virtual telecom providers like Global Call Forwarding have VoIP products that make staying connected with coworkers and customers easy. For instance, our Softphone app allows you to contact co-workers or deliver customer service from anywhere in the world.
Related: What is Remote Call Forwarding?
Project Management Platforms – Project management tools help your virtual teams stay organized, brainstorm ideas, collaborate, plan tasks, execute projects, and track completed assignments. Popular platforms include Teamwork, Asana, Monday.com, and so on.
Time Tracking Solutions – If you plan on compensating and measuring productivity based on hours, a time tracking application is essential. This software allows you to pay your employees accurately, fosters accountability, and more. Most project management systems come with time tracking software.
Remote Team Management Best Practices
After you've developed a policy strategy and invested in the right tech, the next step is managing your remote workers. Here are some tips to get the ball rolling:
Adapt and Transition
Remote work might be new to both you and your employees. So, give your team time to adjust to their new tools, processes, and work-from-home environment. During the first couple of weeks, try to gauge your employees' productivity levels and assign tasks accordingly. Do not try to replicate your in-office environment. Instead, allow your business and teams time to transition and adapt. This is a great opportunity to re-evaluate your team's goals and expectations.
Make Communication a Priority
Make daily or weekly check-ins a priority, especially in the beginning weeks or months. Use your remote team meetings to discuss work-related goals, questions, and tasks. However, it is also important to set aside time to discuss your employees' personal challenges in the new work-from-home environment. By showing empathy and offering support, you can address feelings of isolation and boost your team's overall morale.
Create a Clear Agenda
This applies to both in-office working and remote working for businesses. In your agenda, outline the goals and deadlines for the week or month. Also, include individual goals for each employee to keep them on track. Creating a clear, written, or visual agenda lets your team know what is expected and what deadlines are coming up. Your agenda should always be accessible to your employees, so they can reference it as needed. In general, keep the focus on your primary goal or outcome, so your employees know what to work towards.
Onboarding Remote Employees
Remote working for business continues to become more commonplace. As such, hiring new virtual workers is unavoidable. The onboarding and training period in the employee's journey is a critical time. The way you approach their training can influence both their impression of the company and their decision to stay long-term. Whether you choose to onboard employees using talent acquisition software or manually, to establish a proper virtual onboarding process, consider the following:
Outline Expectations – Communicate the fundamental guidelines and expectations of the employee's role. Go over their specific job responsibilities, company rules, and policies.
Prepare Resources and Checklists – Create a plan of action and prepare an onboarding checklist before your new team member starts. Gather all the documents and resources the new hire will need to get started and make them easily accessible. Set aside time to go through the resources together. Additionally, create checklists and tasks, so the team member has assignments to work through on their own.
Co-Worker Connection – Establish a connection with the new employee and introduce them to the rest of the team. Include them in relevant email threads and meetings, even if they just started. Remote workers must know who they can contact with any future questions.
Establish a Supportive Remote Work Culture
It's also essential to incorporate the fun and supportive side of the workplace into your remote team management plan. A strong and supportive remote work culture can boost your remote team's morale and prevent feelings of isolation. You can do this by:
Scheduling Team Building Exercises – Without the typical in-office chats and informal communication, team members begin to drift apart. Team building exercises allow teams to bond and establish a connection. These activities boost team morale, encourage creativity, act as positive reinforcement, and improve team communication. The possibilities are endless when it comes to team-building exercises, but here are some examples:

Remote Bing
Pet of the Month (because everyone loves pets, even if they don't have one)
Trivia (could be about the company, workplace traditions, or something random)

Promoting Collaboration – By encouraging your remote employees to collaborate, you motivate your team to connect and stay in touch. Team collaborations — such as working together on projects, asking for feedback, and brainstorming — often produce unique ideas and practical solutions.
Empowering Your Team – It's easy to routinely assign tasks to your virtual team and unintentionally micromanage. However, empowering your employee to take control of a project or asking them for their opinion will go a long way. They will gain confidence, hands-on experience, and develop fresh insight.
Recognizing Achievements – Don't forget to remind your work-from-home team that each of their roles is important. Make each member feel seen, heard, valued, and appreciated. This will increase their motivation, team morale, friendly competition, and more.
The Secret to a Successful Remote Team Management
It's no secret at all–it's communication! You will notice that business communication is given importance in almost every section of this remote working guide. Of course, it's essential in in-office settings, but it is absolutely critical to remote work. Remote communication influences team member productivity, mentality, and, especially, success.
Want to learn how Global Call Forwarding can support your remote team communication needs? Speak with our experts today; call us at +1 (561) 908-6171 or chat online!