Looking to expand your business to the broad APAC and Japanese market or establish a local presence quickly? With the right Japan phone number and service provider, you can easily achieve those goals. So, it's important to know which phone numbers are available in Japan and how they meet different communication needs.
This article covers types of Japan phone numbers, format, benefits, and more to help you determine the best number for your business.
Telephone Numbers in Japan
The Ministry of Internal Affairs and Communications regulates Japan's telecommunications, including phone numbers. Japan's numbering plan details specific telecom offerings like message dial, mass calling, fixed-line, and unified number services. Additionally, this plan lists various numbers available and their general formats.
You'll need to dial the proper Japan phone number format to connect calls successfully. The country code (also called dial-in code) for Japan is (+81) and the trunk prefix is (0). Japan phone numbers are typically 9-10 digits and include:
Toll free prefix or area code (usually 2-3 digits in length)
Exchange number (2-4 digits)
Subscriber number (4 digits)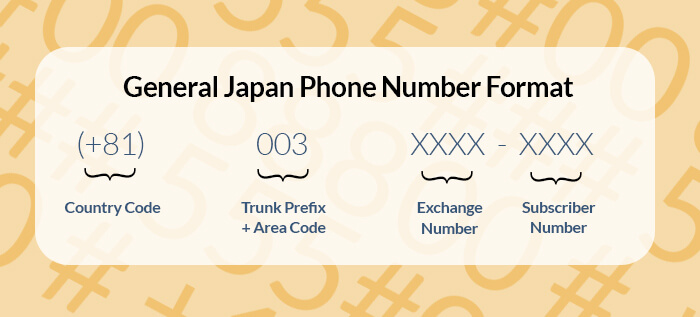 If you're calling Japan from outside the country, you'll need to include an exit code. This is also referred to as a dial-out code or international number prefix. The international prefix depends on the country you're calling Japan from.
Why Should You Get a Japan Phone Number?
With a phone number from your target countries, your company can tap into lucrative business opportunities and connect with a broader consumer base. And that's not all! Let's take a look at the top benefits of getting a Japan phone number:
Expand your business to Japan
Increase international sales rate and lead generation in Japan
Emerge into new markets with minimal risk or investment
Establish a local presence and business network
Access Japan's large customer base
Offer customer support and sales services in the local language and time zone
Test the Japanese market without having to physically relocate
Improve your company's professional image and global credibility
Connect your remote and international teams
Types of Phone Numbers Available in Japan
There are different phone numbers available within the Japan phone number code — including mobile, local, toll-free, and special numbers. Let's take a look at each one individually.
Local Japan Phone Numbers
Local phone numbers, also known as geographic numbers, begin with a distinct code for specific cities or areas. These numbers allow you to establish a local presence, connect with customers in high-target areas, conduct local market research, and much more. You can get local phone numbers in many major cities such as:
Tokyo (03)
Osaka (06)
Kyoto (075)
Sapporo (011)
Hiroshima (082)
The digit length of Japan's area codes depends on the size of the designated area — the bigger the city, the smaller the code. For example, Tokyo's (Japan's largest city) area code is (03). Whereas Yamaguchi's (a smaller Japanese region in terms of population and area) area code is (0839).
Local Japan phone numbers are available to those located in Japan and businesses overseas. Businesses located outside of the country can purchase a local Japan number from a virtual number provider. Virtual local numbers enable your business to scale globally without relocating or opening new offices. So, your company avoids increased overhead costs — making it a more cost-effective solution than traditional landlines.
The format for Japan local phone numbers is: +81 (03) xxxx-xxxx *
*Tokyo area code (03)
Mobile Japan Numbers
Japan mobile numbers start with (090), (080), or (070) codes that include the country's trunk prefix. Most of Japan's large population own smartphones or mobile phones, which typically include SMS and instant messaging features among other capabilities.
Mobile Japan phone numbers help businesses create an omnichannel service by offering SMS contact methods as an alternative to calling. So, your business appeals to different consumer preferences, making your business more accessible and easy to reach.
The format for Japan mobile phone numbers is: (090) xxxx-xxxx
Japan Toll-Free Numbers
Toll-free numbers in Japan typically start with (0120), (0531), or (0088) prefixes. Japan toll-free phone numbers work identically to all other toll-free services. They are completely free for customers to call and easily recognizable. Additionally, these numbers allow you to expand to new markets and build an international business network cost-effectively.
Japan toll-free numbers are not accessible to customers in other countries since they are country-specific. However, your business doesn't need to be located in Japan with a virtual toll-free number. You can simply forward your incoming toll-free calls to any of your global offices. This makes it easy for your business to connect with international customers and business contacts as well as offer 24/7 customer support services.
The format for Japan toll-free phone numbers is: (0120) xxx-xxxx
Special Numbers in Japan
Special numbers in Japan guide callers to emergency, operator, directory, and other phone services. These numbers are only 3 digits long, making them easy for callers to remember and dial quickly. Special numbers are usually created and managed by each country's telecom regulator or governing entity.
Here are some examples of Japan's special phone numbers:
| | |
| --- | --- |
| Emergency Services | Operator and Special Services |
| 110 – Police | 100 – NTT operator |
| 118 – Maritime emergencies | 115 – Telegram services |
| 119 – Ambulance, Fire brigade | 117 – Speaking clock |
| 171 – Earthquake assistance | 177 – Weather forecast |
Ready to Get a Japan Phone Number?
If you're ready to get a Japan phone number, start by looking for a reliable phone number provider that offers services in your target markets and price range.
Global Call Forwarding provides Japan virtual phone numbers with quick activation times and access to advanced communication features. Our long-term relationships with local and global Tier-1 carriers help us deliver virtual phone numbers with affordable pricing and high voice quality.
Looking for a phone number in a different country? We have numbers available in over 150 countries.
To get a Japan phone number or learn more about these services, speak with our dedicated representatives at +1 (561) 908-6171 or chat with us online today!