Sales are what drive B2B companies to achieve target revenue and growth. But new technology, customer preferences, and competitive markets mean that selling is becoming more and more difficult.
This is why it's important to understand how exactly B2B sales can support your business. In this comprehensive guide, we'll discuss what B2B sales look like and how you can leverage various strategies to your advantage.
In this guide, we'll cover:
Let's get started!
Understanding Sales for B2B Companies
Business-to-business (B2B) describes a relationship between two business entities. This could include professional services (like consulting or market research), digital software and services (like VoIP, CRM, ERP, project management, and cloud computing), raw materials (like steel to manufacturing companies), etc.
And a B2B business will utilize sales and marketing functions to bring in new customers along with customer service employees to support these new customers.
Let's look at B2B sales in particular.
What is B2B Sales?
B2B sales or business-to-business sales is the process of selling products and services to other companies rather than individual consumers.
B2B sales are typically conducted between:
a manufacturer and a wholesaler,
a wholesaler and a retailer,
two businesses without any intermediaries.
Since these include sales between two business entities, you can usually expect:
Higher price points
More complex sales cycles
In-depth product knowledge and custom solutions
Contracts and/or recurring subscriptions
Inside sales at various touchpoints, and more.
B2B versus B2C: How are they Different?
B2C sales or business-to-consumer sales are made from a company to a consumer. B2C sales are usually smaller than B2B sales.
To put this into perspective, Forrester's B2B e-commerce forecast found that US B2B sales had a record-breaking growth of 22% year-over-year (YoY) in 2021. This is mainly because B2B companies work with other businesses that make large profits and revenue. And these companies have more targeted marketing opportunities and bigger budgets.
Additionally, the decision maker in B2C sales is the individual consumer. On the other hand, in B2B sales, the decision makers are the multiple stakeholders of a business. This means that B2B buyers go through a longer sales cycle than B2C buyers.
Related: Inbound Sales vs Outbound Sales
Who is a B2B Sales Rep? Job Description and Responsibilities
B2B sales representatives engage with prospective buyers and encourage them to make a purchase by providing information, personalized demos, and more.
Currently, corporate buyers tend to do their own research before reaching out to a business for a product. This research involves understanding different solutions available, conducting a cost analysis, reviewing competitor offerings, and more.
The B2B sales rep then helps the customer understand why their company's product is the best solution. To this effect, they work closely with the customer, identify pain points, provide solutions, and more. This is where sales skills like active listening, being respectful and goal-oriented, and building relationships come into play. And all of this encourages the customer to make a purchasing decision.
Common B2B sales rep responsibilities include:
Make and receive calls
Manage sales emails
Set up meetings
Conduct product demos
Prospect for new business
Build rapport
Overcome objections
Follow up, and more.
B2B Funnel
To sell effectively, you need to understand the buyer's perspective and what your B2B customer journey looks like. And using a visual tool like the funnel is a good place to start.
A B2B funnel is the visualization of a prospect's journey from discovery to post-purchase. The different stages of the funnel depicting the B2B buyer's journey include:
Awareness
Interest
Consideration
Action / Purchase
Loyalty / Retention
Advocacy
With that in mind, here's what the buying journey looks like:
Identify pain point(s).
Research potential solutions, check out review sites and social media, ask for recommendations, and find a vendor(s).
Talk to the salesperson to understand how the product can solve their issue and understand the implementation process.
Take this information back to the decision-maker at the company and evaluate the vendor.
(if all goes well) Make a purchase and implement the solution.
As you can see, the buyer's journey isn't straightforward. But, understanding how it works will help you develop your company's sales process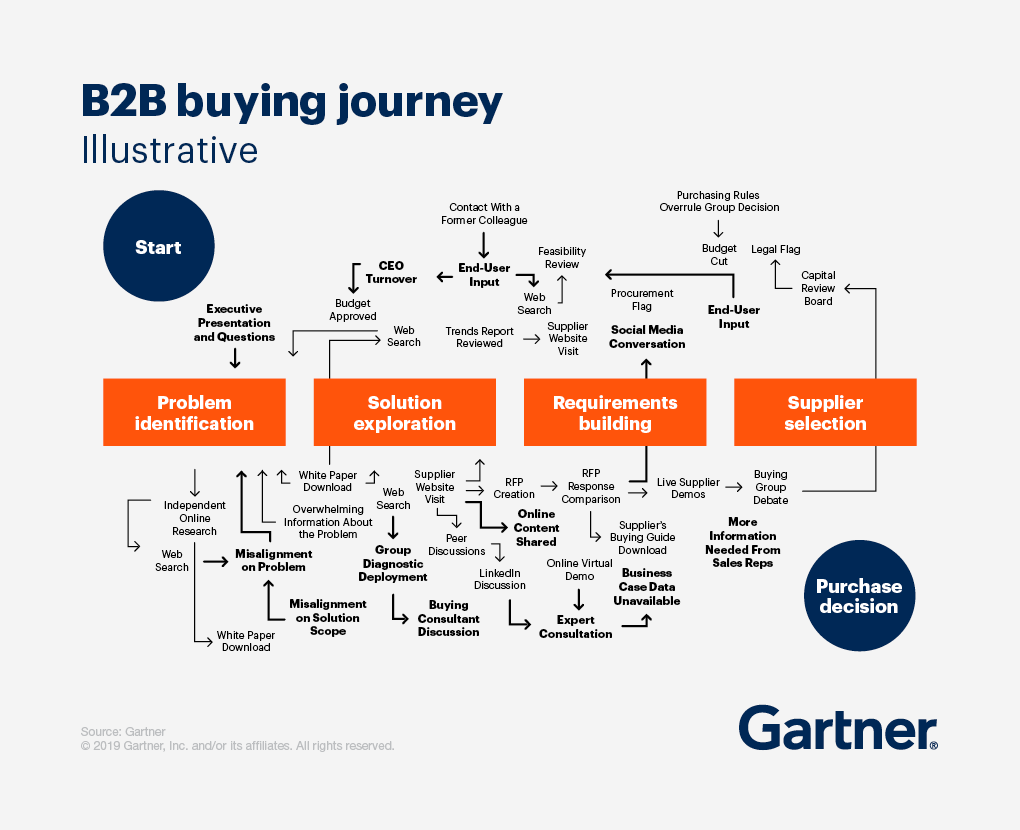 B2B Sales Process
B2B sales, in particular, is a complex process that uses various sales techniques for different buyer personas, use cases, and selling situations.
First, to lure these buyers in, the company's marketing and sales teams do what they do best. Organizations are finding more success when their marketing and sales teams work together to boost lead generation. This involves offline and online marketing, cold calling and outreach, and more.
Once the lead is in the door, the B2B sales rep nurtures the lead.
The B2B selling journey, therefore, may look like this:
Preparation and research
Prospecting and lead or demand generation
Discovery and needs assessment
Product demo and sales pitch
Objection handling/negotiation
Follow up
Closing
Onboarding and customer success management
Keeping this in mind, the B2B sales process is usually split into the following functions:
Sales development — identifying and engaging decision-makers, nurturing leads
Closing deals — helping prospects make a purchase
Onboarding — bringing new customers on smoothly
And customer success — checking in with existing customers and helping them make the most out of your product.
Challenges to Keep in Mind
Your business can utilize B2B sales to create a better and more efficient customer journey. But part of developing a B2B selling strategy is to be aware of challenges that might impede progress. The most pressing concerns include:
Limited-to-no training
Misunderstanding or unawareness of key goals
Sales and marketing misalignment
Outdated sales culture
Slower adoption of supportive call center technology
Operational inefficiency
Keeping these in mind, let's look at some ways your business can overcome these obstacles.
B2B Selling Techniques and Tips
About 77% of customers say that their buying journey was hard or complex — from searching for the right solution to getting stakeholder buy-in.
So, your B2B sales process must include techniques and strategies to connect with prospects effectively at all of these touchpoints — from awareness, consideration, purchase, and retention.
Here are 5 strategies to broaden your B2B sales approach:
1. Research and get to know your prospect: The most important step to any successful sale is researching the customer. Who are they, what do they need, and what are their pain points? Take time to talk to them or use available resources to understand their needs better.
2. Collaborate with other departments: Work with marketing, product development, and tech support to get a single and wholesome view of customer data. This collaboration will help you understand what messaging is important, what resolutions are useful, which features are popular, and so on.
3. Consider AI and automation: Use AI and reporting technology with key insights and forecasting to drive your sales. Furthermore, use automation solutions to help salespeople focus on more complex tasks instead of spending time on mundane ones. Also, more and more B2B customers are opting for seller-free buying. So, while you optimize your B2B sales process, consider including self-service solutions that let lower-end customers purchase your product sooner.
4. Be proactive and responsive: Nurturing corporate customers takes time and patience. So, make sure your sales reps are accessible whenever your prospect might need additional support. Train reps to proactively solve problems, make recommendations, and respond to queries quickly. Being available goes a long way in building trust.
5. Focus on building relationships: Instead of racing the clock on closing the sale, encourage sales reps to build meaningful relationships with customers that promote trust and loyalty.
20 Key B2B Sales KPIs
Another important B2B strategy is measuring performance. Analytics help you understand if your teams are close to achieving key sales goals.
You can track a variety of KPIs to measure sales performance, productivity, revenue, and more. In fact, the list of business KPIs and metrics continues to grow as new reporting software is introduced.
But let's keep it simple.
Here's a list of the top 20 B2B sales KPIs to measure:
Lead generation
1. Leads — number of leads coming in monthly or annually
2. Source of leads — where leads are coming from
3. Lead quality — to determine the likelihood of prospects becoming paying customers
4. Performance of qualified leads — likelihood of qualifying leads that convert
5. Lead-to-opportunity ratio — how many leads turn into sales opportunities
6. Avg lead response time — measure time needed to follow up with a prospect
Sales productivity
7. Sales pipeline velocity — time taken by a prospect to move from lead to customer
8. Sales close rate / percent of closed deals — percentage of your closed-won deals every month
9. Time spent running demos — how much time is required to demonstrate the product's usefulness
10. Time spent on the phone — time spent on closing phone deals
11. Win-loss ratio — calculation of won deals over lost ones
Revenue tracking
12. Sales volume by location — to understand where demand is growing and/or lacking
13. Percent of sales discounts — which discounts are most efficient
14. Customer acquisition cost — how much is spent on each lead that converts to a paying customer
15. Return on investment (ROI) — effectiveness of marketing and sales activities
16. Monthly recurring revenue (MRR) — understand recurring revenue
17. MQL vs SQL conversion rate — ratio of marketing leads that convert to sales leads
18. Cost of marketing — effectiveness marketing strategies in boosting sales
19. Customer satisfaction — important customer success metric
20. Customer lifetime value — how much net profit a business can make from one customer over time
The Future of B2B Selling
Since the global pandemic, industry experts are seeing more hybrid sales roles as well as customers preferring remote and self-service interactions themselves. This means that your business needs to rethink how it sells to customers in a virtual space. Some strategies to consider as we embrace a different path forward:
Focus on the customer and adopt customer-first strategies
Diversify your communication and selling channels
Collaborate with other departments to understand what customers want from your organization in this day and age
Upskill and promote your existing sales reps and provide access to resources and training
Include cloud communication technology that makes it easy to sell from anywhere.
Our Sales and Marketing Manager, Luke Genoyer offers his insights:
Salespeople have less time with buyers, so they need to make their interactions more valuable — especially since there's a lot more "noise" for salespeople to cut through
Encourage collaboration with marketing and product to improve website/marketing assets and customer experience
Sales professionals should invest in their own online "brands" to promote credibility.
With these tips in your pocket, your business is gearing towards entering a new phase of B2B selling. Good luck!
To learn about our cloud communication solutions for B2B sales teams, chat with our experts online!