---
What Types of Travel and Tourism Businesses Can Benefit From Call Recording?
Common travel and tourism agencies, such as the ones listed below, can use call recording software to increase quality and efficiency: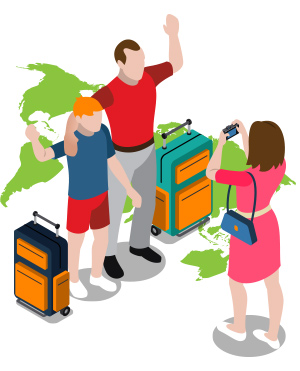 Travel agents and agencies
Online travel agencies (OTAs)
Tourism companies
Guides and tours
Hotels, timeshares, resorts
Transport services: air, road, rail, water services
Ecotourism-focused business
Educational tourism services
Medical tourism
Business travel services
Cruises
Tourist information
Nature, recreational, and theme parks
Whether you are a large company or a new start-up, call recording can give you insights into how your business is doing. Global Call Forwarding offers this premium service for a small additional fee with all of its virtual number plans.
Why Should Your Travel Company Use Call Recording?
Call recording is used by enterprises for a variety of different purposes, ranging from observing employee-customer interaction to recording for documentation. Here are some ways your travel or tourism business can use this service:
Store new customer data
Keep track of customer information
Understand customer preferences
Follow-up with clients
Gather customer feedback
Reduce liabilities and misunderstandings
Improve caller experience
Conduct performance analysis
Incentivize good agent interaction
Record transactions and payments
Monitor, study, and review calls to get a better understanding of how your travel company is interacting with interested clients and existing customers. This information can help you identify sales strategies that work and areas that need improvement. Additionally, you can clarify and dispute conflicts with the recordings acting as evidence. This can help you reduce personal and business liability.