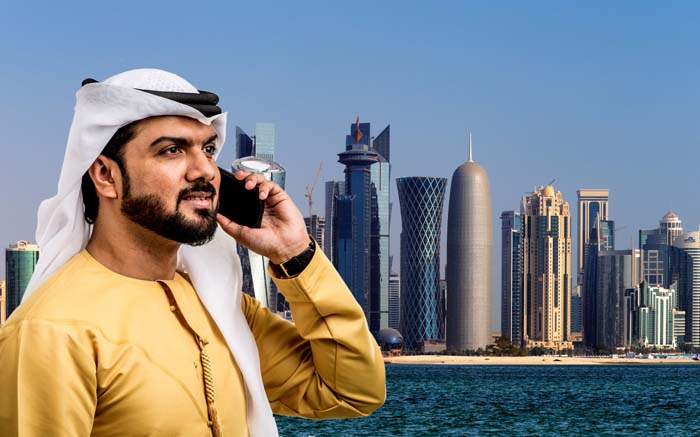 The oil rich kingdoms in the Middle East offer lucrative job opportunities to skilled individuals from all across the world. And nowhere is this phenomenon more acutely displayed than in the state of Qatar. While other prosperous Arab nations like Saudi and UAE have significant expat population, Qatar trumps them all. Look local with  Qatar Local Phone Numbers.
Nearly 85% of the tiny kingdom's population of 2.4 million is made up of foreigners working in the country's rich and highly developed economy. If you are an expat working in Qatar, or have close relatives working there, Qatar local phone numbers are a poignant way to keep in touch without spending vast sums on international calls.
What are Qatar Local Phone Numbers?
When we talk about Qatar local phone numbers, what we mean are basically virtual numbers with global phone call forwarding capabilities. These numbers look and behave like local numbers in Qatar, in that if you make calls to these numbers from a phone in Qatar, you will only have to pay local call rates.
But these virtual numbers actually enable the caller to connect to linked phone numbers other countries. So a virtual Qatar local phone number actually allows users to make ISD calls via internet telephony at the cost of local calls. You only have to pay very economical subscription rates for Qatar Local Phone Numbers.
Reasons to Use Local Phone Numbers
The main reason is money. International calls are very expensive, costing anywhere 10 to 100 times more than local call rates per minute. This stifles business and makes communication difficult for many reasons. If you work in Qatar, your family living in your home country can buy Qatar local phone numbers and connect them to their home numbers online.
When you make calls to these local phone numbers, your phone call is forwarded to you family back home, but you only have to pay Qatar local charges. Local call charges + monthly subscription for Qatar local phone numbers are much less that what you would have to spend to call them via regular ISD calls.
You may also want to get a Qatar local phone number if your business has a lot of clients in Qatar, but you don't have a local office there. You don't need a local Qatari address to subscribe to these virtual numbers. So you can get a very concrete presence in your target market that your consumers can connect to.
Your customers will be encouraged to place calls on Qatar local phone numbers since it will only cost them local rates. This can lead to increased sales and increased customer retention.
Qatar Phone Number System
Qatar is a tiny nation. There are no multiple area codes for fixed landlines. They are generally 8 digit numbers starting with "4" or "44". Mobile numbers in Qatar tend to start with 33, 55, 66, and 77. The country also has "800" numbers for toll free call systems.
When you subscribe for local Qatar phone numbers you can opt for local landline numbers that cost local call rates or those toll free 800 numbers that are free for the caller. But understandably, toll free numbers will cost more than local numbers.
Advantages of Local Phone Numbers
For starters, you don't need a Qatar address to buy Qatar local phone numbers. And further they can be used to forward phone calls to both landlines as well as mobiles. And you don't need to spend extra money on any new hardware, since the whole system is digital and can be configured online via a PC or Mac. And these virtual phone numbers also offer a lot of flexibility when configuring.
You can have multiple numbers linked, record incoming calls, schedule your call forwarding settings, and even record voice messages in case you are busy and can't attend calls. And the whole system can be started within minutes. The setup is easy to understand and quick. The rates are also very reasonable and flexible. This is a subscription based system and you have various plans to choose from, based on your expected usage.
Qatar's Economic Forecast
The Middle East economies are facing a crunch due to the international oil price crisis. Countries like Saudi Arabia are really feeling the heat. But Qatar is a bit of an exception, since the tiny country has been very wise in diversifying its economy beyond just petroleum industries.
Qatar has a very active and rapidly growing services and financial sector. Qatar has some companies in the media that are famous, as well as aviation industries. And while countries like Saudi are trying to cut the number of foreign workers, Qatar is one place where the population of migrant workers and the country as a whole is expected rise steadily for the near future. Qatar is pressing the right buttons now and is prospering.
You should really consider getting Qatar local phone numbers to connect with the people residing in that country, especially for your business clients.
We have decades of experience in the business of international call forwarding, serving customers in countries all over the world. Call our expert representatives to learn more about our call forwarding services and to figure out the best plans that fit your budget and requirements.