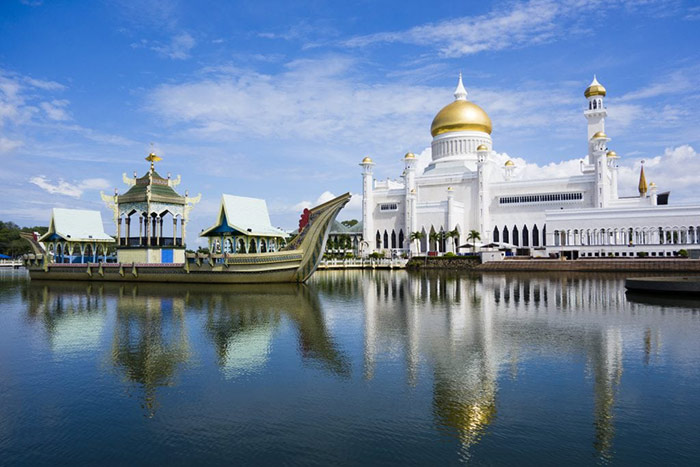 For many growth-minded business owners, expanding their business internationally offers plenty of opportunities beyond those offered by the domestic market. There are many fast-growing markets that are less competitive than the more widely known international markets, and Brunei represents one of them. Brunei virtual phone numbers are the most cost-effective way to expand to Brunei.
Brunei is the smallest populated country in the Association of Southeast Asian Nations (ASEAN) with the second-highest per capita income in Southeast Asia after Singapore. Brunei is considered an easy nation to do business in among the nations within the Association of Southeast Asian Nations. According to the World Economic Forum's Global Competitiveness Report for 2017 – 2018, Brunei is ranked 45th out of 138 economies. Brunei has reported the largest ranking increases within ASEAN and has made solid advances in infrastructure, institutions, education, and health. The World Bank also releases an annual report called the Doing Business Report, and the edition for 2018 ranks Brunei 56th out of 190 economies.
Brunei is also known to be attractive for foreign investment. The nation does not charge a tax on personal income or capital gain, and there is no sales tax.
With regard to political structure, Brunei operates under an absolute monarchy. The Sultan of Brunei functions as the head of government as well as the head of state and is advised by five councils. The nation has a dual legal system. When looking into doing business in any nation outside of one's home nation, it is important to study the target country's regulatory environment, its import and export procedures, tax considerations, and methods for establishing a presence in the new country.
Get Brunei Virtual Phone Numbers for Your Business
Within Brunei, the Registry of Companies and Business Names (ROCBN), which functions under the Ministry of Finance, is responsible for all steps in registering and incorporating any business. The ROCBN will incorporate sole proprietorships, partnerships, public companies or private companies, but there are different registration requirements for each type, so it is important to thoroughly research the requirements for the specific business type one is planning to form within Brunei.
Upon determining the type of business one aims to establish in Brunei and determining if the requirements are met for that type of business, there are a number of steps to follow before a company is completely incorporated and able to operate in Brunei. The procedure begins with the following steps:
1. Register the business name via Brunei's online Registry of Companies and Business Names (ROCB) and wait for approval of the name.
2. ROCBN will then issue a certificate of incorporation after the following has been submitted:
a. List of directors along with their IDs and date of birth for each
b. Consent form
c. Notice of registered business address
d. Memo of Articles of Incorporation signed by all directors
More information can be found through Brunei's online Registry of Companies and Business Names.
The primary reason for any company to go global is to improve the organization's potential for expansion and growth. Some specific reasons may be to extend the sales life of products and services by finding new markets to offer them in, reducing dependence on markets in the United States, exploring a whole new market of staff and knowledge, and learning to compete in the global marketplace.
Prior to initiating operations in a new market, however, one of the first things for a company to secure is a solid method of communication with clients, customers and any other business contacts that will make business success a possibility within the new nation. Global Call Forwarding supplies and sets up virtual phone numbers for companies of any size. The steps carried out by Global Call Forwarding in establishing Brunei virtual phone numbers is simple, offering organizations improved ease of entry into the Brunei market.
In order to successfully establish a business in Brunei and fully benefit from the growth and other advantages of the market, a company must establish an efficient means of communication with their customer base. Offering telephone access with Brunei virtual phone numbers is an optimum method of achieving this goal.
Brunei virtual phone numbers allow for a company entering the Brunei market to offer a phone number for those located in Brunei to easily reach them. A client or any business contact places a call using one or more Brunei virtual phone numbers set up by Global Call Forwarding and the call is then redirected to the company's phone number of choice anywhere across the globe.
Calls made to Brunei virtual phone numbers can be forwarded to a landline or a mobile phone, which is a very convenient feature for a business owner looking to establish a local presence in Brunei while not physically present in the nation.
Global Call Forwarding specializes in international call forwarding through the use of Brunei virtual phone numbers and virtual phone numbers set up from many other countries worldwide. Global Call Forwarding's clients gain access to an online control system that is simple to use.
Establishing a presence in a foreign market involves a wide range of planning regarding guidelines, culture and much more. Brunei virtual phone numbers help in establishing that strong presence that is needed in order to be successful.