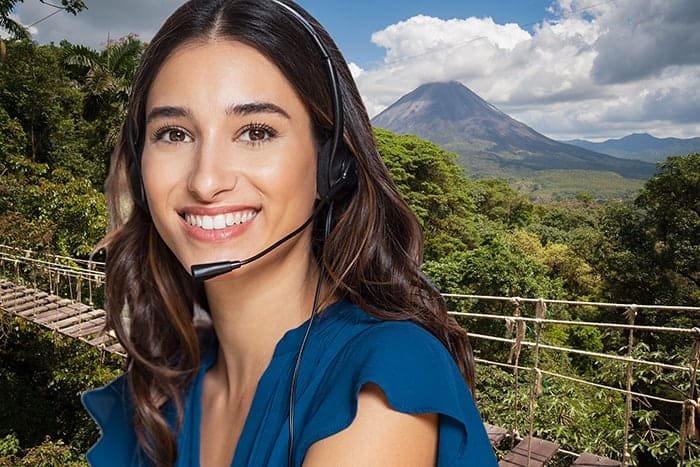 This is the time to expand your business internationally and increase sales by gaining new clients from over the world. Costa Rica virtual phone numbers can help you enter the local Costa Rican market, connect with locals, and establish your business here.
Get a Virtual Phone Number in Costa Rica
Use your Costa Rica phone number to bring your global expansion to fruition and extend sales and customer support services. We offer the following types of Costa Rican numbers:
Costa Rica Toll Free Numbers (800) are free to call from anywhere within Costa Rica.
National Costa Rica Numbers (4) are also reachable from all over the country.
How Much Does it Cost?
We offer 5 different virtual phone number plans for businesses that want to expand their scope and increase their customer base. Choose the plan that helps you build a robust communication system. Our Costa Rica virtual numbers start as low as $14.95 per month.
Telephone Numbers in Costa Rica
Telecom services in Costa Rica offer residents and businesses a plethora of communication services. Here's information about the telecom scene in Costa Rica:
Costa Rica telecom regulator — Superintendencia de Telecomunicaciones SUTEL
Telecom services offered in Costa Rica — Fixed-line, mobile, and internet services.
Major Costa Rica telecom operators — ICR, Claro, and Movistar.
Costa Rica Phone Number Format
Costa Rica phone numbers are usually 10-digits long. This includes the toll free (800, 900), a trunk prefix (3, 4), or area code, followed by a 6-7-digit subscriber number. The Costa Rica country/dialing code is (+506). Therefore, the format is:
+506 (toll free or area code or trunk prefix) + xxx xxxx.
For example: +506 (800) + xxx xxxx.
Get Costa Rica Virtual Phone Numbers
Global Call Forwarding offers businesses with business phone numbers and virtual communication features. Companies in more than 160 countries around the world can take advantage of our services. To get a Costa Rica virtual number, call us now or sign up online!