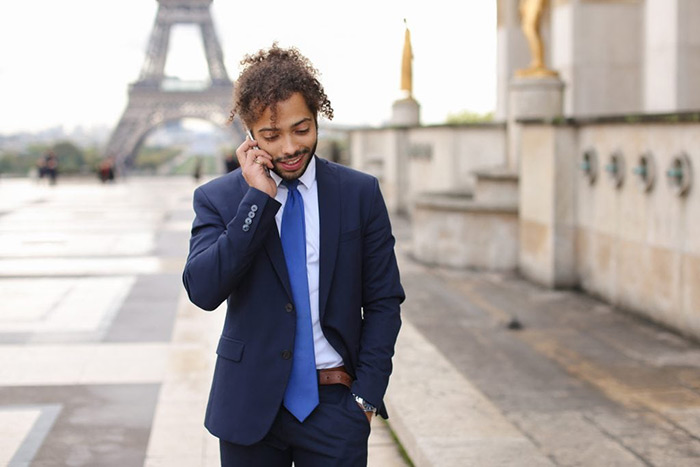 France is a European country and a republic. It is slightly smaller than the state of Texas and is the largest country in Western Europe. It is bordered by Luxembourg, Germany, Switzerland, Belgium, Italy, Switzerland, Spain, and Andorra.
The nation's capital is Paris. Other large urban areas include Marseille, Lille, and Lyon.
Get France Virtual Phone Numbers for Business
France is listed as one of the top six economies in the world. The head of state is President Emmanuel Macron. The President governs using a two-chamber parliament and a Council of Ministers. The country's official language is French, though there are several regional languages such as Alsacian and Breton. France's currency is the Euro.
France's Economy
The chemical industry is a major player in France's economy. It has also helped with the development of other manufacturing industries and contributed significantly to economic growth. The nation's tourism industry is also a big part of the economy; France is the world's most visited country.
The energy sector is another major industry in France. Its main electricity company, Electricite de France, is the world's largest utility company. Engie is another key player in France's energy industry. This is the largest independent utility company in the world.
Traditionally a primary industry in France, before the industrial revolution, agriculture remains a significant part of the country's economy. France is home to the world's sixth-largest agricultural production. It is also the world's second-largest exporter of agricultural products. The northern regions of France are home to large wheat farms, while the southern regions are famous for their vineyards.
The technology park, Sophia Antipolis, is France's technology hub. Because Paris is considered to be one of the most sophisticated cities in the world, France is also a major player in the fashion industry.
Like many European countries, France succumbed to the recession of the late 2000s but managed to emerge sooner than most other countries, after only four quarters of economic struggle. Despite this quick recovery, France experienced slow growth between 2012 and 2014.
What are France Virtual Phone Numbers?
Would you like to expand your business into the French market? Are you worried that you can't afford to do so? With France virtual phone numbers, you can receive calls on any of your existing phone lines, whether they are landlines, mobile, or VoIP. With Global Call Forwarding, you can also change your settings at any time with our user-friendly online interface. You can also incorporate several smart features like blacklisting, failover forwarding, and voicemail to email. You can add and delete numbers whenever you need them, and you do not have to sign a contract.
We can help you create a virtual office anywhere in France. At Global Call Forwarding we have a huge inventory of virtual numbers. You can choose whichever options best suit your customers, such as toll-free numbers, national and local numbers, as well as vanity phone numbers. If you prefer to focus on a particular niche in the French market, we can provide you with local numbers in a range of French cities, and have the calls routed to anywhere in the world.
Benefits of France Virtual Phone Numbers
If you're not already doing so, your business really should be using virtual phone numbers for their exceptional versatility.
One of the main advantages of using France virtual phone numbers is that you can directly establish a local presence without having to set up a physical office in France. If your office is located on the other side of the world, it makes it much easier to give your customers a local number to call for support.
Another great advantage is that you can cut costs by using local area codes. With local France virtual phone numbers, you can help your customers avoid long distance fees and cumbersome international dialing codes.
Your company will also have a much more professional image because France virtual phone numbers allow you to subscribe to as many phone numbers as you need. Each different number can be used to reach different services within your company.
With France virtual phone numbers, you can keep business calls and personal calls separate while using a single phone. This alone is a major benefit because it helps you keep down costs and it means you don't have to use your personal number in your ad campaigns.
If you want a presence in France, but you don't want to over-stretch your budget by setting up an overseas office, all you have to do is create a virtual office. With Global Call Forwarding, France virtual phone numbers, you can stay in touch with your French customers wherever you are in the world.
Contact Global Call Forwarding to get on board with France virtual phone numbers, or other virtual phone numbers for locations all over the world. We look forward to helping you expand your global business presence.