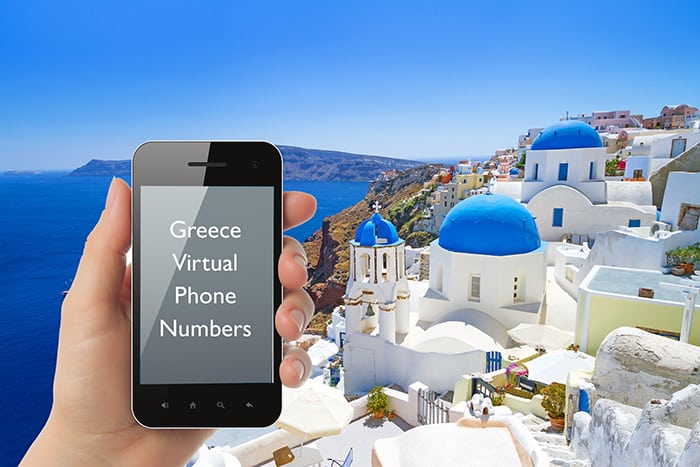 Take your business to the next level by expanding to Greece with Greece virtual phone numbers. You can use these numbers to pursue new leads, offer customer support, and more!
Get a Virtual Phone Number in Greece
Greece virtual phone numbers are a great way to achieve global expansion with ease. In fact, you do not even have to be physically present in the country to extend services to locals. Have incoming calls forwarded to your office located anywhere in the world.
Greece Toll Free Numbers (800) are free to call from anywhere within Greece.
Local Greece Virtual Numbers with assigned area codes are available from nearly any city. Major cities include:
Aegina (2297)
Agrinio (2641)
Argos (2751)
Athens (21)
Chios (2271)
Corfu (2661)
Drama (2521)
Kalamata (2721)
Korinthos (2741)
Markopoulo (2299)
Patra (261)
Polygyros (2371)
Rhodes (2241)
Siros (2281)
Thessaloniki (231)
How Much Does it Cost?
You can quickly sign up for a Greece virtual phone number through our homepage. We offer five different business phone number plans. However, our Greece number plans start as low as $12.95 per month. Find a plan that is right for your business communication needs.
Telephone Numbers in Greece
Communication services in Greece enable locals and businesses to communicate efficiently. Here's information about the telecom scene in Greece:
Greece telecom regulator — Hellenic Telecommunications and Post Commission
Telecom services offered in Greece — Fixed, landline, cellular, satellite, and internet services.
Major Greece telecom operators — COSMOTE, Vodafone, and WIND.
Greece Phone Number Format
Greece phone numbers are usually 10-digits long; the toll free or area code is 3 digits and the subscriber number is 6-7 digits long. The Greece country/dialing code is (+30). Therefore, the format is:
+30 (toll free/area code) xxx xxxx.
Local Greece Phone Number Format
Greece local numbers have assigned area codes for different regions. We provide local Greece numbers for major cities such as:
Aegina
Agrinio
Argos
Athens
ChiosCorfu
Drama
Kalamata
Korinthos
Markopoulo
Patra
Polygyros
Rhodes
Siros
Thessaloniki
Geographic Greece numbers include the area code and a 7-8-digit subscriber number. This how they are arranged:
+30 (area code) + xxxx xxxx.
Get Greece Virtual Phone Numbers
Greece business phone numbers allow local and foreign companies to enter the Greece market and offer customers sales and customer support. Get a Greece virtual phone number with Global Call Forwarding today!