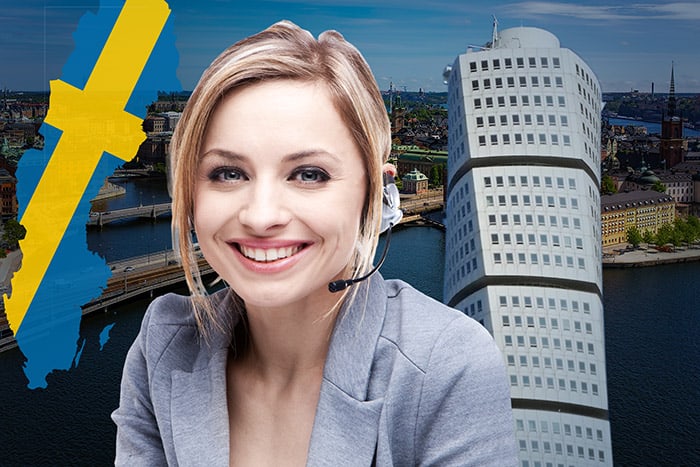 Sweden virtual phone numbers are a brilliant marketing tool that can help you forward calls internationally and even faxes to a number of your choice. With just the press of a button for such services, you can do away with unnecessary SIM cards and wires, availing greater convenience.
Such a service is a boon to those who wish to expand their businesses into foreign lands. Nearly every company needs to adapt web-based technologies like virtual phone numbers in order to stay afloat amidst competition and cater to the changing needs of customers. Just having an online presence and a social media presence no longer suffices.
Companies need to adapt newer and more advanced business communications means to expand their local presence, which enables them to reach out to a greater number of customers. While using email and live chat services to interact and communicate with business partners, clients, and customers, technologies now exist that can allow you to purchase Sweden virtual phone numbers quite easily to expand your business in the most up-to-the-minute manner.
Through this advanced technology, you can use offshore phone numbers without paying steep rates for business needs. If taking your business operations to Sweden is something you're considering, keep in mind that you do have the cost-effective and efficient option of purchasing Sweden virtual phone numbers. This is a strategy many smart businesses have found to be greatly helpful, and time-saving.
Why Getting Sweden Virtual Numbers is a Great Business Practice
It is important to keep a check on operational costs, no matter which country you wish to set up your business in. While setting up a working unit in Sweden can be an expensive affair, using Sweden virtual phone numbers can help you reduce costs. Considering you may also have to factor in a variety of expenses, such as the salary of staff, among the many other operational costs, you probably want to reduce as many extra expenses as possible. Sweden virtual numbers, however, can allow you to grow your business in the country, without really needing a physical presence, especially in the earliest phase when you are first beginning to expand.
Sweden virtual phone numbers give you the ability to have a local phone number from that specific country. This alludes to the impression that you have a flourishing setup in the country, which is a sign of confidence for both customers and clients. This in turn will help boost sales, and will also allow you to widen your customer base. Obtaining Sweden virtual numbers is rather easy. While there are a variety of service providers who offer these services at very affordable rates, Global Call Forwarding remains the international leader in offering the best prices.
The Economic Future of Sweden and Growth Prospects
Sweden is among the few countries in Europe that have showcased signs of strong economic growth. The finance minister of Sweden has stated in recent media interviews that the Swedish economic model is predicted to deliver even stronger in the near future. The government of Sweden has since upgraded their forecast for growth for the next 2 years.
The finance ministry sees the Swedish economy growing by 2.6 percent in 2017 and another 2.1 percent of growth is expected in 2018. It is also predicted to grow at an additional 4-5% if they lowered their taxes and reformed their governmental strategies further.
Economic experts presume that business productivity growth, net exports, and capital investment will be faring better than previous expectations in the very near future. Even independent economists echo the view of the government of Sweden, as far as economic growths and stability is concerned. Because of these factors, and depending on the nature of your business, if you are considering it, right now may definitely be a favorable time to invest in expanding your business into Sweden.
Compelling Reasons to use Sweden Virtual Numbers
Irrespective of the niche your company belongs to, using local Sweden virtual numbers can be advantageous for its growth if doing business in Sweden is in consideration. Both individuals and business owners can gain immensely by using these virtual numbers.
Sweden virtual phone numbers are a must, if you plan on starting a venture in the country. Though you may not have a local presence, these numbers will create the impression that you do have a physical presence in the country, in the simplest and least disruptive manner. Your customers can simply call the virtual phone number, presuming it is a local phone number, and reach you no matter where you are, all the while they still get to pay the same local rates.
This can allow your customers to feel automatically comfortable in working with you, as you are "local," and it can also help in lending credibility to your venture overall as a result. Since these numbers are basically local Sweden numbers, remembering and instantly recognizing them will be easier for callers.
The use of Sweden virtual numbers is not limited to just business owners, however. You can use these numbers for personal use too if you have the need. If you are moving away from home or will be traveling for a few months in Sweden, you can easily get a local number for family and friends to reach you easily, conveniently, and affordably. Simply get a local Sweden virtual phone number and divert calls to wherever you are. You can divert your calls and messages to an international landline, mobile number, or even a SIP client that is running on your phone. The possibilities are endless, and your options are plentiful.
How do Sweden Virtual Phone Numbers Function?
Using Sweden virtual phone numbers for the very first time can be intimidating to business owners, but it doesn't have to be. It helps to understand the core operating principle behind these numbers, which can make understanding the overall big picture easy. These numbers work on cloud and call forwarding protocols, and otherwise, the process is pretty self explanatory.
Your Sweden virtual phone numbers can be set to redirect calls to your specific business number. This can be any number – literally, mobile, and/ or landline. With this service you will never miss a call, any time of the day or night. Whether you are traveling or not actually residing in Sweden, it will in no way act as a hurdle in operating and monitoring your business in Sweden.
Choosing the Best Virtual Number Service Provider
When you sign up for Sweden virtual phone numbers, you will be able to give your company the boost and impetus it deserves. However, it is crucial that you choose the right service provider to make this happen. Contact us today for exciting offers and discounts on virtual phone numbers that come with features such as reliable automatic call forwarding packages.