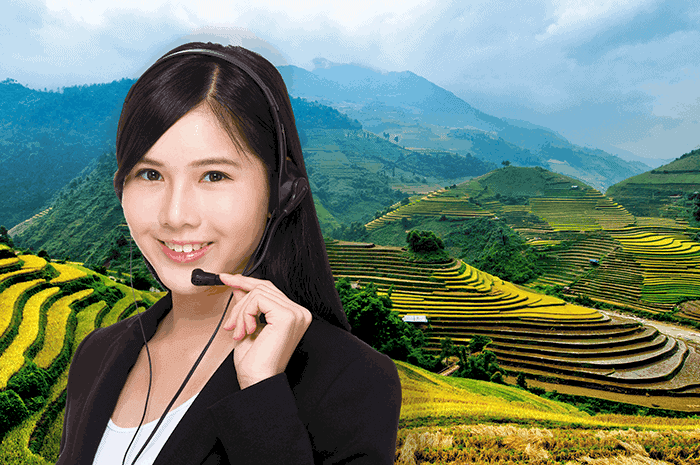 Looking to take your business to Vietnam? You can get Vietnam virtual numbers and enter the local market with ease! Connect with locals and increase your customer base by offering inexpensive calling rates.
Get a Virtual Phone Number in Vietnam
We offer a wide variety of virtual phone numbers for businesses that are ready to reach the next level. You can get a Vietnam virtual number from us by simply signing up on our website. We offer the following types of virtual Vietnam numbers:
Toll Free Vietnam Numbers, which have the prefix (120), (122), (800) and can be called for free from anywhere within Vietnam.
Local Vietnam Numbers with specific area codes are available for different cities including:
Danang City (2)
Hanoi City (4)
Ho Chi Minh City (8)
How Much Does It Cost?
You can get a Vietnam phone number plan for as low as $34.95 per month. We offer five different plans so you can choose one that is right for your needs. Use a toll free Vietnam number to offer locals a free calling option.
Telephone Numbers in Vietnam
Vietnam's telecommunications industry provides locals with various communication services for business and personal use. Here's information about the telecom scene in Vietnam :
Vietnam telecom regulator — IMSI
Telecom services offered in Vietnam —
Major Vietnam telecom operators — Vietnam Posts & Telecommunications Group (VNPT), Vinaphone, Mobifone, Viettel, S-Fone, EVN Telecom, Vietnamobile, and GMobile.
Vietnam Phone Number Format
The Vietnam dialing code is (+84). The format of Vietnam phone numbers includes a toll free code or area code, followed by a subscriber number. A toll free Vietnam number includes the toll free prefix (120), (122), or (800) followed by a 5 or 6-digit number:
+84 (122) + x xxxx.
Geographic Area Codes in Vietnam
We have virtual numbers available for major cities in Vietnam including:
Danang City (2)
Hanoi City (4)
Ho Chi Minh City (8)
Geographic Vietnam numbers include the trunk prefix (02), the area code, and an 8-digit subscriber number:
+84 (02 + area code) + xxxx xxxx.
Get Vietnam Virtual Phone Numbers
Businesses in and outside of Vietnam can use Vietnam business phone numbers to connect with locals, to offer them support and sales, and to develop a strong local network. Get Vietnam virtual phone number for your business today! Sign up online or speak with our experts today!