The United Kingdom (UK)  is known for its forward-thinking approach when it comes to business and consumer relations. Review these top UK Phone Number Providers
Therefore, entrepreneurs that would like to have a virtual number based in the UK must be prepared to work in a productive and competitive industry that always puts the customer first.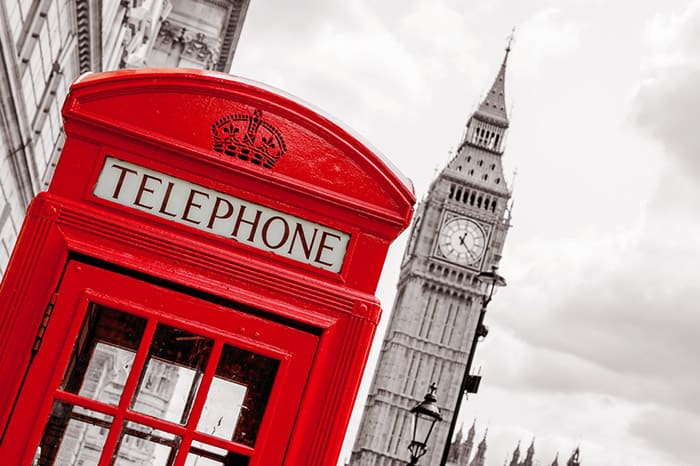 Small businesses and the entrepreneurial spirit are at the heart of the UK economy. 76% of businesses in the UK are owned by solopreneurs working alone. At the beginning of 2017, more than 5.7 million businesses were reported in the private UK sector, and the number of these businesses had increased by 197,000 since 2016, setting a record in the nation.
The infrastructure and progressive culture within the United Kingdom contribute to the success of businesses across various sectors. For foreign business owners, working in the UK has numerous advantages including its ease of doing business. The country is also listed by World Bank as one of the easiest countries in the world to register a new business.
Assisting business owners is equally as valuable as customer service because no business can properly serve customers if their internal operations are awry and proven systems for communicating with callers are not in place. Entrepreneurs need options that give them the best bang for their buck. As we all know, most small-business owners starting from the ground up need affordable options as the business is getting off the ground.
The top UK phone numbers providers with affordable options are Global Call Forwarding, Avoxi, and Toll Free Forwarding. Of course, each company has options for helping consumers virtually, but in this article, we want to focus on the features that help business owners to operate more efficiently.
Compared to Avoxi and Toll Free Forwarding, the advantages below are only offered by Global Call Forwarding. These features help entrepreneurs as they decide what to purchase for their virtual business by giving them easy options for comparing plans, using the best features, and saving money.
The Ability to View All Plans Displayed Side by Side
When you're determining what works best for your business, it's important to be aware of your options before making a final decision. The best way to customize the perfect plan online is by viewing each plan side by side.
Toll Free Forwarding and Avoxi won't show you side by side comparisons for plans on their websites. At Global Call Forwarding, we know that using this method allows you to feel more confident in the choices you're making and it saves time because you won't have to visit separate web pages to review the details of each plan.
Utilize Call Transfer Features
Using the call transfer features provided by Global Call Forwarding will keep customers and team members happy because you'll be available when you're needed unexpectedly. Having calls forwarded before you answer is a common feature provided with virtual numbers, but having an existing call forwarded to you when necessary is a unique advantage. This call feature is a must for entrepreneurs working on the go because it keeps them plugged into sudden changes within the company and prevents delays when important inquiries are made by callers.
Your staff will also have more confidence because they'll know that if a customer or business partner needs to get in touch with you immediately, it won't be a problem. The call can be paused and sent to you without ending the conversation or asking others to wait on a callback.
Avoxi and Toll Free Forwarding do not offer these call transfer features, but these features add substantial value to your company's internal operations and will strengthen your professional relationships.
Order Multiple Numbers At One Time From Your Shopping Cart
As a business owner, you value your customers and strive to provide them with as much convenience as possible. Global Call Forwarding offers numerous options to simplify the purchasing process. Unlike Avoxi and Toll Free Forwarding, we allow you to order multiple numbers at once through our website to keep things simple and efficient.
Use Rollover Minutes
Rolling over minutes is a cost-effective option that's especially useful for small business owners on a tight budget. Toll Free Forwarding and Avoxi do not have plans with rollover minutes, but Global Call Forwarding recognizes the importance of this feature.
When business owners purchase virtual phone plans with rollover minutes, the savings can be substantial. The concept works in the same way that it does for consumers who purchase plans with a set number of minutes in advance. Usually, plans with rollover minutes are purchased when customers are estimating the number of minutes needed each month. When the estimate requires fewer minutes than expected, buyers keep the unused minutes for the following month.
As is the case with any business, the volume of incoming and outgoing calls fluctuates. This is especially true depending on the industry you work in and the service you are providing. For example, consider companies within a seasonal industry that only offer products during certain times of the year. With rollover minutes, the unused minutes will just be added to the minutes available for the next month, so you won't lose money due to seasonal operations – and you'll have more minutes available in the event your call volume increases.
Need more information about UK phone numbers providers? Give us a call at 888-908-6171 or 561-908-6171 to learn about the competitive advantages offered by Global Call Forwarding.