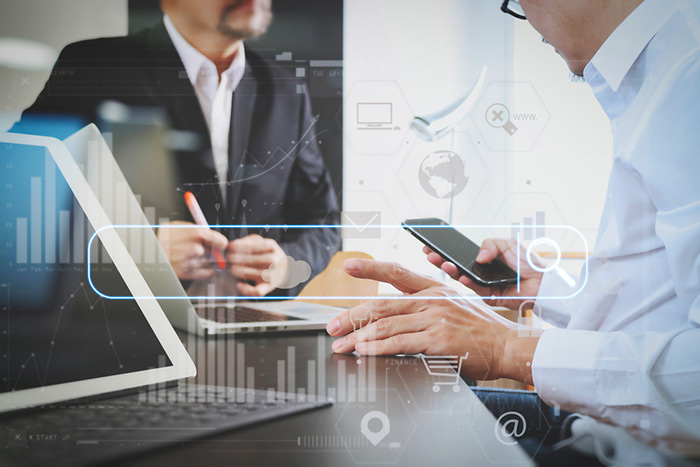 You might not be able to tell the difference between a VOIP business phone line and an analog phone just by looking at them. VOIP phones often look the same and have the same features as the all-too-familiar desk phone, but they also have added value. So, exactly what are VOIP business phone lines and how are they better than traditional telephony systems?
Communications Rewired
The main difference between traditional phones and VOIP business phone lines is that the latter use the internet to make and receive calls. This means that you can use your business's existing internet service for all your communications. So, if you have a reliable high-speed ethernet connection, you will not need to spend more money on installing a telephone system.
To make phone calls, you will need to register your VOIP phone with a service provider. This generally takes less than 30 minutes. Your phones will be activated as soon as they are registered.
VOIP business phone lines use the same keypad as landline phones and typically have buttons for conference, transfer, redial, voicemail, hold, mute, and speaker. Many VOIP phones also support Power over Ethernet (PoE), which enables you to use a PoE switch to power the phone rather than a power adapter. This means less clutter on your desk.
How Do VOIP Business Phone Lines Handle Calls?
Calls are handled differently than other business phones with VOIP. One of the ways they do so is by allowing you to toggle between current calls, incoming calls, and calls that are on hold. Other differences include:
VOIP uses the internet to connect calls, so there is no need for a dedicated phone line.
VOIP phone lines are linked to user accounts rather than phone numbers so that you can switch between various calls.
VOIP lines need to be registered with an online service provider.
VOIP business phone lines use HD voice, which has a higher call quality than regular landline phones.
What Can VOIP do for Your Business?
Today's VOIP phone systems can benefit your business because of their wide range of features, which include:
Voicemail
Auto attendants
Ring groups
Dial by name directories
Video conferencing
Announcements
Music on hold
VOIP business phone lines work with IP phones. There are many different models on the market. The best ones work with any business VOIP phone service.
How to Use Your VOIP Business Phone Lines
You can use your VOIP business phone line to expand your business communication in many ways. Most VOIP providers offer flexible pricing, and many offer free video, voice, and messaging for web contacts and coworkers. You can also get a pay-as-you-go plan, so you only pay for what you use. For higher volume users, many VOIP providers offer metered plans.
What is SIP?
Session Initiation Protocol (SIP) is a special communications protocol that is used for enabling VOIP business phone lines. It is responsible for ensuring that messages are sent from A to B, establishing and terminating a call. SIP trunking enables your PBX system to place and receive calls via the internet. SIP is also used to transmit data for instant messaging, media distribution, and video conferencing. SIP trunking will enable you to use your VOIP business phone line to its full extent. You can optimize it to suit your personal business needs by adding tools such as Asterisk, which will improve your communications platform even more.
The Best Small Business Phone System
Most small businesses tend to use either landlines or VOIP technology. If you are undecided between the two, there are many reasons why VOIP is a better option over a landline. Here are some of them:
Cost-effectiveness: VoIP business phone lines are less expensive than landlines and cell phone lines. This is great if you are a small business owner because it means you can reinvest your savings into your business and watch it grow.
Range of features: VOIP communications solutions have more advanced features than landlines. These include video conferencing, instant messaging, SMS, and data sharing.
Flexibility: You and your employees can access your VOIP phones anywhere there is a reliable high-speed internet connection. This means your employees can work remotely and you can still take calls when you are traveling.
Low maintenance: Because you can choose a VOIP solution that is hosted, your up-front costs are minimized, and you have no need to pay for ongoing upgrades or maintenance; this is all part of your contract.
Scalability: This is perhaps the most significant advantage of VOIP lines for small businesses because it means your telephony system can grow as your business grows.
So, you can start with a few lines and add more down the road.
Contact Global Call Forwarding today to find out more about VOIP business phone lines.