If you have read about the American Civil War, you must be aware of the role Atlanta played in the war. It's the city of railroads, diverse music, and Dr. Martin Luther King, Jr. Peach trees and skyscrapers exist side by side here; the tea is sweet and the city's Hartsfield-Jackson airport is the busiest in the world. The city that was once burned down by Maj. Gen. Sherman during the Civil War has become one of the most important US cities as a business destination.
If you have ever wondered about expanding your business into Atlanta, then there is good news for you. Atlanta is not only a business hub, but also a particularly great place to start a new business. The entrepreneurial scene in Atlanta has been booming since 2006, and it makes starting or expanding a business in the region very lucrative. Centrally located in the Southeastern US, and highly energetic due to the number of young people in the city, and is an exciting place filled with enthusiastic go-getters.
Atlanta's History
Atlanta has great historical significance. Back in 1837, the capital of Georgia was being developed, with new railroads and manufacturing centers. Even after being burned down by Gen. Sherman during the Civil War, Atlanta was quick to recover and rebuild itself. It was the only American city to be destroyed by war, and by the 1920s, the city was redefining itself as a business district with new and efficient transportation systems, a new airport, and national stadiums.
Atlanta is now the financial hub of the South and also a major center for conferences and conventions. As mentioned earlier, Atlanta is a great place to start a new business. There are four important factors that make Atlanta a perfect business hub.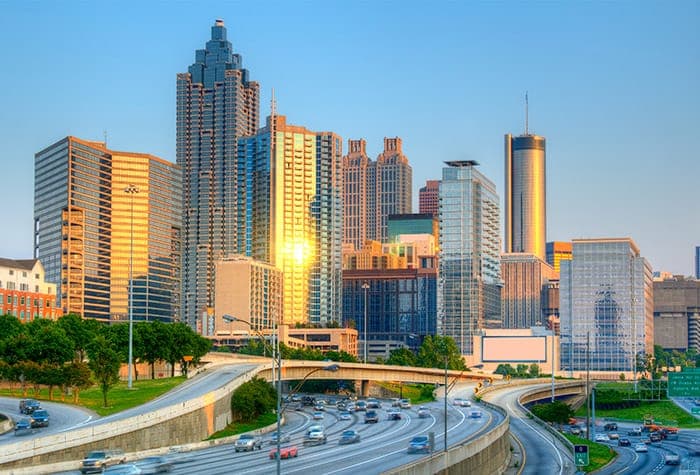 Low Cost of Living: Compared to other, bigger cities, the cost of living in Atlanta is significantly lower. This is of great importance to new and upcoming businesses that function on limited financial resources. Living and doing business in Atlanta is inexpensive compared to cities like New York, Chicago, and LA. Your business will gain the same quality of living as in bigger cities on a more limited budget, which is exceptionally good for business.
Since businesses now enjoy enhanced connectivity, the actual location of a company has become less important. It is easy to create a virtual office in Atlanta with the help of virtual phone numbers. Whether you have an existing customer base in the city or are trying to draw new customers, using virtual numbers can be your ticket to an office "in" Atlanta.
Transportation: Traveling is a big part of business, and Atlanta being home to Hartsfield-Jackson International – the busiest airport in the world – makes business traveling convenient. Whether you meet clients or export goods, Atlanta is an ideal place for business. With a well-connected railway and bus service, transportation within the city or outside, it is all very convenient.
Even if you do not have a physical address in Atlanta, having a virtual office is easy with virtual numbers. These internet-based numbers are cost effective and convenient, and offer seamless connectivity with your Atlanta customers. No matter where you are in the world, you can be reached at any time with virtual numbers.
Tech hub: Atlanta is one of the most elite tech cities, according to Forbes. There are several startup hubs that are coming up, making way for new business opportunities. Technology has made Atlanta a happening destination for business, so if you ever want to expand your business to the East Coast, this is the place be.
Plus, Atlanta has a diverse talent pool, with a variety of leading schools and universities. Georgia State University, Emory University, Georgia Institute of Technology, Savannah College of Art and Design, Atlanta Metropolitan State College, Atlanta Technical College, and Spelman College are all found in or near Atlanta. Many of the top university graduates end up staying in the city, contributing to the local workforce and economy, as so many major companies are located there.
The Advanced Technology Development Center, which is part of Georgia Tech, is one of the most forward-thinking departments of any national college. This center has been influential in the start and development of over 130 companies, and is one of the oldest centers of its kind in history. That says a lot about Atlanta's legacy as a business center, as well as its future, as it remains one of the best places to start a business in the US.
Entertainment: Atlanta is fast catching up with big cities like New York and San Francisco, as it offers a unique array of cultural and entertainment options as well. The famous Fox Theatre, the Georgia Aquarium, the Coca Cola Exhibit, the stunning displays of street art throughout the city, and a massive assortment of nightclubs and the legendary hip-hop scene make Atlanta one of the most visited and celebrated Southern US cities around. Additionally, it should never be overlooked that Atlanta offers some of the finest cuisine offerings in the US. With a long history of sweet tea and peaches, amazing breakfasts centered around biscuits and gravy, legendary Southern foods, and BBQ, there is no denying how good the eating is in Atlanta!