Ukraine is located in Eastern Europe. It is bordered by Belarus to the northwest, Russia to the east and northeast, Slovakia, Hungary, and Poland to the west, Moldovia and Romania to the southwest, and the Black Sea to the south. Ukraine and Russia are currently involved in a territorial dispute over the Crimean Peninsula. Ukraine recognizes this region as part of its territory, but Russia annexed it in 2014. Including the Crimean Peninsula, Ukraine has an area of more than 233,000 square miles, making it the largest European country.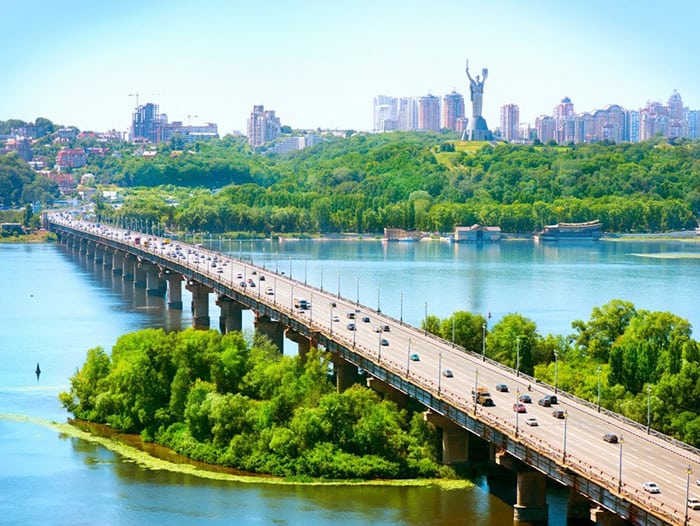 History of Ukraine
The modern Ukraine territory has been inhabited since 32,000 BC. During the Middle Ages, it was a hub of Slavic culture.
During the 13th century, the region was fragmented and ruled and divided by various countries including Austria-Hungary, Poland, Lithuania, Russe, and the Ottoman Empire. The 17th and 18th centuries saw the emergence of a Cossack Republic.
This was eventually split between the Russian Empire and Poland.
During the 20th century, Ukraine experienced three separate periods of independence. The first followed WWI, the second, briefly after WWII. The third began in 1991 when Ukraine gained independence from the Soviet Union. Since then, Ukraine has declared itself an independent state. Ukraine has a semi-presidential system and is a unitary republic. It has three separate political branches: judicial, executive, and legislative. Its capital is Kiev.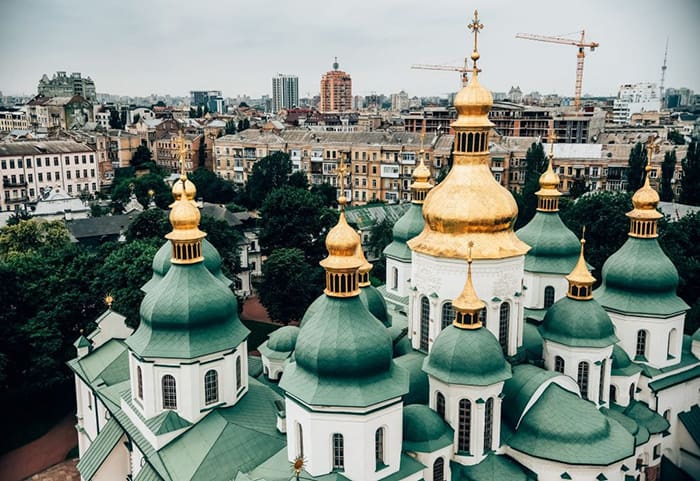 Ukrainian Culture
Ukrainians are very proud of their culture, and this is reflected in their respect for tradition. They still enjoy many historic songs and the playing of the kobza – a stringed musical instrument which dates back to the 16th century. Ukrainians celebrate a number of holidays including Easter, Christmas, New Year, and St. John's Eve.
Ukrainian cuisine is very much a part of their culture. It's renowned for its diversity and has many influences including German, Polish, Russian, and Turkish. Ukrainians love to share their meals and guests are always served with generous portions. Some popular local dishes include:
Ukha: a spicy fish soup usually made with carp.
Oseledets: a salad made with pickled herring and onions with a pepper and sunflower oil dressing.
Kotljetys: fritters made with meat or fish.
Shashlyk: a shish kebab made with marinated vegetables and lamb.
Blyntsi: crepes served with caviar, cheese, meat, or fruit.
Pampushky: a type of fried doughnut.
Folklore is another rich part of the Ukrainian cultural heritage and it has many different facets, one of which is traditional costume. At many of the annual festivals, people will dress in handmade garments decorated with lavish embroidery. The particular style of dress varies from one geographical region to another, but each garment provides interesting insight into the Ukrainian culture. Another aspect of folklore which is traditionally Ukrainian is the Easter egg. The art of painting eggs during the Easter celebration dates back more than 3000 years and has its roots in pagan traditions in which the egg symbolized the sun and the renewal of growth.
Ukraine Economy
The Ukraine economy is classed as an emerging free market. Like many post-soviet states, the nation suffered from the dissolution of the Soviet Union, which caused a sharp drop in its gross domestic product for about a decade. However, the economy regained stability between 2000 until 2008. Since 2013, unfortunately, the Ukraine economy has been suffering once again.
Ukraine has many different industrial sectors including:
Mining and production: the nation is one of the most prominent mineral producing regions in the world.
Iron and steel: One of Ukraine's most abundant mineral deposits is iron ore.
Chemical industry: This includes the production of sulfuric acid and mineral fertilizers.
Fuel industry: Although Ukraine imports most of its natural gas and oil, it is independent in its supply of electricity and
exports this to other Eastern European countries, including Russia.
Automotive industry: Ukraine manufactures cars, trucks, tractors, diesel locomotives, and buses.
Aerospace industry: Ukraine is one of only nine countries with a full cycle of production and hardware engineering for aerospace.
Shipbuilding: Ukraine is one of Europe's top ten shipbuilding nations.
Agriculture: This is still a large sector of the Ukrainian economy. It is a major producer of honey, sunflower oil, meat, and dairy.
Information technology: Because of its well-developed educational and scientific base, Ukraine has a solid reputation as a major technology nation.
In general, though Ukraine poses something of a challenge when it comes to doing business, thanks to strengthening ties with the West and recent reforms, Ukraine is gradually becoming an increasingly attractive business partner. The bureaucratic red-tape and often confusing regulations can cost foreign investors significant amounts of time and money, however, they do pay off in the long run. The challenges are not insurmountable and investors who do their research and take their time have the potential to make some valuable investments. Prospective investors should also be aware that laws frequently change, so it's worth keeping an eye on them.
Global Call Forwarding is a provider of Ukraine virtual phone numbers and toll free numbers with SMS and Email capabilities. Many other features include ringback and call recording to assist you and your business in establishing a solid means of communication.