Sitting at the northern end of the continent of South America lies Venezuela, a natural paradise in the top ten of the world's biodiverse countries. Mountain ranges, forests, and rivers make up natural borders to the country, which was a Spanish colony until 1522, as it gained full independence by 1830.
Previously ruled by the military and by democratic governments, with power often transferring by revolutions and coup, the county has persevered on the strength of its culture and the benefit of its oil reserves.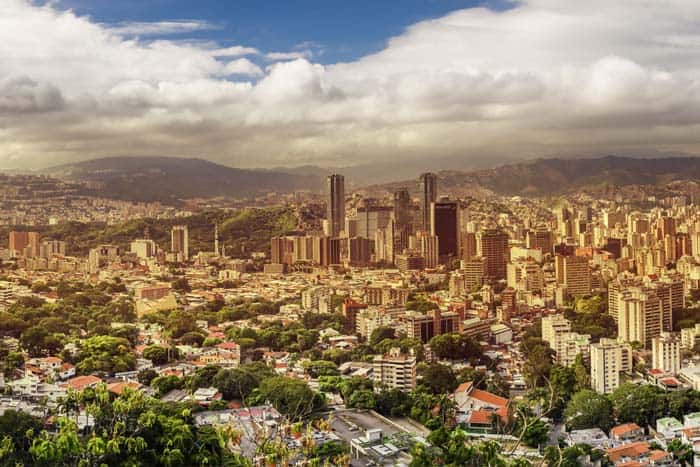 The Venezuelan Economy
Venezuela's economy is largely fueled by petroleum, which makes up a third of the country's GDP and accounts for 80% of the country's total exports. Venezuela is a founding member of OPEC since oil was discovered there in the early 20th century. Because of subsidies, Venezuelans pay less than anywhere in the world for petroleum. It has the world's largest reserves of oil and natural gas and is one of the world's top producers of crude oil.
The country also has what is known as "non-conventional" petroleum, which includes heavy crude oil, and bitumen. Hydropower through the use of dams is the primary source of energy and power.
Venezuela also has a significant supply of gold; more than half of the country's reserves are in gold, with much of it held overseas, in London.
As a large, industrialized country, Venezuela is able to manufacture and export-heavy industrial products such as steel, aluminum, electronics, and cars. Manufacturing is so dominant that agriculture only accounts for 3% of the country's GDP.
In the early 2000s, as the prices of oil and gas began to rise and bolster the Venezuelan economy, the country entered into the "Millennium Development Goals," which promoted spending on health, education, and fighting poverty.
The People of Venezuela
As you may imagine from the kinds of exports Venezuela ships over its borders, the country is one of the most urban and populated in all of Latin America. That population is very concentrated in the Northern areas. Only 5% of Venezuelans live south of the Orinoco River, which is about 60 miles from the northern shore.
Transportation around Venezuela is aided by railways. Although there are no rails that connect Venezuela to other countries (in part due to natural obstacles such as forests and mountains), most of the major cities have internal metro transit systems.
The culture of Venezuela is diverse and creates a great environment for businesses that want to reach out to different cultures.
Some studies place the population of Venezuela as being 51% Mestizo (a mix of European, African, and Native Amerindian), 43% of European descent, 3.7% of African descent, and 2.7% full Amerindian. There are thought to be as many as 40 types of indigenous people in the country.
During and after World War II, so many immigrants left the Canary Islands for Venezuela that the country is often called an additional island of the Canaries. With globalization, oil discoveries, and exploitation, US Citizens also began to arrive as American businesses settled in.
Venezuela's somewhat lenient immigration policies lead to an influx of immigrants from the Middle East and China, as well as from war-torn Europe after World War II. Colonia Tovar, a town in the Venezuelan state of Aragua founded in 1843, is the largest colony of German Venezuelans, earning it the nickname "Germany of the Caribbean."
A Diverse Culture
Cultural variety gives Venezuela diversity in many different areas of everyday life, and the contributions from those cultures create an eclectic mix of art, literature, culture, and sporting events.
For example, the many influences from Spanish culture include the Spanish style architecture, language, Catholicism, and bullfighting. Spanish art is predominant throughout Venezuela, given the Spanish conquest of the largely pre-literate native people.
Spanish music has also taken hold, however, the area also has adopted traditional orchestral music, including the famous Simon Bolivar orchestra, conducted by world-renowned Gustavo Dudamel.
Venezuela's people may be mixed and diverse, but if there's one thing they probably all agree on, it's the popularity of the sport of baseball. Breaking from the tradition of most South American countries, which tend to favor soccer, Venezuela loves baseball so much it has its own league, the Venezuelan Professional Baseball League.
Also breaking from South America tradition is the country's passion for basketball; Venezuela has hosted Basketball World Olympic Qualifying Tournaments and FIBA Basketball Americas Championships.
Even race car driving has gained prominence. In 2012, a Venezuelan Formula 1 driver became the first Venezuelan to win the first pole in a race.
Education
Even through economic and financial hard times, Venezuela has maintained its commitment to maintaining an educated population. Venezuela's oldest university, the Central University of Caracas, was founded in 1721. Both the literacy rate and the primary school enrollment rate are over 90%.
Access Through Communications
Global Call Forwarding is a provider of Venezuela virtual phone numbers and Venezuela toll free numbers with SMS and Email capabilities. Many other features include ringback and call recording to assist you and your business in establishing a solid means of communication.