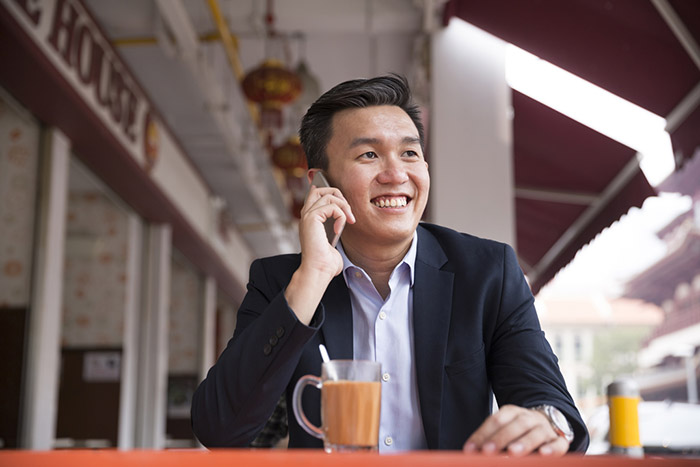 As a non-Asian business entity, if you have plans to enter Thailand as part of your expansion, it will probably become essential to get Thailand local phone numbers. Thailand undoubtedly is a fast growing commercial hub of Southeast Asia.
Thailand has been categorized as a newly industrialized country with an economy that is heavily export dependent. According to the latest statistics, exports contribute to more than 66% of the country's GDP. The economy has been growing by 3.8–4.3% on an average since 2012 and this has been steady despite the ongoing global recession.
Thailand's industrial and service sectors are the major contributors to its Gross Domestic Product. While industry contributes nearly 40% to GDP, the Thai agricultural sector puts in 8.4%, logistics & communication and trade contribute 9.8% and 13.4%, respectively. The other assorted GDP contributors include the construction and mining sectors – 4.3%; and the service sector comprising education, finance, and tourism – 24.9%.
A major contributor to the economy of Thailand is tourism, an industry which has been focused upon and developed rapidly in the last few years. Today Thailand is one of the most visited countries in the world and currently rates 4th globally, in terms of tourist footfalls every year.
Telecommunications and trade are said to be the fastest growing sectors because of increased public spending on them and this has definitely enhanced Thailand's economic competitiveness. Thailand's economy is the second largest in South East Asia, with a per capita income ranking 4th in the Southeast Asian region. External trade wise, Thailand ranked second in Southeast Asia in 2016 after Singapore.
Its economic progress has been acknowledged by the World Bank, which in a recent report has called it "one of the greatest development success stories."
Another additional feather to its cap is the low unemployment rate. This is largely attributable to a majority of the population being engaged in agriculture. Also, a considerable segment of Thais are self-employed and work in the country's burgeoning tourism industry which is now world famous.
It, therefore, is obvious that such a development success story should have a most advanced telephony system for the benefit of both locals and foreigners. Thailand local phone numbers are available to nearly 94% of the population in both landline and mobile form.
Thailand's Local Phone Numbers Network
The Thai local phone numbers network is managed by the NBTC or the National Broadcasting and Telecommunications Commission. It operates on the guidelines set by the ITI or International Telecommunications Union.
Area codes in Thailand for fixed lines are of 1 digit, excluding the prefix which is 0 in Bangkok. In provinces nearby, the area code is 2. In certain provinces, the area code is of 2 digits, starting with 3, 4, 5, or 7. Several provinces usually share a common area code.
Thailand local phone numbers for a fixed-line are usually of 6 digits except for Bangkok, Pathum Thani, Nonthaburi, and Samut Prakan which have 2 as their area code. In the period before 1980, Thailand local phone numbers were of 6 digits in Bangkok, Pathum Thani, Nonthaburi and Samut Prakan. In 1980, all subscriber numbers operating in the aforementioned areas were enlarged to 7 digits in different phases for meeting new subscriber demands.
The subscriber number's first digit signifies a specific location within an area code. In the cities of Bangkok, Pathum Thani, Nonthaburi, & Samut Prakan, the subscriber number's second digit identifies a particular service provider, which mostly is the TOT or Telephone Organization of Thailand. TOT has a near-monopoly in the market for fixed-lines.
A Thai number is of nine digits and includes 0 as the prefix. When you write down Thailand local phone numbers, separate the area code & the subscriber number with a hyphen.
In a revised policy, the Thai government directed that a closed dialing plan would be introduced in 2001 for Thailand local phone numbers. This meant that calling within an area code would require the area code to be dialed first. The country's advanced cellular phone and IP telephony system is also active with mobile phones having area codes of 8 & 9 and area code 6 for VoIP.
The 0 used for landlines is dropped here. Earlier on, all mobile phone operators were issued a single code. It was after a series of mergers that 3 major mobile service providers―True, AIS, and DTAC―operate in the country. With existing numbers running out, these 3 major operators have been assigned the code 081, with a subscriber number's first digit distinguishing each operator.
A cell phone number comprises a code with a 7-digit subscriber number and the network uses 900/1800 MHz for GSM. Roaming service comes for free within Thai territory, particularly in places with a single transmitter. As more and more codes get exhausted, a new range of codes, 09x is now available.
Despite the code's length, subscriber numbers are of 7 digits, finally resulting in a national number of 10 digits including the standard prefix 0. Mobile number portability alternatives are also available in the country whereby subscribers can retain their original numbers while switching from one service provider to another. Just like some sports teams leave one city for another. Goodbye Oakland, hello Vegas! Hello Thailand local phone numbers!
It is only logical and these local phone numbers bring people closer together and expand the reach for businesses of all stripes.