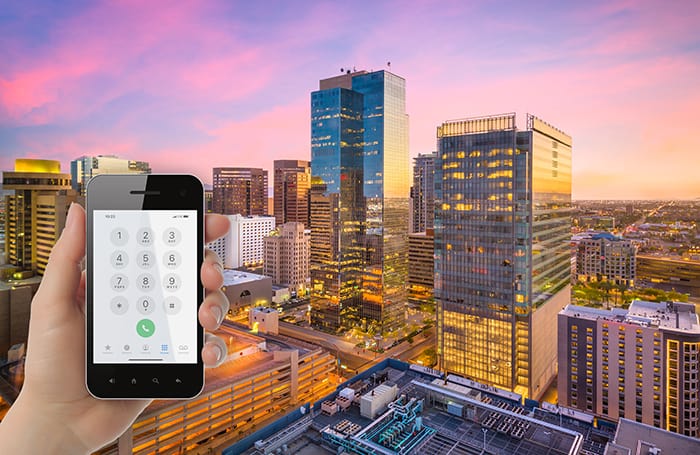 Are you looking for a new expansion plan for your company? When expanding to a new location and new market, you need to ensure the market is prime for your product and services as well as offers resources for growth. Greater Phoenix, located in Arizona, is an ideal location for businesses seeking highly skilled and diverse talent and low operating costs. And with a local Phoenix phone number, you can gradually enter this market and benefit from its economically-prosperous atmosphere.
Why Your Business Should Get a Phoenix Phone Number
A local phone number is a great tool to increase customer engagement, irrespective of whether your business is local to Phoenix or is international. You can use this number with a local area code to appear as a local business. Phoenix and Arizona residents can call your business at local calling rates, instead of expensive long-distance or international rates. This increases the chances of customers connecting with your business for sales, inquiries, and customer support.
Phoenix Area Codes
Our Phoenix virtual phone numbers come with SMS capabilities (optional). Phoenix area codes include:
480 area code
602 area code
623 area code
How Much Does It Cost?
You can get a Phoenix phone number plan for as low as $7.95 per month. Choose between our five different phone number plans, based on business type and size. To learn more, speak with our sales representatives.
How Long Does It Take to Get?
Your Phoenix phone number can be activated right away. There are no lengthy set up times. You can sign up for a Phoenix virtual number online and start using the service right away.
Doing Business in Phoenix
So, why should you consider Phoenix, Arizona to expand to? The city has a lot to offer; from business resources to a skilled workforce to ease-of-operations. With no red tape and lowered taxes, more focus is put on the quality of a company and the ease of doing business.
Take your business to Arizona with Phoenix phone numbers and expand to the rest of the United States gradually. You can get your new virtual phone number by signing up on our website or contacting our representatives for further assistance.