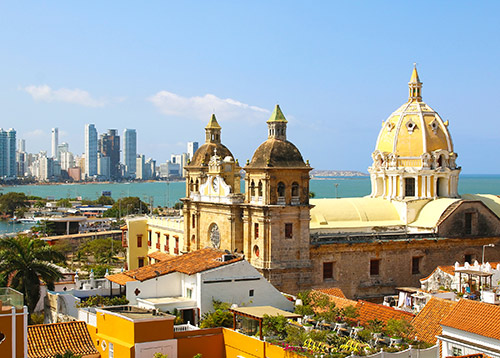 Colombia is a South American country that has been gradually entering the global market as a booming economy. It is one of the most ethnically and linguistically diverse regions in the world, making it a good market to tap. Getting a Colombia phone number will give your business an opportunity to enter this economy and gain new customers.
Get a Virtual Phone Number in Colombia
We have a wide selection of Colombia virtual phone numbers that can make and receive international calls using a local caller ID. Get a virtual number to initiate contact with local customers, vendors, and contacts in Colombia. These are the virtual Colombia phone numbers we offer:
Toll Free Colombia Numbers (800) are also available. They can be called for free from anywhere in the country.
Local Colombia Virtual Numbers are available for nearly any city with specific area codes. We offer local numbers for a variety of Colombian cities; major cities include:
Armenia
Bogota
Cali
Cartago
Medellin
How Much Does It Cost?
Colombia virtual phone numbers start at $18.95 per month. We offer five different plans, depending on the type of business you run and its communication needs. Our pricing is straightforward with no hidden fees or long term contracts.
Telephone Numbers in Colombia
Locals in Colombia can benefit from a variety of telecom services for business and personal use. Here's information about the telecom scene in Colombia:
Colombia telecom regulator — Autoriad Nacional de Televisión
Telecom services offered in Colombia — Mobile, fixed-line, and internet services for business and personal use.
Major Colombia telecom operators — Introduction, ETB, Movistar (Telefónica Telecom/Colombia Telecom), TigoUne (UNE-EPM Telecomunicaciones), Claro (Telmex Colombia/América Móvil), and Emcali.
Colombia Phone Number Format
The Colombia dialing code is (+57) and the trunk code is (01) and a 1-3-digit carrier code. A Colombia phone number, especially a toll free number, includes the toll free prefix (01-800) followed by a 7-digit number:
+57 (01-800) + xxx xxxx
Geographic Area Codes in Colombia
We have virtual numbers available from all the major cities in Colombia. These are the area codes of some of the major cities:
Armenia (6)
Bogota (1)
Cali (2)
Cartago (2)
Medellin (4)
Geographic Colombia numbers include the area code and a 7-digit subscriber number:
+57 (area code) + xxx xxxx
Get Colombia Virtual Phone Numbers
We have partnerships with local Colombia telecom operators and can, therefore, offer our customers inexpensive Colombia virtual phone numbers. Sign up on our homepage or call us to get a Colombia virtual phone number!