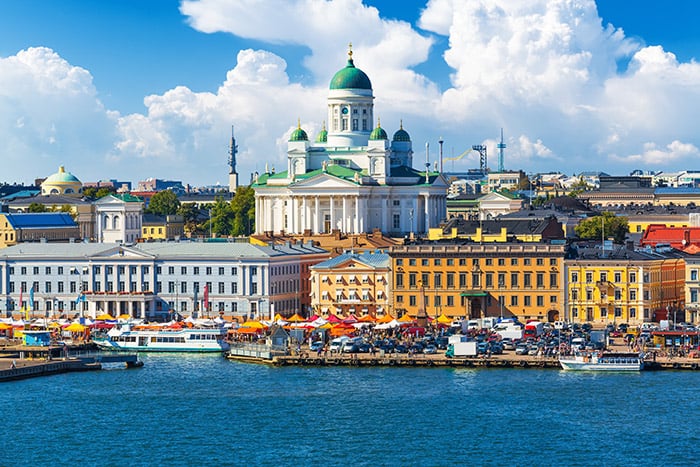 Take your small business to Finland and pursue new leads and a diverse customer base. Finland virtual phone numbers are a great way to establish a local virtual presence within the country!
Get a Virtual Phone Number in Finland
If Finland is next on your global expansion list, then Finland virtual numbers may prove useful. Virtual numbers let you enter global markets via virtual communication and eliminate the need to be physically present. We offer the following Finland business phone numbers:
Finland Toll Free Numbers (0800) are free to call from anywhere within Finland and are mobile accessible.
Finland Mobile Numbers, which start with the (045) prefix and are SMS-capable.
Finland National Numbers are reachable from the entire country. They start with code (075) followed by 7 digits.
Local Finland Virtual Numbers with assigned area codes are available from nearly any city. Major cities include:

Espoo
Helsinki
Kokkola
Lahti
Oulu
Vaasa
How Much Does it Cost?
We offer five different Finland phone number plans for each of our Finland business numbers. You can quickly sign up for a Finland virtual phone number through our homepage. Our Finland number plans start as low as $12.95 per month.
Telephone Numbers in Finland
Telecom services in Finland ensure residents and businesses have the tools they need to communicate. Here's information about the telecom scene in Finland:
Finland telecom regulator — FICORA
Telecom services offered in Finland — phone systems, domestic and international communication services, cellular networks, radio, TV, and internet services.
Major Finland telecom operators — Elisa Oyj, Telia Finland, and DNA Oyj.
Finland Phone Number Format
Finland phone numbers are usually 10-digits long; the toll free or area code is 3 digits and the subscriber number is 6-7 digits long. The Finland country/dialing code is (+358). Therefore, the format is:
+358 (toll free/area code) xxx xxxx.
Local Finland Phone Number Format
Finland local numbers have assigned area codes for different regions. We provide local Finland numbers for major cities such as:
Espoo (9)
Helsinki (9)
Kokkola (6)
Lahti (3)
Oulu (8)
Vaasa (6)
Geographic Finland numbers include the area code and a 7-8-digit subscriber number. This how they are arranged:
+358 (area code) + xxxx xxxx.
Get Finland Virtual Phone Numbers
You can sign up for a Finland virtual business number on our homepage and take advantage of the range of virtual communication features and services we offer. For more information, call us at 1 (888) 908 6171.