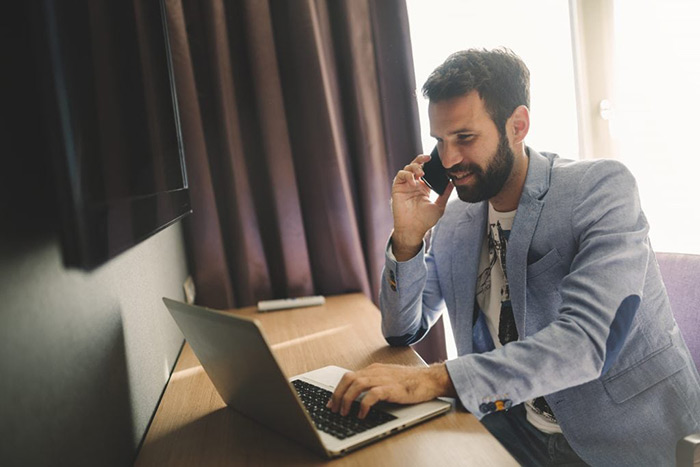 Virtual phone numbers remove the physical limitations of phone lines, giving persons or businesses the ability to reach people outside of their current confines. Virtual phone numbers at Global Call Forwarding can be forwarded from national or international places enabling long-distance phone calls to be made by consumers without extraneous calling charges.
Your Business Needs Washington D.C. Virtual Phone Numbers
One of the most important aspects of Washington D.C. virtual phones number is that whether or not you or your business is located in Washington D.C. makes no difference; you can still connect with your consumers and friends in America's capital by way of your Washington D.C. virtual phone numbers. Plus, the virtual part of the phone means that you can choose which device you wish to receive your calls from. The virtual number works on mobile and landline phones as well as desktop computers and tablets.
New technology for virtual phone numbers allows you to choose between toll-free numbers or SMS enabled mobile lines for numbers in the United States. These numbers will be attached to the 202 Washington D.C. area code. There are many more benefits to this service other than saving your consumers a bit of cash. Read on to find out how your business can benefit from having Washington D.C. virtual phone numbers.
Adding Washington D.C. virtual phone numbers to your business will be quick and easy because there is no expensive equipment to purchase. If you don't have your own virtual call center, you can still forward calls right to your mobile phone or business line. If you do have your own call center, the calls can be routed to multiple devices so you never miss out on a business opportunity! All sales teams can benefit from having virtual phone numbers. In addition, they are so simple to set up and use, there will be no need for extensive employee training when you begin the new service.
Having multiple phone numbers also increases your customer reach because it allows you to connect with multiple clients at one time. Being more accessible is always an appealing trait for any business no matter how large or small. Also, local phone numbers give the appearance of being a larger business and your local Washington D.C. clients will be impressed that they can reach you so easily even if you're actually located across the world in Taiwan or India.
Doing Business in Washington D.C.
The diverse economy in Washington D.C. is consistently growing. The GDP per capita is always one of the highest-ranked in the United States and the metro area also enjoys a low rate of unemployment. The average salary for a Washington D.C. local is $70,860 per year. The majority of jobs come from the federal government which means that during economic recessions The District of Columbia will remain safe from a fiscal decline, unlike other states. There are many other business sectors in Washington D.C., including law firms, lobbying firms, trade unions, and a huge part of this city's economy is from the tourism industry.
In 2016, Washington D.C. broke the record for tourism with a whopping 20 million domestic visitors (including numbers from Canada and Mexico) and 2 million internationally. The visitors add billions of dollars to Washington's overall economy each year. Businesses such as restaurants, local shops, hotels, and public transportation see much of this income. $2.5 billion came from Lodging costs alone in 2016. Right behind lodging was Food and Beverage with $2.1 billion, and Entertainment with $1.2 billion.
Getting Started With Washington D.C. Virtual Phone Numbers
Global Call Forwarding is a trusted company that offers Washington D.C. virtual phone numbers at competitive rates because they understand that consumers prefer dialing local numbers and are more likely to answer unfamiliar phone calls if they are from a local number.
Businesses are more profitable when they are able to communicate well with their consumer base. Local phone numbers allow your business to get closer to your clients and be available at hours outside of regular business.
Keeping track of call details is made simple with Washington D.C. virtual phone numbers. Simply log into your account for your Washington D.C. virtual phone numbers and you will find a control panel that provides an analysis of your phone calls. A control panel is just the beginning of the many features that come standard or for a small fee with your Washington D.C. virtual phone numbers. You can create your own personalized voice messages, rollback any unused minutes from month-to-month, add SMS forward messaging, record phone calls, and transfer calls to any department in the world if that's what suits your needs most.