Call center trends are changing, and managers and agents should be aware of the upcoming shifts that will be taking place. Here are the 2022 call center trends to keep in mind when looking for ways to improve your contact center's capabilities.
Related: Call Center Technologies Business Leaders Must Know
Developments in Call Center Trends
So, what's new in the world of call centers? Since the COVID-19 pandemic, we've observed a focus on remote working and virtual communication possibilities. Call centers had to adapt to these changes as well and use virtual call center software to stay connected and continue working efficiently. Additionally, we've noticed a rise in AI, automation, and chatbots, all meant to reduce the burden on agents while continuing to offer high-quality services.
Here are the top 2023 call center trends your business should be aware of and consider implementing:
1. Cloud Communication Solutions
Cloud communication is one of the most important call center trends with confidence in the cloud rising. UCaaS and CCaaS are two main cloud communication solutions available to businesses and call centers. UCaaS streamlines internal communication and collaboration while CCaaS improves customer interaction. Combining UCaaS and CCaaS solutions can give your help your call center shift to the cloud seamlessly.
2. Remote Work
The pandemic made remote working a necessity, and that led to the remote work trend. The ability to work from home (or any other location) may just mean the end of traditional on-premise call centers as we know it. And this brings us to the virtual call center software. Such software makes it possible for call centers to go virtual or move to the cloud, enabling agents to stay connected no matter their location.
Furthermore, your business can save on infrastructure, equipment, and utility costs. However, managing remote teams can prove challenging. Advanced virtual call center tools can help ease these concerns by making it easy for managers and teams to connect. Additionally, managers can use tracking or call recording software to oversee agent behavior and performance. Some common examples include call whispering, call barging, etc.
3. Artificial Intelligence
According to a recent report by Finances Online, the use of AI can help improve agent satisfaction, efficiency, and productivity as well as customer satisfaction.
Whether AI will overtake human customer service representatives or not is still in question. But for now, AI and human agents can work in tandem. While artificial intelligence has yet to become as capable as human agents, AI is improving every year. One of the growing call center trends is the increasing use of artificial intelligence software in terms of smart routing, multichannel support, automated processes. More on all of these below.
4. Automation & Self-Service Tools
Automation allows agents some wiggle room and can reduce their burden. In some cases, AI can help filter out simple queries so that agents can focus on more complex customer needs. We're talking about using CMS or CRMs that automate processes and update information, so that everybody on the team has the right and most recent information. Some common automation tools and processes include:
Ticketing software
Automated email and text responses
Chatbots
Cloud IVR and smart call routing
Automatic call distribution (ACD)
Analytics and reports, and more.
By providing self-service tools — where customers can get information or resolve issues on their own — you can cut down the time agents spend on repeating simple, mundane tasks and services. For example, something as simple as signing up online, have an online guide to show how. This can reduce the number of calls coming in for sign-up help.
5. Omnichannel Communication
Customers are expecting multiple communication channels. And so, if you only offer phone and email, you need to start offering other services. Think: live chat, chatbots, video, text messaging, etc. This allows your business to connect with a wider range of audiences and meet your customers where they are. You may even consider jumping on social media platforms and engaging with customers actively and in real-time.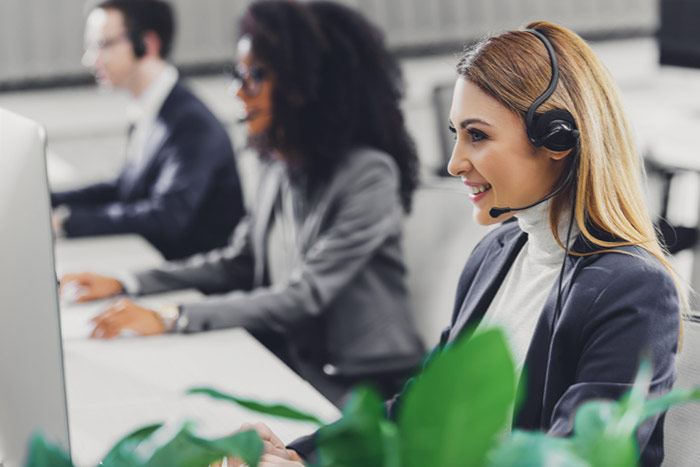 6. Cloud IVR & Advanced Routing Options
The main reason to adopt cloud IVR and smart call routing is to reduce call wait times. Most people understand the struggle of waiting in long call queues or being bounced around from department to department. All of this to get an answer to a simple question.
Whether it is one of the top call center trends or not, businesses should continuously strive for shorter wait times for their companies. Here is where cloud IVR and call routing strategies come into play. Cloud IVR uses automated responses to greet callers and identify the purpose of their call. Then, based on their response, the IVR transfers the caller to the right department or assists them through pre-recorded messages and processes.
Another way to reduce wait times and to help callers reach the right department quickly is through call routing strategies. What strategy will work for your business depends on what you want to achieve and how your business offers sales and support. For example, do you want to offer 24/7 support or adopt the Follow the Sun model for customer support? Do you have high call traffic or fluctuating traffic? Do you have support and sales teams in multiple locations? Smart routing strategies include:
Location-based routing
Skill-based routing
Simultaneous ringing (call groups)
Sequential forwarding (line hunting), and so on.
You may even choose to offer voicemail and callback options for customers who do not want to wait in line and are willing to receive a call from your company at a later time.
7. Call Metrics & Analytics
If your call center isn't already tracking and analyzing call center metrics, you risk falling behind. The best way to identify how your call center is performing is by tracking metrics and KPIs. Common call center KPIs include:
Average time in queue
Average handle time
First call resolution
Customer satisfaction score
Occupancy rate
Agent absenteeism.
Want to learn more? Check out our list of top call center KPIs.
8. Improvements in the Workplace
You are probably aware by now that customer satisfaction is one of the top priorities of any business, but what about the satisfaction of those employees who directly deal with those customers? Many companies often neglect and forget their call center agents.
It is important to realize that customer service agents are the backbone of any company because they are the face of your company. If your agents are unhappy, then your customers will certainly not be happy to deal with them.
You can improve their overall performance by offering moral and psychological support for your agents. After all, dealing with angry customers all day does take a great deal out of a customer service agent. It is no surprise that one of the top call center trends, therefore, is focusing on EX and making employees feel comfortable and confident in their jobs.
9. Reward Your Agents
There are times when a call center must keep up with large surges in call volume. During these times, agents can become overworked. Call centers have some of the highest turnover rates in any job. To combat this, call centers can look to ideas from management on how to keep employees motivated during these highly stressful and taxing times.
Some ways that you can keep your call center employees excited to come into work is by:
Creating office-wide competitions,
Offering rewards or incentives, and
Recognizing your employees for their hard work.
If you have noticed a lack of motivation in your contact center, try some of these motivating ideas to wake your crew back up and get them back in action. Taking a bit more time to reward these employees will result in happier agents, increased productivity, highly trained and seasoned agents who are loyal to your company, and better overall customer service.