2019 has arrived and with each new year comes new upgrades and technological advances. Call center trends are changing, and managers and agents should be aware of the upcoming shifts that will be taking place.
Improvements In The Workplace
You are probably aware by now that customer satisfaction is one of the top priorities of any business, but what about the satisfaction of those employees who directly deal with those customers? Many companies often neglect and forget their call center agents. It is important to realize that customer service agents are the backbone of any company because they are the face of your company. If your agents are unhappy, then your customers will certainly not be happy to deal with them. You can improve their overall performance by offering moral and psychological support for your agents. After all, dealing with angry customers all day does take a great deal out of a customer service agent. Upgrades in workplace culture will be trending in 2019. This year, call center employees won't be treated like second-tier employees, they will now be allocated more funds from businesses to be sure that agents enjoy coming to work.
Reward Your Agents
There are times when a call center must keep up with large surges in call volume. During these times, agents can become overworked. Call centers have some of the highest turnover rates in any job; in fact, turnover even reached as high as 33% in 2016. To combat these statistics, call centers can look to ideas from management on how to keep employees motivated during these highly stressful and taxing times. Some ways that you can keep your call center employees excited to come into work today is to create office-wide competitions, offer rewards or incentives, and remember to recognize your employees for their hard work. If you have noticed a lack of motivation in your contact center, try some of these motivating ideas to wake your crew back up and get them back in action. Taking a bit more time to reward these employees will result in happier agents, increased productivity, highly trained and seasoned agents who are loyal to your company, and better overall customer service.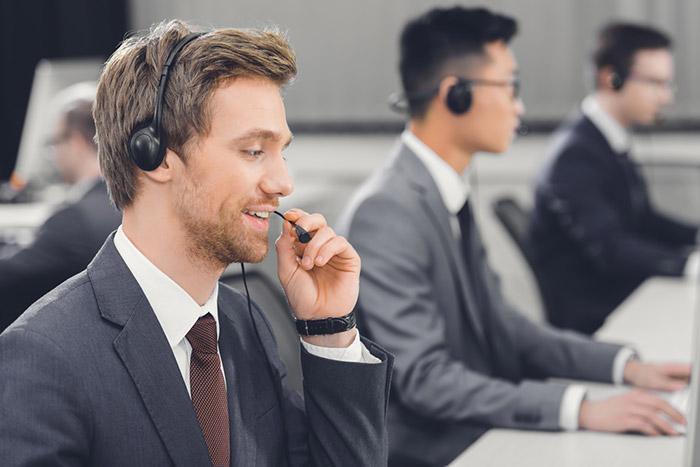 Artificial Intelligence
While Artificial Intelligence has yet to become as capable as human agents, AI is improving every year. This year, in 2019 we will continue to see strides in Artificial Intelligence software. Whether AI will overtake human customer service representatives or not is still in question, but for now, AI and human agents can work in tandem. Artificial Intelligence allows agents some wiggle room to answer the phone when hold times become too long. Speaking of which…
Shorter Hold Times
Most people can understand what it is like to have suffered through minutes and minutes of hold music that felt like an eternity just to ask a question about their cable or make a return on an unsatisfactory item. A business should continuously strive for shorter wait times for their companies. A very simple trend happening in 2019 is promising to call customers back, and then following up on that promise. Give your customers the option to choose to be called again or to wait. This will lessen the influx of phone calls and allow for more steady work for the agents. You are less likely to miss a call from a customer this way as well. Instead of abandoning their phone call after too long of a wait, they can simply opt-in to the callback.
Voice-Powered Technology
VPT has been growing in popularity and convenience for the past several years and will continue to be a trend in 2019. VPT is becoming more humanistic, and its listening technology has become incredibly sophisticated which makes it more accurate in directing calls. It has also improved on its data compilation abilities. VPT has also become a very reliable way to take some responsibility off of customer service agents by being able to help some consumers with basic questions.