How to Get a Phone Number with the 818 Area Code with Global Call Forwarding?
Are you wondering how to gain access to 818 area code phone numbers for your business? If you are, you should know that the process is easy and uncomplicated when you purchase them through Global Call Forwarding, a top-tier telecom service provider, with over two decades of prominence in the market.
First, start by visiting globalcallfowarding.com, the homepage for Global Call Forwarding. Once there, you'll notice a series of dropdown menus towards the top of the web page organized beneath two headings:
Select Your New Phone Number
Enter Your Destination Number
Starting with Select Your New Phone Number, each dropdown menu corresponds to the new 818 area code phone number that you will select.
Select the country code from the dropdown menu, which will be "United States (+1)."
Select "California (SMS Optional)" under the Geographic subheading for the number type. A second submenu will appear, prompting you to choose a city. Using the list above, choose an appropriate city followed by the (818) area code (ex. "Burbank (818)")
The third dropdown menu will include a list of available phone numbers in the 818 area code. Choose one that fits your business and is easily memorable.
Beneath the heading Enter Your Destination Number, you can now enter the phone number where inbound calls will be routed to (which can be located anywhere in the world).
Select the country code of your destination phone number. For instance, if your destination phone number is located in Australia, you will select "Australia (+61)."
Enter the remaining digits of your destination phone number in the 2nd textbox.
Once completed, click on the button "View Rates & Try for Free" to initiate the next part of the process.
Next, you will now be presented with a number of payment plans for your intended usage. Choose the right payment plan that fits your business and intended usage. Below your chosen payment plan, you can select optional add-ons by clicking on the corresponding checkboxes, such as "call recording," "outbound calling," and so forth (note: you can add these optional services at a later time as needed). At the bottom of the webpage, you will then enter your contact information and intended usage by filling in the appropriate information.
From this point onward, the process is similar to most online transactions. On the following page, you will complete:
Billing and payment information
A review of your purchase
Agreement to Terms & Conditions
Submission of your order
Once finished, a customer service agent from Global Call Forwarding will contact you within 24 hours or less to assist in setting up your new 818 area code phone number.
Where is the 818 Area Code?
The 818 area code is a California area code that covers the San Fernando Valley of Los Angeles metropolitan area. Introduced as a split from area code 213 on January 7th, 1984 and was split from the 818 area code (San Gabriel Valley) on June 14th, 1997, the 818 area code currently covers two counties – Los Angeles County and Ventura County, and 33 cities, including:
Agoura Hills
Burbank
Calabasas
Glendale
La Canada Flintridge
La Crescenta
Mission Hills
North Hollywood
Panorama City
San Fernando
Van Nuys
Woodland Hills
Because the 818 area code is located in the state of California, residents are in the Pacific Standard Time (PST) time zone.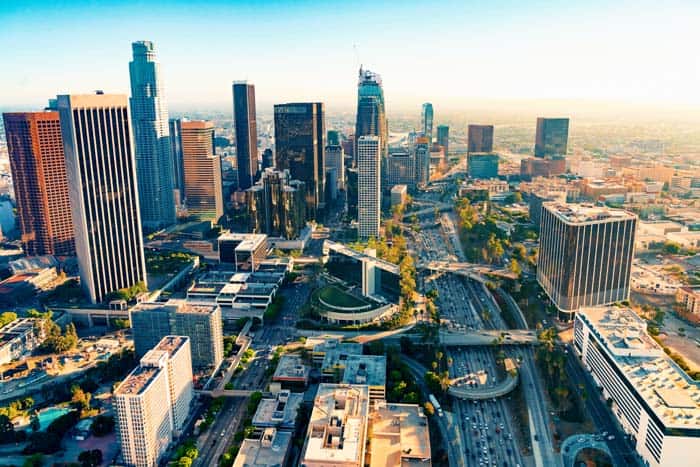 How to Use Virtual Phone Numbers for your Business
Now that you've subscribed with Global Call Forwarding, you will have access to the 818 area code and its respective markets.
How is this possible? With the help of an Internet-enabled technology known as "virtual phone numbers." When calls are made to a virtual phone number, the call is immediately routed through the Internet (via VoIP and cloud computing) and redirected to another phone number (the destination phone number–see above) that can be located anywhere in the world. This means that both international and domestic businesses can have a phone number with the 818 area code, but are able to exist outside of the United States.
Because of this modern method of instantaneous communication worldwide, there are incredible benefits to using virtual phone numbers for your business. Here are a few:
Professional Appeal: Having an international presence immediately elevates your business among your competitors.
Aids Localization Efforts: Because you're using phone numbers with familiar area codes, targeting hyper-specific markets has never been easier while blending in with domestic businesses.
Added Functionalities: The latest developments in virtual communication increases the versatility of their usage. This means that sophisticated technologies, such as "simultaneous ringing," "failover forwarding," "black and whitelisting," and many other services can dramatically alter your business model and make it more efficient.
International Reach: Virtual phone numbers eliminate the need to create a physical presence within the markets you're looking to reach. Your business can reach consumers around the world instantly without having to establish a physical presence within the country that it wishes to access. Furthermore, virtual phone numbers enable callers to avoid long-distance fees and service blockages for potential customers, widening the potential audience for your brand.