The 904 area code – Jacksonville, Florida is the area code that is in use for the majority of the northeast region of the state of Florida. It includes all of St. Johns County, Duval County, Nassau County, Clay County, and Baker County. The entire state of Florida was originally assigned the 305 area code. Due to population growth, however, the southwest portion was split off from 305 and then all of the northern half of the state of Florida, including the Panhandle, was assigned 904 in 1965. Other portions of the east coast were later assigned different area codes as well.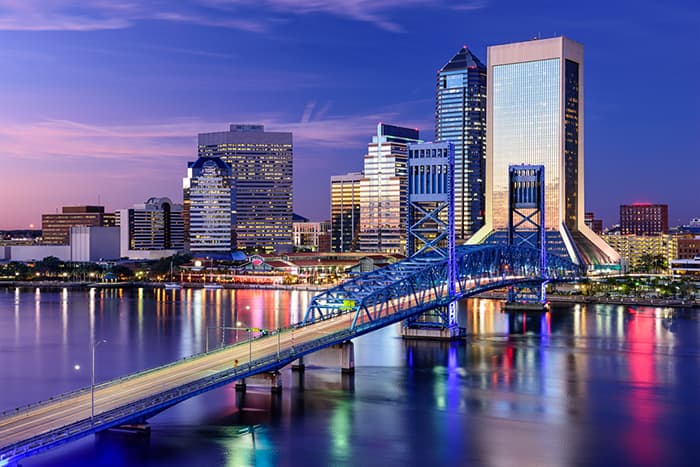 More About Northeast, Florida
When you think of Northeast, Florida you may immediately think of sunny beaches and soft sand, but it's not all vacation in the 904 area code – Jacksonville, Florida. A recent study by the University of Southern California Marshall School of Business determined that the 904 area code – Jacksonville, Florida is more conducive to start-up business success than a large number of the more well-known cities across the globe, such as Atlanta, Miami, Moscow, and Tel Aviv, Israel.
Jacksonville is a great area for both local businesses and international headquarters. In fact, the 904 area code – Jacksonville, Florida is home to several Fortune 1000 companies and Fortune 500 companies. Businesses turn to Jacksonville for its young and educated workforce and the area's public and private universities, which continue to produce an educated workforce.
The 904 Area Code
In 2015, Forbes magazine ranked the 904 area code – Jacksonville, Florida area as the fifth best city to find employment in the United States. In 2017, twenty-four Jacksonville area companies made the Inc. 5000 list of fastest growing companies in the country. At the very top of the list was E-file.com, an online platform used for preparing and filing federal income taxes. The business is based in Ponte Vedra Beach. These are just two of many accolades the Jacksonville area has received in recent years with regard to business.
Business.org studied over 300 North American cities, from large metro areas to smaller areas, and ranked them according to their startup friendliness, as well as demographic cultures and financial environments. Factors that were examined closely included higher education, local employment, young adult dwellers, income versus rent ratio, and start-up growth. Jacksonville ranked the highest of all Florida cities, ahead of Tampa, Miami, and Orlando.
Entrepreneurs and small businesses in the Jacksonville area have a host of support systems offering no-cost consulting, low-cost training, extensive information, financing options, mentoring, networking opportunities, and more.
The 904 area code – Jacksonville, Florida Chamber of Commerce offers support to local businesses through the Office of Economic Development. The office helps small business owners with financing through local, state, and federal programs that are available. The office also provides guidance for businesses looking for innovative financing solutions.
The Florida Small Business Development Center at the University of North Florida offers free consulting, low cost training, and a plethora of useful and helpful information resources for entrepreneurs looking for business solutions that will help them to grow and succeed.
Business Growth in the 904 Area Code
Key industries with a large amount of growth potential in the 904 area code – Jacksonville, Florida area are:
Financial services, including professional services
Logistics, including supply chain management and IT
Health and Life Sciences, including healthcare technology
Advanced manufacturing
Information technology
Aviation and aerospace, including aviation and aircraft components
When starting a business, there are many important decisions to make and many rules and procedures to follow. Before launching into all of that, you want to make sure you are selecting the right area to do business in. The 904 area code – Jacksonville, Florida area has proven to be the best choice for many types of businesses and the area continues to grow and thrive for businesses of all types and sizes.
Jacksonville is a large city in terms of population and landmass. Not only does this benefit a business in terms of hiring staff, but Florida also has no state or local personal income tax and it has low corporate tax rates. The area has a strong local economy with a solid foundation and a very large number of tourists visit the state yearly, which further boosts the economy.
For anyone looking to start a business, the 904 area code – Jacksonville, Florida area has plenty to offer, with a high 5-year small business survival rate and much more to offer in terms of access to tools that will best support an organization's success.