SIP trunking delivers cloud communication capabilities and improved functionality to your existing phone system in an affordable and easy-to-use way. And with the right provider, you can even boost the reliability and quality of your phone network.
So, how do you choose the right SIP trunk service for your specific needs? Here we list the top 9 SIP trunk providers in Ireland with information on features and pricing.
Choose the Best SIP Trunk Provider in Ireland
You'll find many providers offering Ireland SIP trunking services. To choose the best SIP provider in Ireland, start by identifying your budget and communication requirements. Then, research and compare multiple services. This helps you find the right solution for your specific needs. And it ensures you have access to uninterrupted and high-quality voice services.
What to Look for in SIP Providers?
When researching for a new global SIP provider, look for:
Availability of cloud phone numbers and voice solutions in target regions
Range of features included within the plan as well as premium features and services
Different pricing and payment options (look for volume discounts and competitive pricing)
Long-term contract requirements and hidden fees (set up, one-time, cancellation, minimum, etc.)
Easy-to-use online control panel or dashboard
24/7 responsive customer support
List of Ireland SIP Trunk Providers
Here's a list of Ireland providers that offer SIP trunking and other voice solutions to local and international businesses. We've listed down the features offered and pricing information.
*Note: Costs mentioned in this article are current at the time of publishing and may be subject to changes.
1. Global Call Forwarding
Global Call Forwarding is a leading global provider of local, toll-free, and international phone numbers. We offer cloud communication solutions to international businesses, with voice solutions for more than 160 countries (including Ireland). Global SIP comes with outbound calling and integrates with existing PBX systems—no need for extra equipment or installation.
Features Offered:
International DID numbers
Local, toll-free, and international phone numbers
GCF Softphone for IP-enabled devices
Advanced call routing solutions
International call forwarding
Call recording
Call detail records
Call masking
Hosted IVR and call flow builder
Compatible with most PBX systems, including 3CX, Asterisk, etc.
Outbound calling with local caller ID management
Price:
Global Call Forwarding offers SIP trunking for different countries around the world. Our pricing includes the cost of a country phone number plus a $25 outbound calling credit. So, our Ireland SIP trunks start at $37.95/month, whereas the cost of an Ireland number is $12.95/month. Each of our SIP trunks has 10 channels for concurrent calling.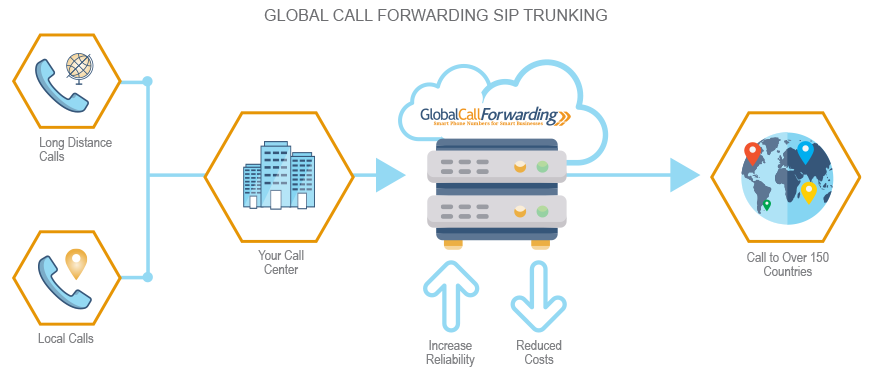 2. IP Telecom
Founded in 2010, IP Telecom is a leading provider in Ireland, offering a variety of small business VoIP solutions as well as services for medium businesses and enterprises. These services include UC capabilities, VoIP technology, SIP trunks, and other various communication features.
Features Offered:
Auto-attendant / IVR
Local and toll-free numbers
Number porting
Call recording
Softphone
Smart call routing
Call forwarding
Video conferencing
Price:
Since IP Telecom's Ireland SIP trunk service is based on a business' needs, they offer a pay-as-you-use pricing model with no starting rate stated on their website. Contact their sales team for specific pricing details.
3. NetTraffic
NetTraffic supplies phone system and networking solutions to businesses using both traditional and cloud-based telecom tech. Some of these offerings include SIP trunking, on-premise PBX hardware, and software integrations.
Features Offered:
Automated attendant (IVR)
Fax to email
Number porting
Call Recording
Mobile and desktop app
Call detail records
Ring groups
Conferencing
Price:
NetTraffic offers users two pricing plan options for their cloud system services. The first plan, designed for small to midsize businesses, starts at €40 ($38.38) per month for a max of 10 users. The other is an enterprise package starting at €195 ($187.09) per month for a max of 100 users.
Note that these are the starting prices for each respective plan, which only cover a certain number of users. Adding additional users will increase the price accordingly.
4. Voxbone by Bandwidth
Voxbone, a cloud telephony provider in Ireland, was acquired by Bandwidth in 2020. With the merging of these networks, Bandwidth offers users voice coverage in over 60 countries. In addition to SIP trunking services, this company also provides APIs.
Features Offered:
Local, national, and toll-free numbers
Conferencing
Text-to-Speech
Integration capabilities
IVR
Call forwarding
Call recording
Outbound calling
Number porting
Price:
Voxbone by Bandwidth bases their prices and commitment requirements on each business' use case and level of consumption. So, for specific pricing details, users must request a quote or contact Bandwidth.
5. GoldStar Telecom
Goldstar Telecom is another option for those looking for a SIP trunk provider in Ireland. This company delivers cloud-based and hybrid phone solutions as well as IT services to small, medium, and large businesses.
Features Offered:
Call analytics
Call recording
Voicemail to email
Desktop & mobile app
IVR
Integration capabilities
Conferencing
Price:
GoldStar Telecom doesn't list their service rates online. Instead, they recommend sending them your existing phone bills so they can analyze them and find you the best solution for your business. And, they encourage users to request a quote from them online.
6. Viatel
Viatel is a cloud telephony and IT solutions provider delivering coverage across Ireland, the UK, and Europe. They offer a suite of SIP calling services, including trunking.
Features Offered:
Virtual phone numbers
Desktop & mobile app
IVR
Video conferencing
Chat capabilities
Call recording
Hosted PBX
Price:
While Viatel's website references a monthly subscription, pricing options are not available for viewing online. To learn more about their Ireland SIP Trunk service pricing, you'll need to contact their sales team.
7. Telcom
Telcom specializes in unified communication and ISP services across all sectors and industries. Their voice services include SIP trunking, number porting, and phone numbers from over 140 countries.
Features Offered:
Call routing
Call recording
APIs
Voicemail
Call reporting
Video conferencing
Desktop & mobile app
Price:
Telcom states that their team of engineers will work with users to develop a tailor-made solution. You can request a free consultation or quote on their website.
8. in2tel
in2tel delivers integrated telecom solutions such as SIP trunks to companies throughout Ireland and the UK. They offer a "building block" model allowing users to build a customized solution for their specific needs.
Features Offered:
Desktop & mobile app
Voicemail-to-email
Call logs
Ring groups
Whitelist & blacklist
Online portal management
Call routing
Price:
in2tel operates on a "pay for what you use" pricing model. As a result, there are no starting prices or plans listed on their website. Instead, they encourage users to book a demo or contact sales.
9. NTES
NTES is an IT solution provider that partners with 3CX to deliver SIP Trunking services to end users. Since they are a 3CX partner, you can expect to see similar features between both platforms.
Features Offered:
Auto-attendant
Mobile & desktop apps
Video conferencing
Live chat
Ring groups
Integrations
Call parking
Price:
NTES doesn't list pricing options on their website. For pricing information about their Ireland SIP Trunk service, you'll need to contact their sales team.
Global Call Forwarding: A SIP Trunk Provider for Ireland
Keep an open mind when browsing through different Ireland SIP trunk providers. After all, this service determines how well your business communicates with its customers and prospects.
Want to learn more about our service? Global Call Forwarding is an Ireland SIP trunk provider offering SIP trunking solutions to businesses across the world. Find out more by chatting with our experts or requesting a demo! Call us at +1 (561) 908-6171 or chat with us online!