Businesses are constantly trying to find ways to streamline processes both internally and externally. And this is because efficiency is a key driver of customer satisfaction, revenue, and overall business success.
As such, it continues to be a top priority among big and small companies. This everlasting need has inspired many innovations in software and technology – one of them being click-to-call.
In this article, we'll discuss what click-to-call is, how it can help your business, common use cases, and more. So, let's jump in!
Don't feel like reading? Watch our Click-to-Call video instead!
Definition: What is Click-to-Call?
Click-to-call is a VoIP feature that allows users to initiate calls by simply clicking on a phone number or call button within their browser or CRM.
This capability makes it easy for your teams to contact leads and customers and vice versa.
Other names for this feature include:
Click-to-dial
Click-to-talk
One-click calling
Click-calling, and more.
You can use this feature in two ways, depending on your use case: 1) adding a "web callback" HTML snippet to your website or 2) using a VoIP provider that offers a custom solution complementing their service.
In this article, we're going to focus more on the VoIP feature offered by most VoIP and CRM providers with their service.
How Does Click-to-Call Work?
Click-to-call typically works through a browser extension or CRM integration. As such, it enables you to make calls from any device with just one click without having to manually enter or copy and paste numbers into your dialer.
It's also important to note that this feature may look different depending on the business, provider, and platform.
For instance, click-to-dial may appear as a:
Call icon or button
Clickable contact name
Clickable phone number
When you click on any of these interactive, hyperlinked elements, the feature will automatically initiate your call in real-time using a VoIP connection.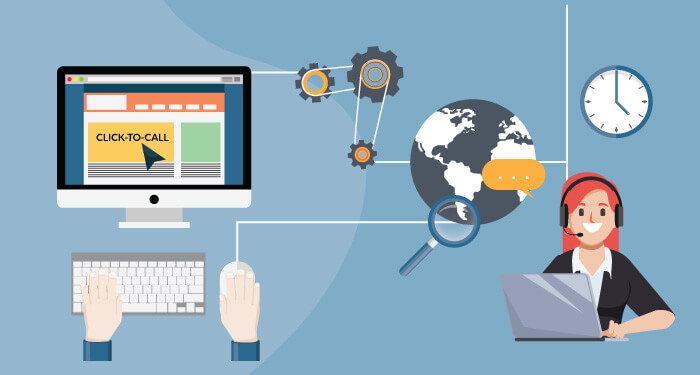 Benefits of Click-to-Call
Whether you plan to use click-to-dial to improve team efficiency or to encourage customers to call, this feature holds benefits for your business and customers.
Here are the top 6 benefits of using click-to-call:
• Improve efficiency – Above all, this VoIP feature saves time by helping your agents contact leads and customers quickly. And, your teams don't have to break from their workflow or concentration to look up or manually dial a phone number. This leads to greater operational efficiency.
• Increase functionality of your CRM – You can integrate this feature within your CRM through VoIP CRM integrations. This allows your teams to access calling capabilities directly from your CRM and streamlines the outbound calling process.
• Optimize productivity – While it may seem like this feature only saves your team minutes or even seconds during the calling process, it adds up over time. And with the time they save, reps can focus on placing more calls in a day, resulting in better productivity.
• Ensure dialing accuracy – Say goodbye to human errors that waste company time and agent energy, such as dialing an incorrect number. Click-to-dial increases accuracy as reps no longer have to memorize phone numbers or double-check the dialed number.
• Enhance business accessibility – Make it easy for customers to seamlessly connect with your business when they have an issue or concern. And offer omnichannel support by including click-to-call options on all your brand's platforms.
• Boost conversion rates – By strategically including click-to-dial options on landing pages, ads, etc., you encourage interested customers to reach out. And this gives your B2C or B2B sales team an opportunity to close the sale, leading to higher conversion rates and more sales.
How Can Businesses Use This Feature? [Use Cases]
Since click-to-call technology makes the calling process easier on both your teams and your customers, there are a few different ways your business can use it to your advantage.
So, how do you use click-to-call?
Let's take a look at the top use cases for this feature.
Integrate with CRM
This is one of the most popular use cases for click-to-call as it allows your teams to easily place calls directly from your CRM. So, your teams don't have to waste time dialing phone numbers and switching between platforms. And with the time that they save, they can contact more leads and customers in a day.
On top of that, this integration also centralizes business communication; meaning, all necessary tools and customer information is in one place. This makes it easy for your teams to prepare for calls and access important information quickly, leading to better customer experiences.
Add to Your Business Website
Incorporate a click-to-dial button or link on your homepage by embedding a snippet of HTML code to the website.
By adding a clickable button or link to your web pages, you give customers and prospects a seamless way to contact your business and receive assistance immediately. This is especially useful if you have a lot of customers coming through mobile traffic. When these customers click the call button, it would take them to their smartphone's keypad to place the call. On the desktop, it would take them to available softphone options.
This removes any roadblocks from the inside sales and customer support process and encourages engagement – leading to improved CX and higher conversion rates.
Learn More About Your Audience
Using click-to-call CTAs, links, and buttons across your website, marketing materials, and content allows you to learn more about your audience's behaviors and preferences.
You can track these calls to gather important data insights such as:
Caller identity — caller ID associated information
Source of call — where the caller interacted with your business before calling
Date and time — times and days customers are actively looking for your services
Caller location — geographical relevances of your products and services.
Call detail records – view and export comprehensive data about your call activity.
And then, you can use this information to:
Optimize marketing and sales tactics
Determine the most effective lead sources
Generate leads and segment customers
Evaluate campaign performances and so on.
Support Remote Teams
Click-to-dial is a cloud-based feature and so– meaning it is not restricted to a certain device or geographical location. This makes it a perfect solution for remote teams, as they can access it from anywhere.
And remote reps can not only use this feature to easily communicate with customers but also collaborate and connect with other employees.
Getting Click-to-Call For Your Business
Getting started with click-to-call is straightforward. Simply find a reliable VoIP provider that offers this feature and sign up for an account with them. Then, work with them to set it up in a way that works for your business and teams.
To learn more about click-to-call and our comprehensive suite of features, call +1 (561) 908-6171 or chat with our telecom experts online!