Sitting in the heart of the Middle East is a country that is so advanced, so diverse, and offering so much in way of commerce, it has become one of the world's top destinations for international business.
We're talking about The United Arab Emirates (UAE), a federation of Arab monarchies, the most well known and most populated being Abu Dhabi, Dubai, and Sharjah. About 85% of the UAE population lives in just these three regions.
Although UAE is just a little smaller than the state of Maine, its economy is the third most prominent in the Middle East, and it is richer than Saudi Arabia.
The UAE has established itself as a leader regionally by providing generous financial commitments that have been used to help stabilize other Middle Eastern countries, to help weather the 2008 financial crisis, and which have even gone to aid in the fight against ISIS.
Business and Social Diversity
It's easy for your business to maintain a presence in the UAE. Global Call Forwarding can provide you with a phone number that is local and toll free to UAE residents, giving you access to customers in this thriving region — a region that your business shouldn't ignore if it's considering international expansion.
Although it's common to think of all economies in the Middle East being fueled by oil, today only 30% of the UAE's GDP is related to oil.
UAE's diverse business environment was recently ranked as the 31st best country in the world to do business in by Forbes Magazine. The IMD World Competitiveness Center, which ranks countries on their business' abilities to generate sustainable value, recently ranked UAE as 10th globally and ranked it first among Arab nations.
This economic prosperity is in part due to the UAE's welcoming environment to foreign investors. The government has established free trade zones, allowing foreigners to own 100% of theirs businesses tax-free while providing generous incentives.
The country's international commerce is evidenced by Dubai's airport, which overtook London's Heathrow in 2014 to become the busiest airport for international flights globally.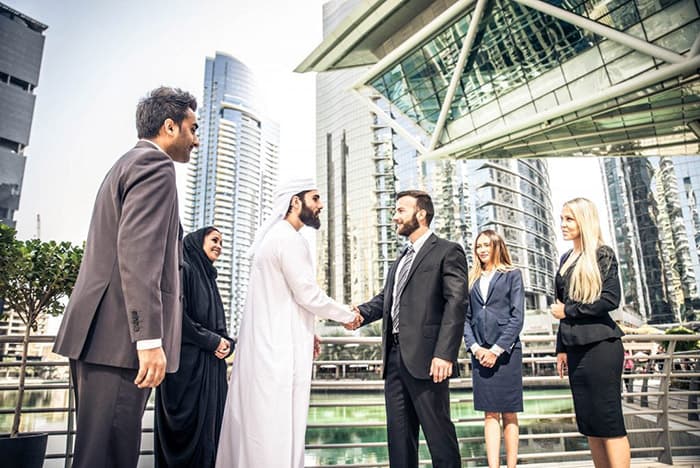 Education and Religion
Education is a major point of focus in the UAE. UAE's public education and higher education system is overseen by its government, and the nation has numerous universities that are known throughout the world. There are over 80 adult education centers throughout UAE as well.
The country also regularly attracts medical tourists seeking to train with its esteemed medical institutions. Additionally, many globally-recognized healthcare facilities, such as the Cleveland Clinic, have branches in the UAE.
It's no coincidence that UAE's residents' life expectancy is about 77 years old, and is second-highest in the Arab region, just behind Qatar.
Islam is the official religion of UAE, but the diversity of the country and its global outreach efforts have lead UAE to be very tolerant of non-Islamic religions. Just last year, a mosque was re-named Mary, Mother of Jesus, as a symbol of the UAE's recognition of the value of differing faiths.
Sports, Culture, and Entertainment
If your business is related to culture or recreation, access to customers in the UAE is a must.
UAE is a leader in the arts, culture, and in sports. Abu Dhabi is building both its own Guggenheim and Louvre museums, and Dubai also hosts the Dubai Desert Rock Festival. The United Arab Emirates actively participates in a range of different sporting events, including the Grand Prix at the Yas Marina Circuit. It also has world-renowned golf courses, cricket (Dubai is home to the International Cricket Council), and football (soccer) clubs.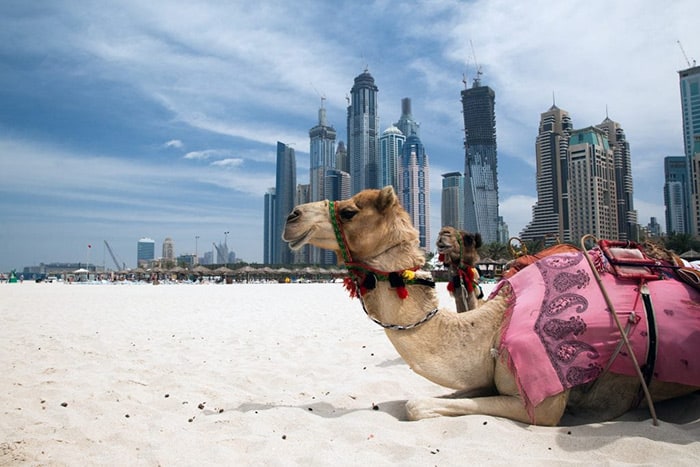 Things To See And Do In The UAE
A toll-free phone number with Global Call Forwarding doesn't just connect you to UAE residents, but to its tourist population as well. UAE's tourist industry has been the fuel of its economy, in no small part because of the many exciting events and attractions that are unlike anything in the world.
The Burj Khalifa is the tallest building in the world, housing the longest elevator channel in the world. The Burj Al-Arab is the tallest hotel in the world, which just happens to sit on its own man-made island and features an underwater restaurant.
The Palm Jumeirah, the world's largest man-made island, interconnected by the only monorail in the Arab region, features luxury hotels and resorts.
Despite the temperatures outside, visitors can ski indoors at the Mall of the Emirates' Ski Dubai indoor skiing facility. Dubai's acceptance of world culture again is featured at the IMG Worlds of Adventure theme park, where Marvel, Cartoon Network, and dinosaur-themed rides abound.
All of this is in addition to the natural tourist attractions like UAE's vast urban beaches, the expansive deserts, and scenic mountain ranges where tours and adventures can be arranged.
Looking Towards Tomorrow
UAE is leading the way in future technology. Free training for aspiring computer coders, investment in artificial intelligence, and bold plans to settle Mars in 2117 are all on the agenda.
Doing business in this region is becoming a must even if you are a smaller or mid-sized business. Don't forget about the opportunities available in UAE when planning your online presence.
Communication
Global Call Forwarding is a provider of UAE virtual phone numbers and UAE toll free numbers with SMS and Email capabilities. Many other features include ringback and call recording to assist you and your business in establishing a solid means of communication.