What is In-Network Calling?
In-network calls are any calls made between 2 or more users in the same phone network. These calls are completely free and do not eat up your plan's monthly minutes. You can easily access in-network calling through the GCF Softphone. This call feature is convenient for connecting remote teams and collaborating with other users within your business network.
How Does In-Network Calling Work?
This call technology works just like other cloud telephony tools. During an in-network call, your voice breaks down into tiny packets of data. Then, the VoIP service transfers these packets from the sender to the receiver using the internet. This process is often called packet switching or a packet switch network.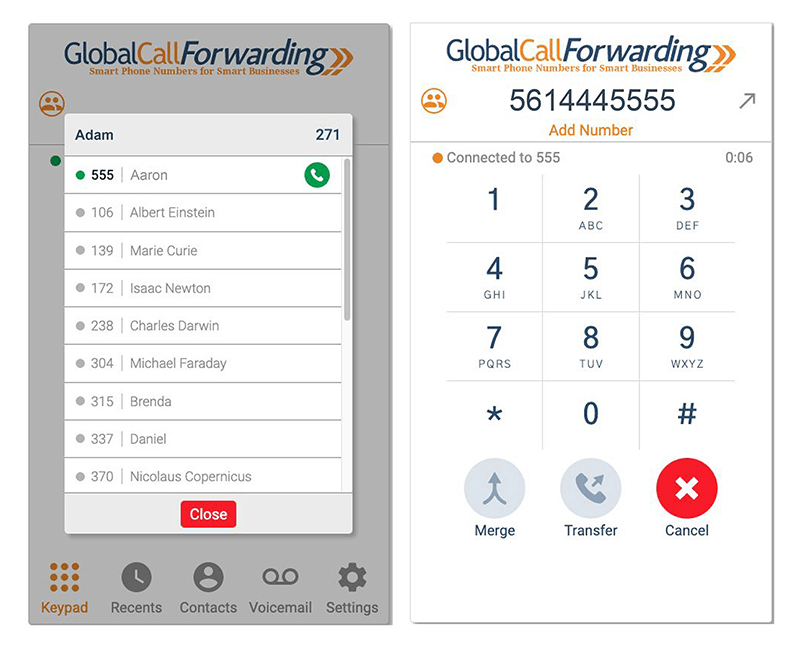 How Can Your Business Use In-Network Calling?
From large corporations to small companies, businesses of all sizes benefit from using in-network calling. The feature makes communicating with remote teams or across multiple locations simple and effective. This is also a great tool for cross-functional teams like marketing, product development, and sales departments. Ultimately, in-network calling helps boost teamwork and team communication, regardless of geographical boundaries.
For Global Call Forwarding users:
In the web dialer or softphone, you'll be able to see all active users in your network, indicated by a green phone icon. You can place these calls by either entering the user's extension number or clicking on the green call button. And with this feature, it is possible to make 3-way calls with in-network team members using the merge button.
Benefits of Collaborative Calling
So, how does your business benefit from a feature like in-network calling? Let's take a look:
Boost team collaboration – This feature makes collaboration more manageable and accessible than ever. It streamlines team communication, leading to increased employee productivity and innovative problem-solving.
Keep your teams connected – Whether you're in the office or working from home, connecting with others within your phone network helps teams stay in contact with each other.
Promote knowledge-sharing – This tool allows your team to easily share essential information and industry knowledge. It especially comes in handy during training and onboarding sessions.
Quick setup – Quickly add your team and their extensions by contacting your dedicated account manager. Then, you'll be able to see active users and their extensions through our softphone. Additionally, this feature doesn't require any additional hardware or a complicated setup.
Cost-effective solution – In-network calling comes included with any of our plans and doesn't deplete your monthly minutes. So, it's a cost-effective tool for connecting your teams.